Pre Black Friday Sale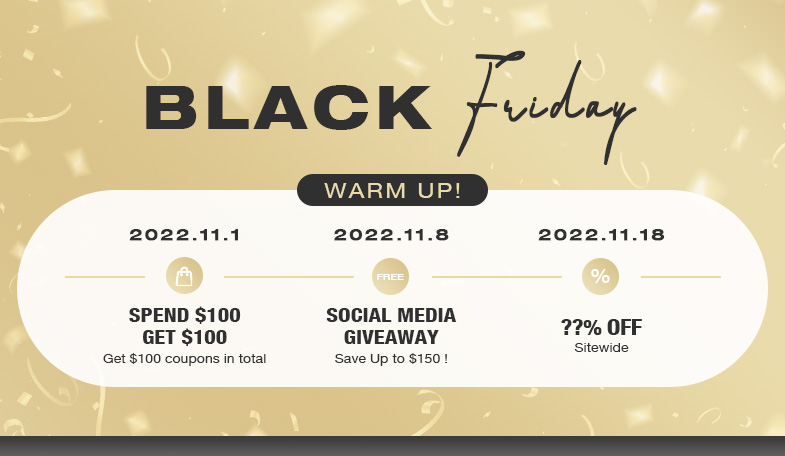 SPEND $100 GET $100
Ends Nov 17
1. You will get coupons that values a total $100 when orders $100+, including: Exp 12/31/2022
2. The coupons will be sent to your email box every Thursday.
3. The coupons is only valid for the mailbox where the order is placed, and each coupon can only be used once.
4. We reserve the right to void the coupon if the refund/partial refund results in less than $100 paid.
SOCIAL MEDIA GIVEAWAY
Event Time: 1st round: Nov.8-Nov.13; 2nd round: Nov.14-Nov.20
1. How to participate:

From 11.8, participate in the #ANYTHING ABOUT ROBOTIME topic on Facebook, TikTok, Instagram, follow our official accounts and like our posts related to the events.


Specific requirements:

Share your post(s) on the platform mentioned above and tag with our topic. The post content should be related to our product, such as introducing your favorite products, product assembly, useful tips, product insights and more. The post could be texts, photos or videos.

2. Winning rules:

This activity is held in two rounds. There will be two opportunities to get the award. On Nov.14 and Nov.21, we will announce on our official website (www. robotimeonline.com) the top three winners with the highest number of likes for posts in each round.

3. Winning rewards:

The vouchers will be sent by email.
The vouchers are valid until Dec 31, 2022.
BLACK FRIDAY
Subscribe to us now, and you will be the first to receive our notifications about Black Friday events.