5 Charming & Fun Music Box Puzzles to Build and Love
5 Charming & Fun Music Box Puzzles to Build and Love
5 Charming & Fun Music Box Puzzles to Build and Love
Music boxes can bring charm and joy to any room or personal space. Themed to suit any environment, they can provide a continuous source of delight for the whole family and their guests. Now imagine their faces as you tell your guests that you built the very music box they are enjoying! Coming in a kit, with full instructions, laser-cut pieces, and working movements, these music box puzzle kits will provide a lot of entertainment and a wonderful sense of achievement as you complete and proudly display them. Here are 5 beautiful examples of DIY music box puzzles for the whole family to enjoy.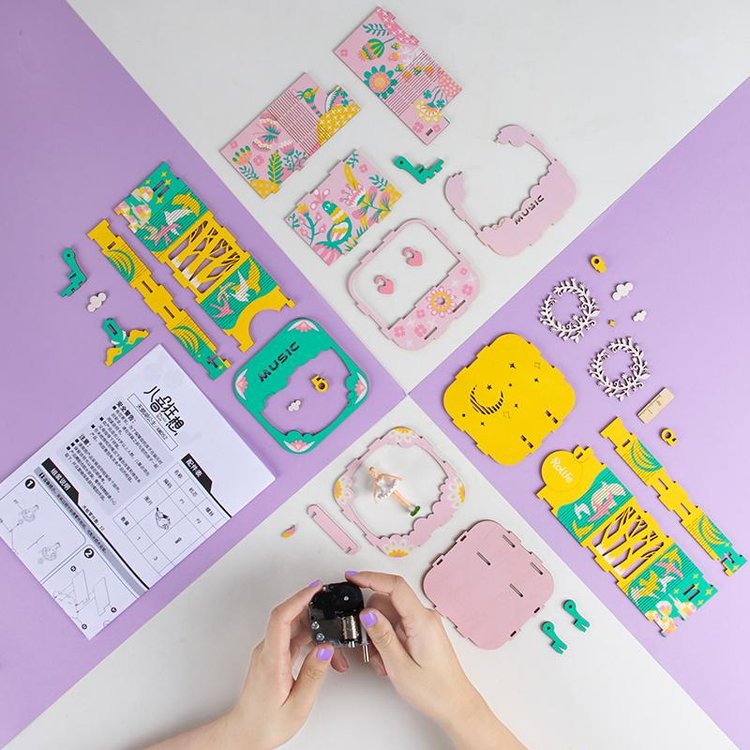 1. Vintage Gramophone Music Box Puzzle
The Rolife Vintage Gramophone brings back the golden age of vinyl records and reminds you of the antique Victrola record player that your grandparents may have owned. The sound horn stands proud, playing Unchained Melody as the beautiful red-haired maiden dances gently to the sound of the music box amongst the birds and trees in her billowing dress. Made of plywood, plastic and steel, this piece is sure to bring joy to a living room or child's bedroom with its super cute characters and vibrant colors.
2. Ferris Wheel Music Box Puzzle
Bring all the fun of the fair and the charm of a traditional Ferris Wheel to your home with the AM402 Ferris Wheel DIY Music Box Kit. As the music box plays 'Castle in the Sky' and the wheel turns and turns, you will love this piece's beautiful colors and fine detail. The park bench with the birds sitting next to the child's backpack and butterflies watching the wheel with the cars swinging gently as it rotates, bring to mind eating snacks at the fair before boarding the Ferris Wheel for the bird's eye view of the proceedings. This music box will be a great talking point for you and your guests to enjoy.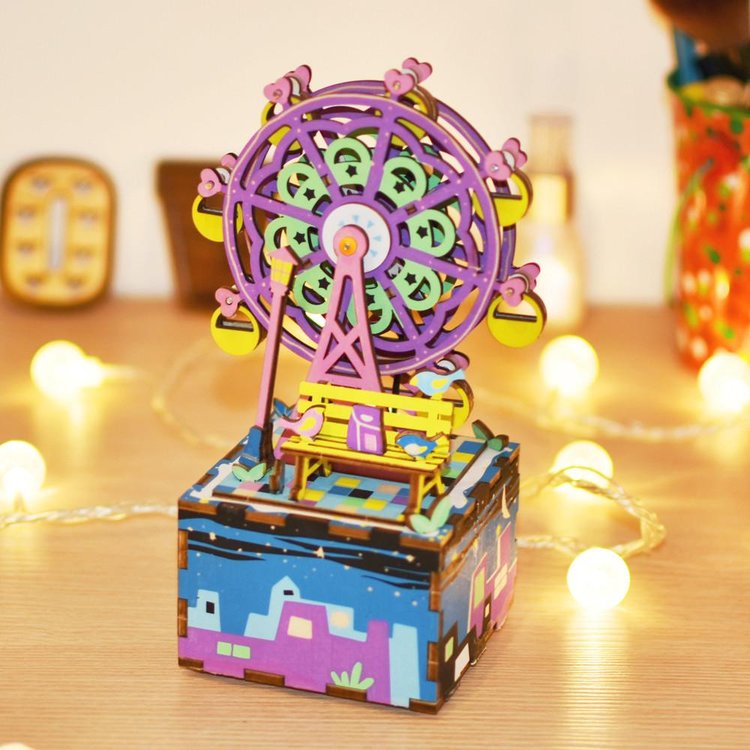 3. Ice Cream Station Music Box Puzzle
You can almost hear the squeals of joy from the children as they dash to the ice cream van for their favorite treat. The AMD61 Ice Cream Station DIY Music Box Puzzle will be fun to put together as you assemble the precut and pre-painted pieces to put together this gorgeous pink and blue vehicle with revolving ice cream cone and balloons on top and a spinning service station inside. The music box's movement will play Auld Lang Syne as you enjoy the results of your work assembling this charming and joyful puzzle piece.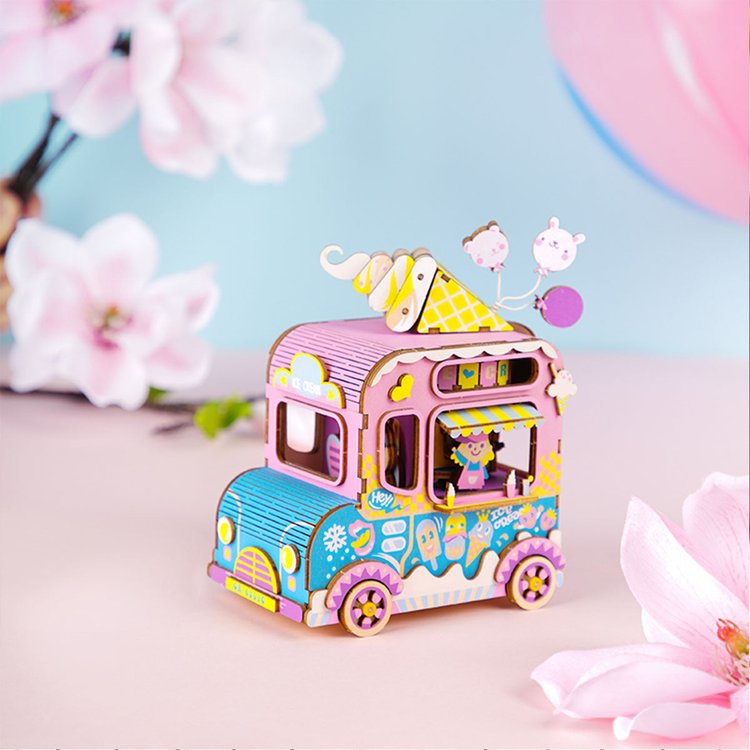 4. Christmas Town Snow Globe Music Box Puzzle
Nothing could bring the family more joy and fun than assembling and building your very own Christmas decoration. Designed to look like a Christmas snow globe, the Rolife Christmas Town Music Box is beautifully painted in seasonal reds and greens and is nestled in its dome. The music box will play Sakura as Santa's cottage revolves inside the globe, and jolly Old Santa waves at you as he passes by. The base of the music box is fully decorated with reindeer, Christmas trees, and carriages, and this delightful music box will be a great addition to your Christmas Decor.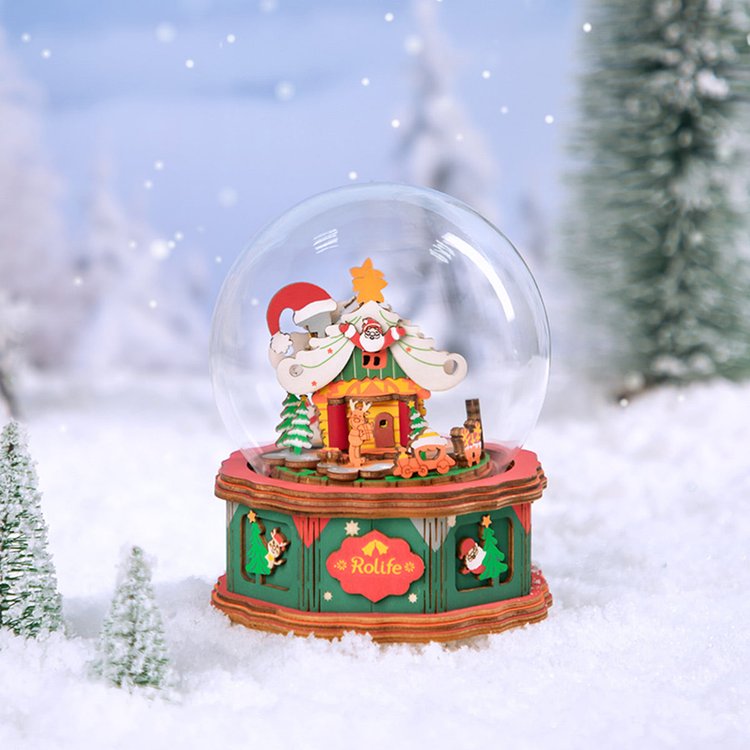 5. Dancing Ballerina Music Box Puzzle
Inspired by the truly iconic and traditional music box, the Rolife Dream Series Dancing Ballerina AMD 52 features a beautiful dancer who pirouettes gracefully to the sound of Greensleeves on top of this gorgeous and functional box for keeping your valuable treasures in. The outside is beautifully decorated in shades of green and amber, while the interior is mainly pink with wonderful birds and floral designs, and the attention to detail is stunning. This DIY Music box is a perfect complement for a girl's bedroom and an ideal place for her keepsakes.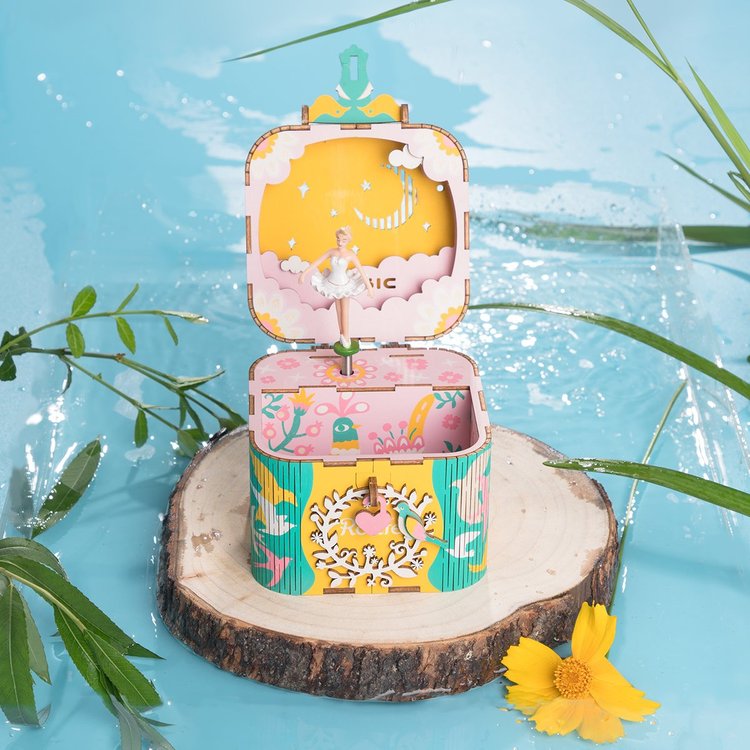 All of these DIY music box kits can provide a lot of fun and a great bonding experience for the whole family as they join together to assemble them. All of these featured music boxes are medium-level 3D wooden puzzles and easy to put together. The wooden pieces are laser cut, pre-painted, and just need to be pressed out and then assembled according to the instructions, which also come in English. Japanese steel 18-tone serinette movements play clear and loud tunes while the sturdy rotating counter movements provide wonderful and fascinating mobile features that can bring hours of joy. Choose a style to suit your home and build your own focal point that will delight your family and guests.