Add Spring Vibe to Your Home with Robotime Kits
Add Spring Vibe to Your Home with Robotime Kits
Add Spring Vibe to Your Home with Robotime Kits
Spring is coming! Why not add a spring vibe to your home?
Robotime kits allow you to instill your living space with the newness and beauty of springtime. With the help of these innovative and fun-filled kits, you can infuse your surroundings with a touch of energy and uniqueness. You can choose from a broad range of layouts and designs to match your current expertise and interests.
Rolife Cathy's Flower House DG104 is an alluring DIY kit for creating a miniature home that offers both a challenge and a reward. This tiny house kit comes with an abundance of delightful objects, such as flowers, potted plants, vases, racks, crates, cabinets, boxes, frames, and gardening tools, all crammed into a tiny space. Once you've put together these little pieces, you'll feel a sense of accomplishment, and your living area will also be imbued with a burst of spring energy.
This is a wonderful opportunity to spend quality time with your loved ones, whether your family or friends. It's a simple yet enjoyable project that's sure to put a smile on your face, and it comes with all the essential components and tools you need to complete it.
Rolife Miller's Garden DG108 DIY Miniature House Kit is perfect for bringing the outdoors inside. This tiny green yard home is a complete garden with beautiful plants and flowers. The wooden rails, frames, fences, flower beds, and flower pots make the ambiance of this tiny home warm and inviting. This DIY kit is a great way to express your creativity. Customize the home in any way you like by painting, assembling, stitching, or redecorating. The LED lights make this tiny home appear just as stunning at night as during the day.
The kit includes all the necessary components and equipment to make construction simple and fun, including clear English instructions. This small home kit is a must-have for anyone who appreciates nature and wants to bring it indoors.
The Emily's Flower Shop Miniature Home DG145 is a delightful DIY kit that celebrates the arrival of spring while adding a bit of quirky charm to your home decor. This small flower store has customizable floral arrangements, from daisies to roses, creating a bright and charming ambiance. The wooden building is complete with delicate elements, such as a door with a hinge, lovely windows, and a little balcony perfect for displaying your handiwork in horticulture.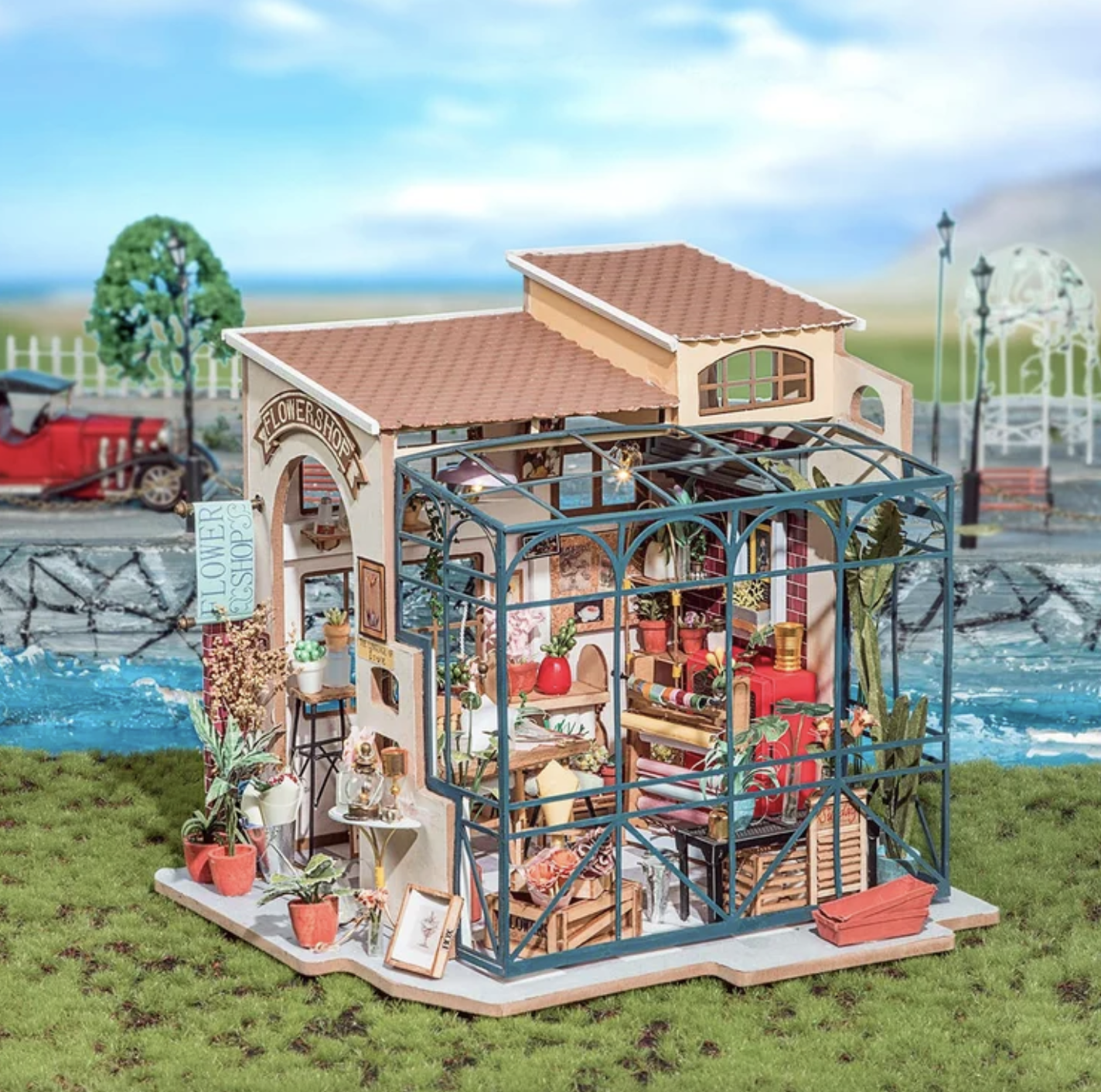 Once assembled, it injects a cheery dash of springtime energy into any space, exhibiting your creativity while providing a peaceful and pleasurable activity. Whether for yourself or a loved one, the Emily's Flower Shop Miniature Home DG145 brings the happiness of springtime into your home.
Craft a beautiful spring-themed book nook with the Robotime-Rolife Sakura Densya TGB01 DIY wooden puzzle kit. This delightful kit lets you create a stunning bookshelf insert, inspired by the charming streets of Tokyo during spring. It's an excellent project for those who enjoy building with their own hands, and the finished product adds a touch of character to any room in the house.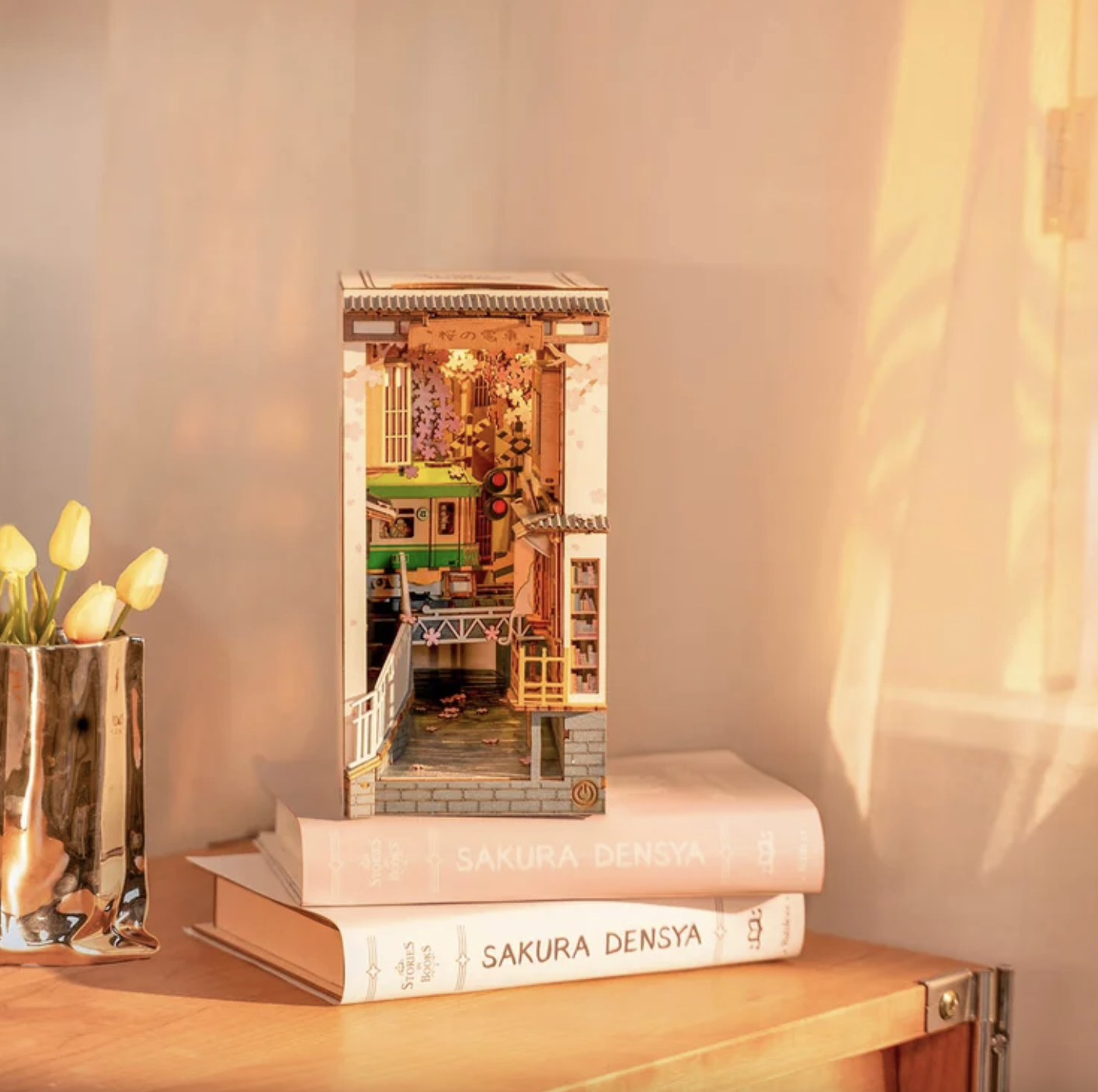 Though the kit is pre-colored, you can express your creativity and make it even more unique with your artistic painting skills. With warm lights on, the completed sakura densya book nook looks absolutely stunning, creating an inviting and cozy atmosphere in any space. It is a fun activity to do alone or with loved ones and enhances creativity and imagination, making it a perfect gift for adults and children who love hands-on projects.
5. Rolife City In The Sky DIY Music Box AM45
The Rolife City in the Clouds is a fantastic DIY music box kit that allows you to build a beautiful floating city with a stunning wisdom tree. This 3D wooden puzzle kit is meticulously designed and features a mesmerizing color scheme of blue and purple that evokes a celestial ambiance. Constructing it is an enjoyable exercise, and once finished, it plays a familiar melody - "Castle in the Sky."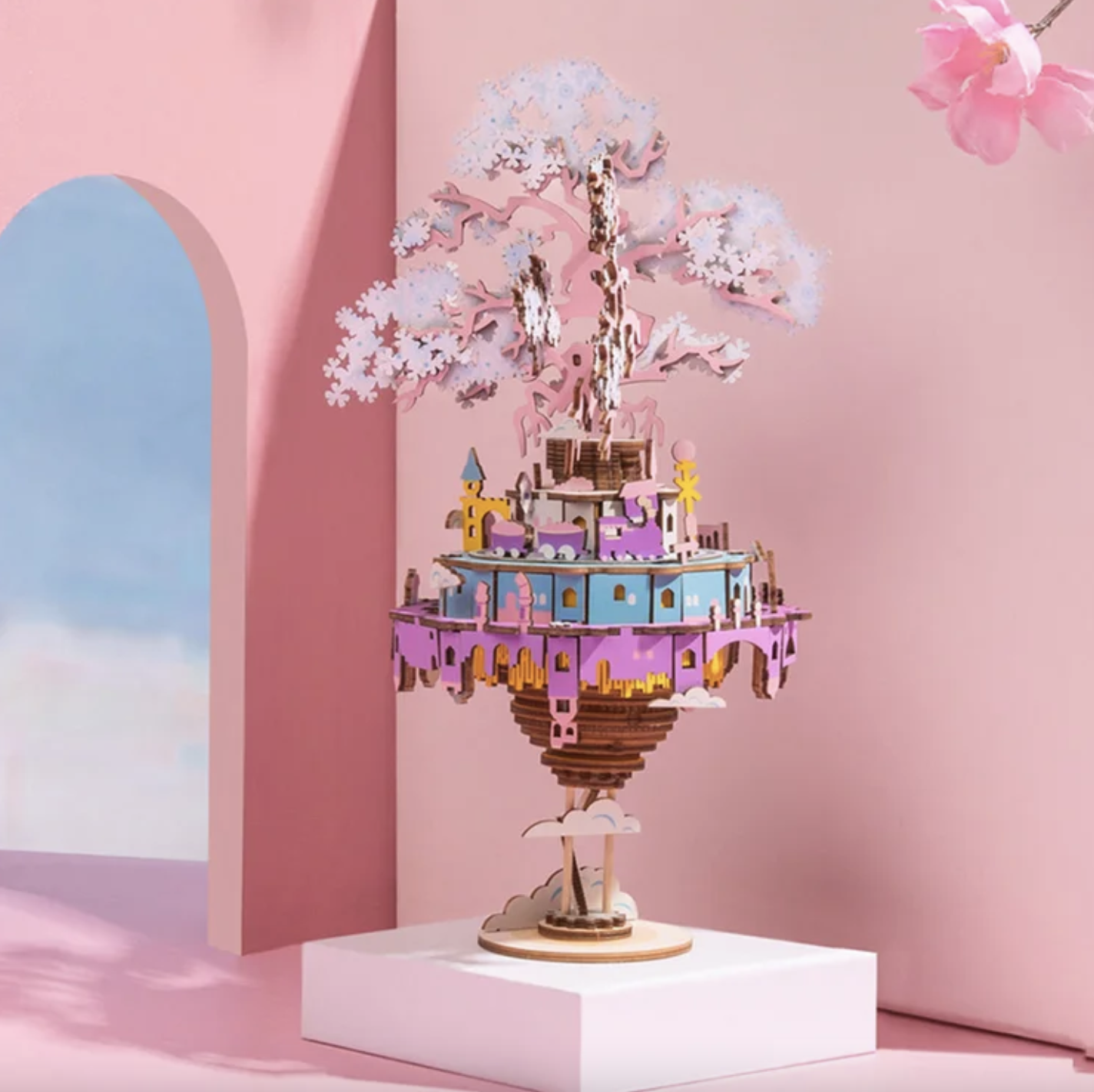 This unique kit's laser-cut design provides more accurate details and realistic scenarios. The music box is further enhanced by an imported Japanese steel eighteen-tone serinette movement, producing a clearer and louder tone that adds to the overall charm of the item. Turn any space into a mystical realm with the Rolife City in the Clouds DIY music box, a must-have for those who appreciate artistic design and a touch of magic.
Wrapping It All Up
Robotime kits offer a unique opportunity to infuse your living space with a fresh burst of creativity and vitality, and they do so engagingly and entertainingly. With many layouts and designs, these kits provide both a challenge and a rewarding experience. Whether you wish to construct a charming miniature flower house or a book nook inspired by the spring streets of Tokyo, these kits are perfect for unleashing your imagination and expressing your creativity.
Moreover, the kits include all the necessary components and equipment, making for an easy and enjoyable project to share with your loved ones. Bring a touch of spring enchantment to your home today with Robotime kits.