Best Desk Toys to Make Your Workplace Unique
Best Desk Toys to Make Your Workplace Unique
Best Desk Toys to Make Your Workplace Unique
Jazz up your otherwise boring office desk with one or two toys. Though it might seem counterproductive, there are actually some benefits to having desk toys that can amp up your work productivity and efficiency.
Why Your Workplace Needs Office Desk Toys
It's not just an excuse. Science says you can improve your productivity by playing in the office.
According to a 2018 study, gaming can improve productivity by as much as 20%. This is supported by the NYU Game Innovation Lab's research which said that tactile play through desk toys serves as a mental release and can improve mental performance, increase focus, and reduce stress.
There's more to office play than just productivity too. It's a basic biological drive that's essential to making life better.
To put it simply, office desk toys can:
Stimulate the brain and improve cognitive performance
Get your creative juices going
Improve problem-solving skills
Delay mental decline
Help cope with setbacks
Reduce stress
Make you more resistant to illnesses
Induce the release of feel-good hormones
Unique Desk Toys for Adults That Will Turn Heads
Now that you know about the many benefits of office desk toys, we came up with a list of potential candidates for that special spot on your desk.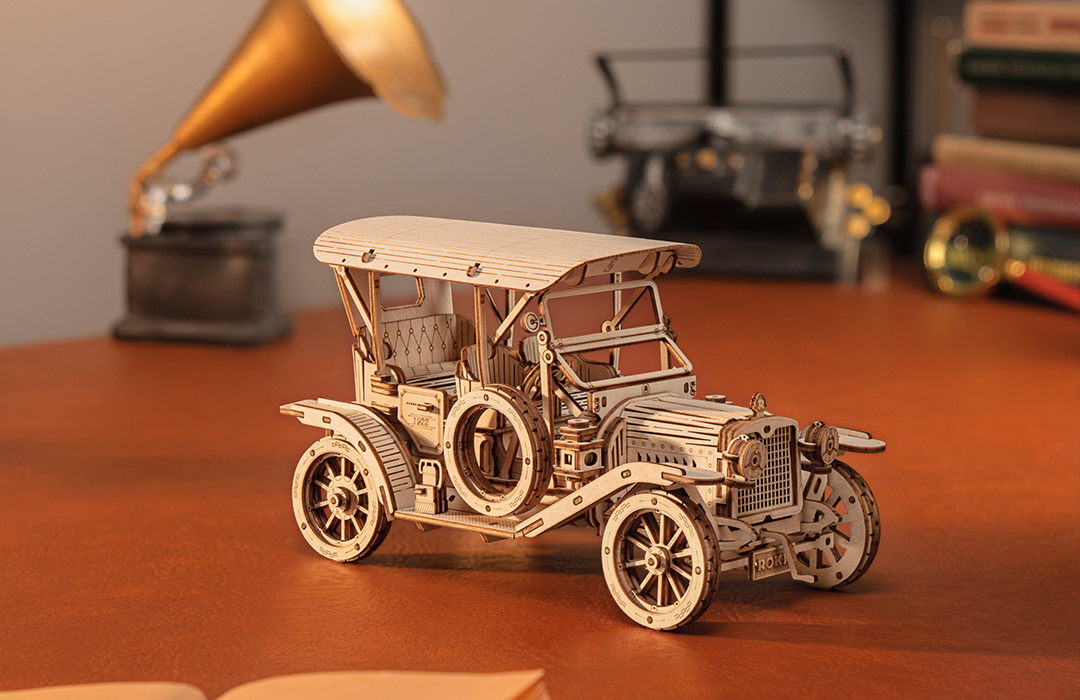 If you're a fan of anything retro, the Vintage Car is just what you need to personalize your desk. With a medium difficulty level, you can assemble it bit by bit for a quick break. The feeling of accomplishment that you get from creating it will set you in the mood to be productive. Once it's done, it can be the highlight of your desk, serving as a conversation starter or a dose of inspiration.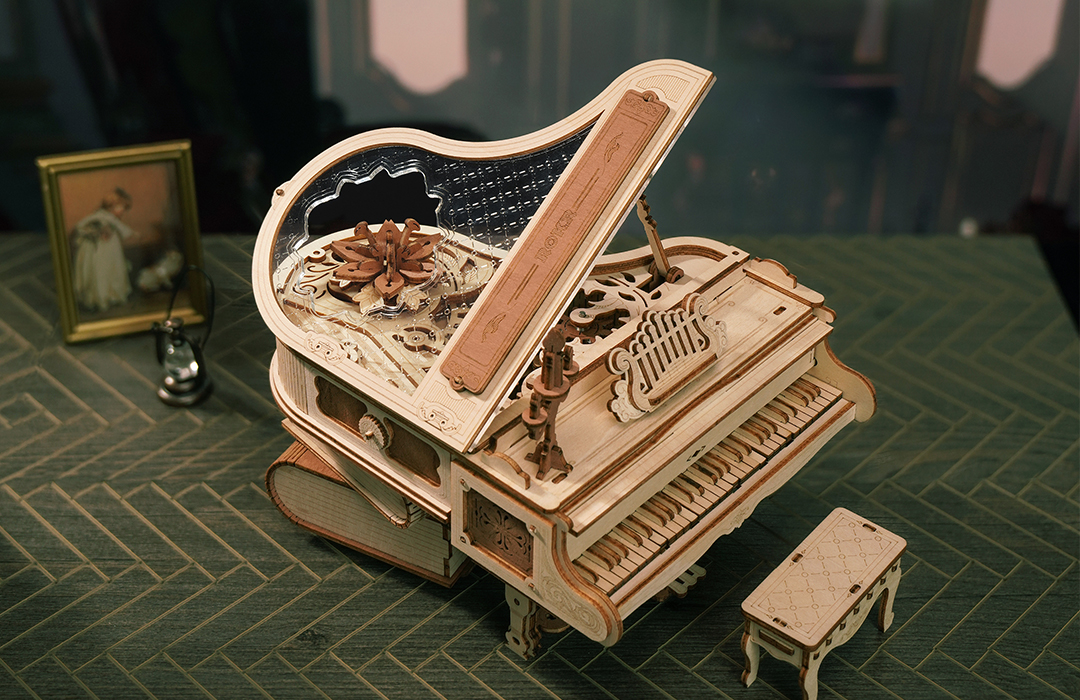 According to Harvard, music can potentially boost your work performance, concentration, and mindset. This makes the Magic Piano Mechanical Music Box one of the best desk toys for adults because it combines music with play. Plus, with its elegant self-playing keys and ornate Victorian design, it's a head-turning piece that you can proudly call your creation.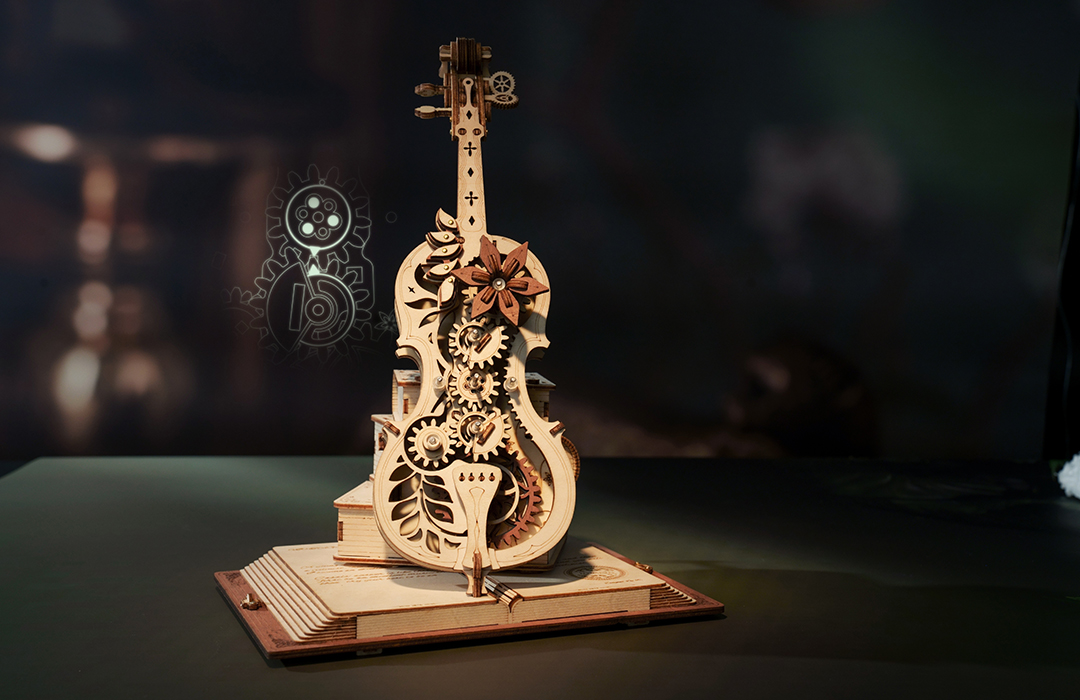 Just like the Magic Piano, the Magic Cello offers the benefits of both play and music packed into a mechanical music box with a classic European pattern. Even the tune it plays, Chopin's Nocturne Op. 9, No. 2, will relax you since according to several studies, classical music can provide stress relief and boost brain power. It's not just the music too. Even the hypnotizing self-playing mechanism of the bow and the turning of the gears can soothe you.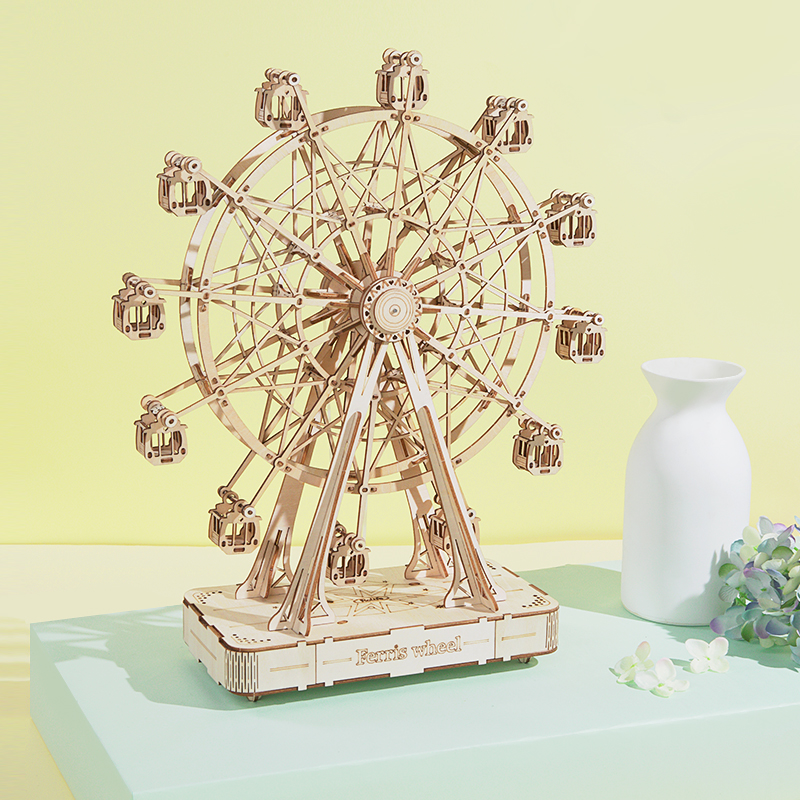 Happy memories can leave you in a better mood to work efficiently. With the Ferris Wheel Wooden Puzzle, you'll be taken back to a magical time in your childhood when you visited an amusement park with your family. You'll also be entranced by the beautiful Ferris wheel structure which rotates to the tune of 'Around The World in 80 Days'.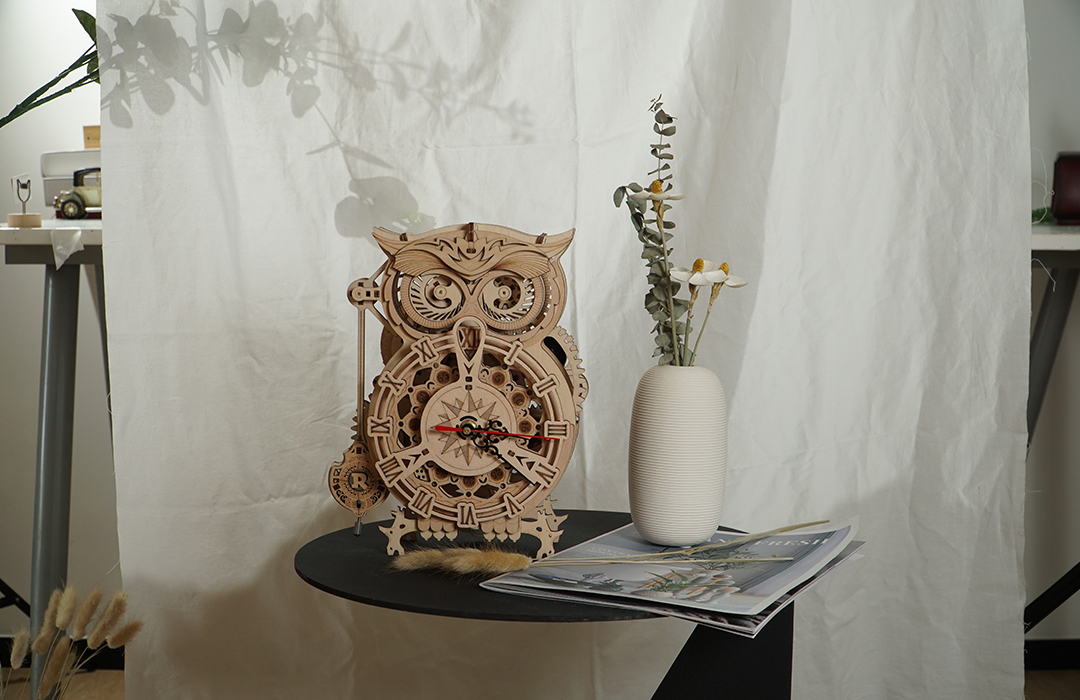 From assembly to completion, the Owl Clock is a wooden puzzle that would make a fantastic office desk toy. With a medium-high difficulty, you're in for hours of fun building activity which you can do a little bit at a time during your breaks. Once it's done, it can be a great display piece that is both practical and eye-pleasing. You can even use its timer to use the Pomodoro Technique to improve your productivity.
If Paris is one of your dream travel destinations, a replica of the Eiffel Tower as an office desk toy can inspire you to reach your goals. This wooden puzzle is a great wooden puzzle for beginners since its assembly is fairly straightforward at just 121 pieces. Even better, it's so beautifully crafted by Robotime's artisans that it looks just like the real deal.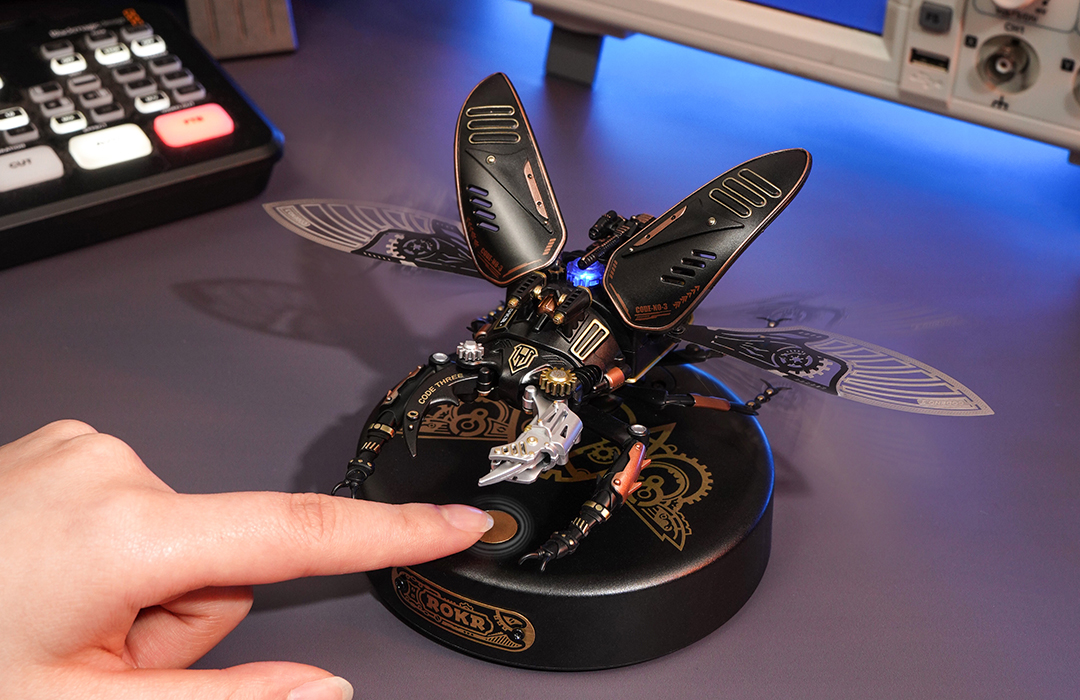 The Storm Beetle is the perfect office desk toy for hardcore bionic mechanical model fans. This fusion of steampunk and nature's stag beetle is equipped with advanced technologies that take its coolness to the next level. For example, by turning on the switch, its jaws and membranous wings will move just like a true stag beetle.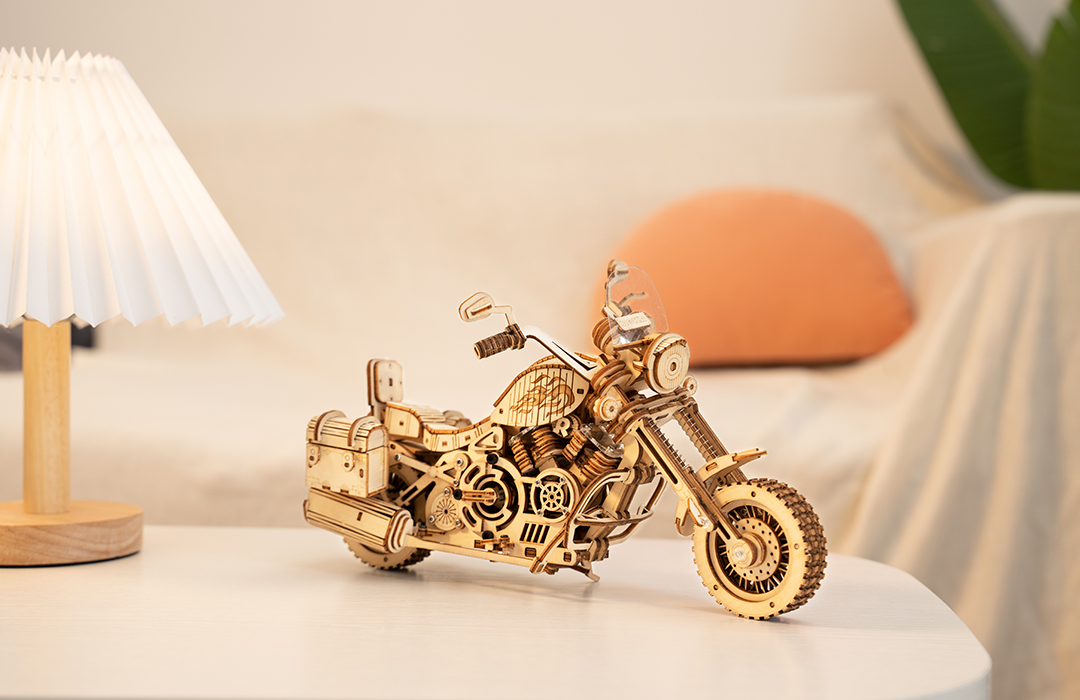 Last but not least, how about a mechanical model of a motorcycle that can actually run for up to 10 feet? Imagine yourself as the next Clint Eastwood roaming in the Wild West as the V-type four-cylinder engine moves just like the real badass locomotive. Plus, this 3D wooden puzzle consists of laser-cut pieces that fit perfectly together so you can avoid getting your fingers sticky with glue and adhesives.
For more desk toys to decorate your workplace, visit our 3D wooden puzzles.
Tips For Decorating Your Desk
How you decorate your office desk can affect your productivity and mood throughout the day. Here are some tips on how you can personalize your desk with elements that are beneficial to your work and well-being.
1. Bring Nature to Your Desk
Desk plants can add a natural touch to your desk. Aside from having a visually meditative effect, indoor plants can boost your well-being by improving the air quality. You'll also be more productive since it can naturally reduce office noise and inspire you to be more creative with your tasks.
2. Be Refreshed with a Quick Desk Game
When you feel like you've hit a wall on your work or you're feeling burned out, you can use your office desk toys to destress. If you like brain teasers, you can choose from the wooden puzzles that we've listed above or go for something repetitive but soothing like a fidget spinner.
3. Make a Spot for Your Favorite Artwork
Liven up your space and get inspired at the same time. It can be a framed photo of a happy occasion, your child's painting, an artwork that you like, or your favorite motivational quote done in beautiful calligraphy. You can also opt to display something that you've proudly created yourself like a mechanical model or a music box.
4. Get Creative with a Calendar or Bullet Journal
Stay on track with your tasks with a chic calendar or a bullet journal. You can even make decorating them with some stickers and washi tape a part of your soothing break time while you listen to ASMR videos.
5. Organize But Make It Aesthetic
Desk organization doesn't have to be boring. Assemble DIY book nook kits during your break time and use them to organize your documents and books. Repurpose the jars and tin cans that you have at home and decorate them to create your personalized pen and paper clip holders.
Final Thoughts
With plenty of studies and research to support it, the science behind the benefits of playing in the office is irrefutable. While there are many office desk toys available in the market, only a few can offer you excellent value. From its assembly, usage, and display, Robotime's aesthetic wooden puzzles will get your creative juices pumping, provide stress relief, and boost your efficiency at work.