Choose Among these Best Paints for Your Next Wood Crafts
Choose Among these Best Paints for Your Next Wood Crafts
Choose Among these Best Paints for Your Next Wood Crafts
People are getting creative with their activities to discover their skills and talents - the idea of decorating and designing triggers the interests of individuals who love being engaged in arts. One of the most common and popular hobbies involves wood crafts, as people of all ages enjoy it. Aside from the fun way of getting involved in this art, the final products are also more durable and will last over time compared to others, like pieces of stuff made with plastics.
Wood crafts may be a complex art, from the materials needed to the process of creating and achieving the expected design. Sometimes, it does not end with the intricate carvings in wood crafts because painting them creatively makes them pop up and stand out among other projects. But there is also a catch in choosing the right paint for your project since there are different types of paints available, and it only depends on the kind of finish you want to achieve and the quality. If you plan to color your wood crafts, check out the different options of paint and the best picks according to quality, durability, and surface finish.
Keep on reading and choose the perfect paint for your following wood craft projects.
Different Kinds of Wood Paint
Like other art materials, different types of paints are also suitable for wood craft projects. Aside from the outcome of the finished surface, these paints have disadvantages and advantages to your next wood art. To solve your problem and answer your question regarding the best type of paint for your woodcraft, we highlighted different paints based on their main component, durability, and advantages.
1. Acrylic Paint
If you are after a solid and durable surface finish, consider Acrylic Paint, but be aware that it is more expensive than other types. Aside from the outdoor furniture that can pop out, it also works in interior walls, trim work, and siding.
2. Oil-Based Paint
If you are after a high-gloss finish on your woodcraft, choose an oil-based paint. It is perfect for coloring exterior surfaces for outdoor projects, like wooden siding and decks. Aside from its durability, it also offers a flawless and long-lasting finish. The only downside is that it dries slowly, but you can take advantage of it by fixing some mistakes in the details.
3. Latex Paint
It is also a common type of paint used in wood projects since it dries quickly and is effortless. You can choose from its wide range of colors available and primarily seen in the market at a cheaper price. But it is not durable enough for exterior areas, so you can only use it for furniture inside the house, like kitchen cabinets.
4. Water-Based Paint
The water-based type of paint may not be the usual choice for painting wood crafts, but it has become popular in such projects recently. It dries quickly after the application and is odorless compared to Latex Paint. Aside from that, it is a good option for both exterior and interior surfaces of wood craft projects.
5. Chalk Paint
Chalk Paint is the most popular type for furniture woodcraft projects because of the matte finish after the application. It is easy to use, but the outcome will be satisfactory because it is guaranteed to provide a beautiful surface finish afterward. Also, it will take a little time to prepare before the painting.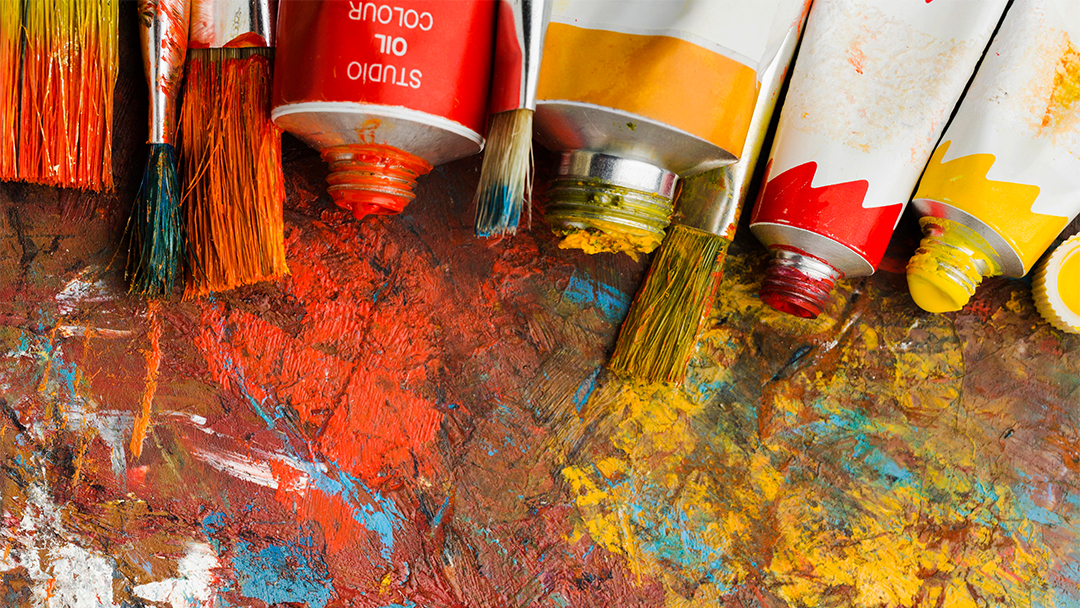 Available Best Paints for Wood Crafts
To people who enjoy wood craft painting, choosing the right paint to use is an essential part of the process. It will make your project stand out even more with its high-gloss or matte finish provided by paints. Below is a compilation of the top picks for the best suitable paints that work perfectly with wood crafts. Check them out and see which will make your project stand out in color and surface finish.
1. FolkArt Acrylic Paint Set
Based on reviews, it is a top-rated paint set for wood crafting since it comes with 24 different colors that provide a high-quality and versatile finish. Aside from the durability of the non-toxic components in this paint set, it is also effortless to mix and apply, especially when creating custom shades and colors. It has the capability and resistance to withstand everyday challenges when applied to various surfaces such as wood, ceramics, glass, and metals.
2. Apple Barrel Acrylic Paint Set
If you are still a beginner in painting wood crafts, this paint set will work perfectly for you. You can choose among the 18 available bright colors, and it is suitable for indoor furniture painting as it dries fast. The matte finish is very satisfying, knowing you can buy it at an affordable price from the market. Also, you can use the excess on other surfaces like Styrofoam, paper mache, and plastic.
3. FolkArt Home Decor Chalk Paint Set
The ultra-matte finish provided by this paint set made it a top-tier option for wood crafts. Aside from that, it is perfect for indoor projects because of its vintage look vibe on furniture. It is one of the favorites of paint buyers since the 12 available neutral colors looked great on any wood craft project, according to them. Also, it has a creamy consistency for more effortless shading and blending of colors.
4. Montana Black
The Montana Black comes with 12-color Spray Paint and is a perfect choice if you are a graffiti artist since it consists of vibrant colors. If your new projects are giant wood crafts, this set will provide a long-lasting matte finish but must be done with skills in painting. More importantly, it can resist the wear and tear of an outdoor environment.
5. Caliart Acrylic Craft Paint
This set comes with 24 colors with 12 paint brushes included, making it a good deal for painters of all levels and ages. It is a perfect option for beginners and professionals wanting to level up their woodcraft projects. The paints are also water-based, which is easy to clean and blend. Additionally, the company made sure to use Certified Non-Toxic Components and offers a 100% money-back guarantee among their customers.
Conclusion
Wood crafts come with creativity and effort to make them stand out, and painting them with vibrant shades must be part of the procedure. The challenge in creating wood art continues beyond carving designs because most must achieve a particular surface finish for a more creative approach and look. The highlighted types of paints above can guide you in choosing the proper set for your project, and hopefully, it provided helpful ideas.
Before preparing for your next painting session, review this blog and be guided by the best paints we mentioned according to their durability, ease of use, and quality. Level up your next wood craft project with us! Also, if you're already interested in painting, check out our 3D wooden puzzle page to get a wooden craft and quickly start your painting projects.