Decorate Your Walls With Rolife Animal Store DIY Wall Hangings
Decorate Your Walls With Rolife Animal Store DIY Wall Hangings
Decorate Your Walls With Rolife Animal Store DIY Wall Hangings
Diy miniature house kits have become a really popular way to get creative and build some beautiful models. These Rolife products let builders of all ages create little model houses, stores, and more that look great on display on mantlepieces, bookshelves, and side tables. But what if you are short on space? Well, that is where the new DIY wall hanging kits can help.
Rolife Animal Store Series DIY Wall Hangings: Bring Great Cozy Scenes And Stories To Your Walls
Wall art doesn't have to be 2D with the same-old prints of landscapes or abstract designs. These 3D wall hangings let you create the facade of stunning buildings that pop out and grab your attention. The themes and details within are highly engaging.
There are 4 brilliant designs on offer right now. Each depicts a home or business and its animal owner and comes with LED lighting to make them more beautiful at night.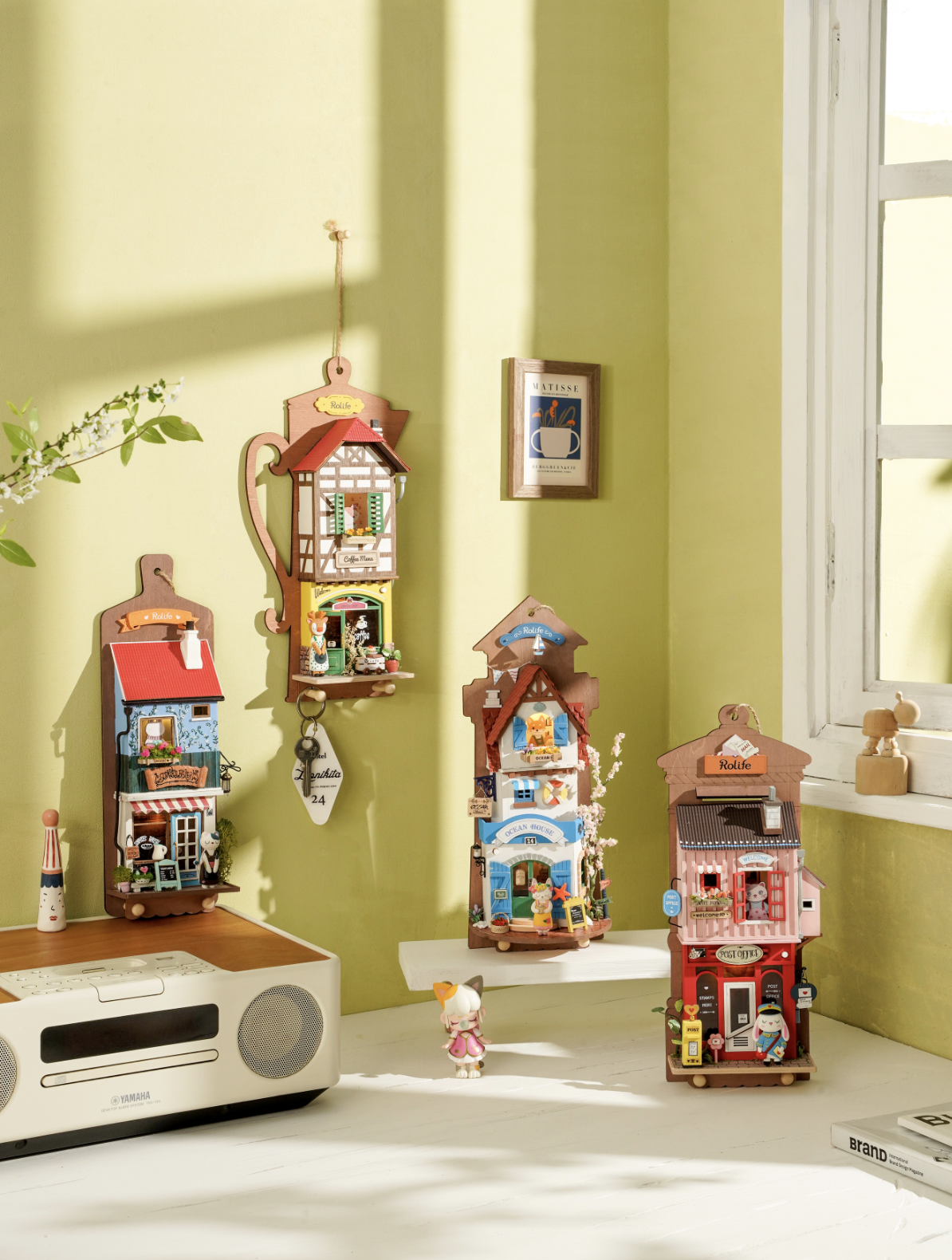 First up, there is this little bakery owned by Sophie the cat. She is ready to welcome customers to sample the tasty treats through the door. There is a menu board outside, an awning, and some potted plants. Upstairs, her neighbor watches from the open window with their morning coffee.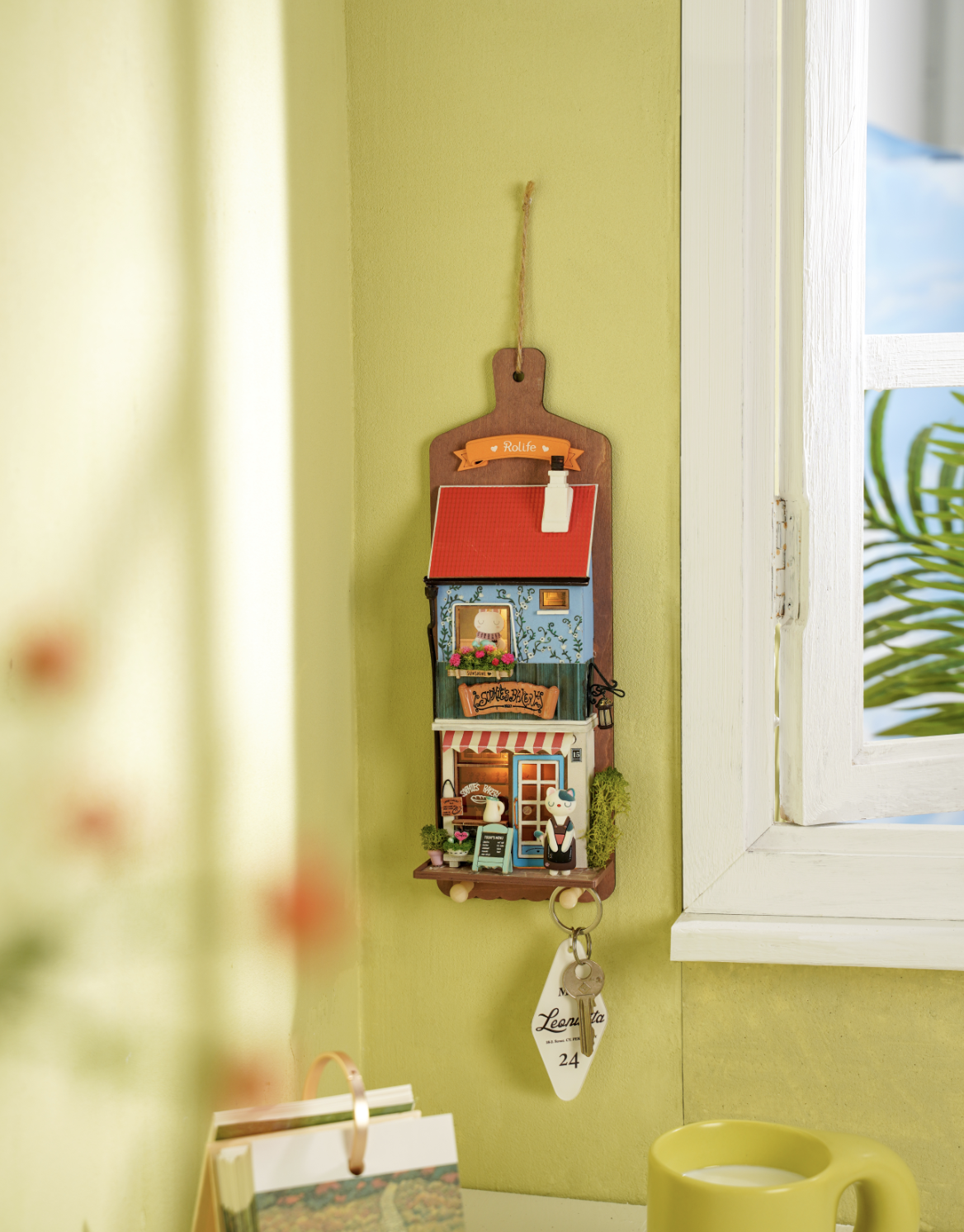 That coffee may have come from this coffee house nearby. This beautiful build is shaped like a coffee pot and has nice yellow and green features on the storefront and upstairs window. This one's owner is also a psychiatrist so the perfect person to share problems with over a latte. The wall hanging also comes with planting and a little cart from the front.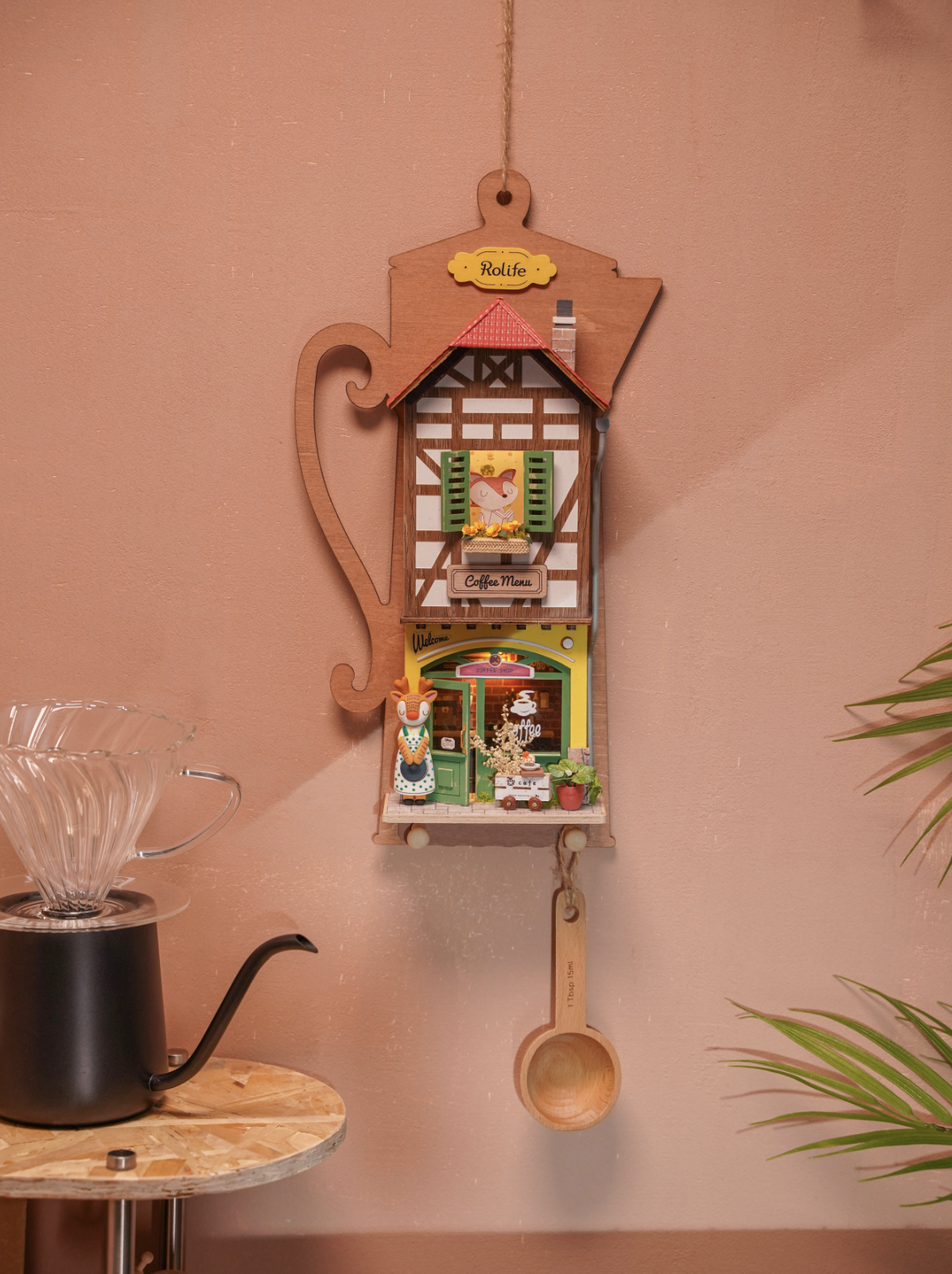 Just down the street, there is a post office run by a kind white rabbit in full uniform. As this is the Love Post Office, it is the perfect place to send love letters to sweethearts. Residents can use the store to buy their stamps and envelopes or use the yellow post box outside. The romance theme is intense here, with all the red and pink features and love hearts everywhere. The upstairs apartment is just as sweet with its little flower box beneath the window.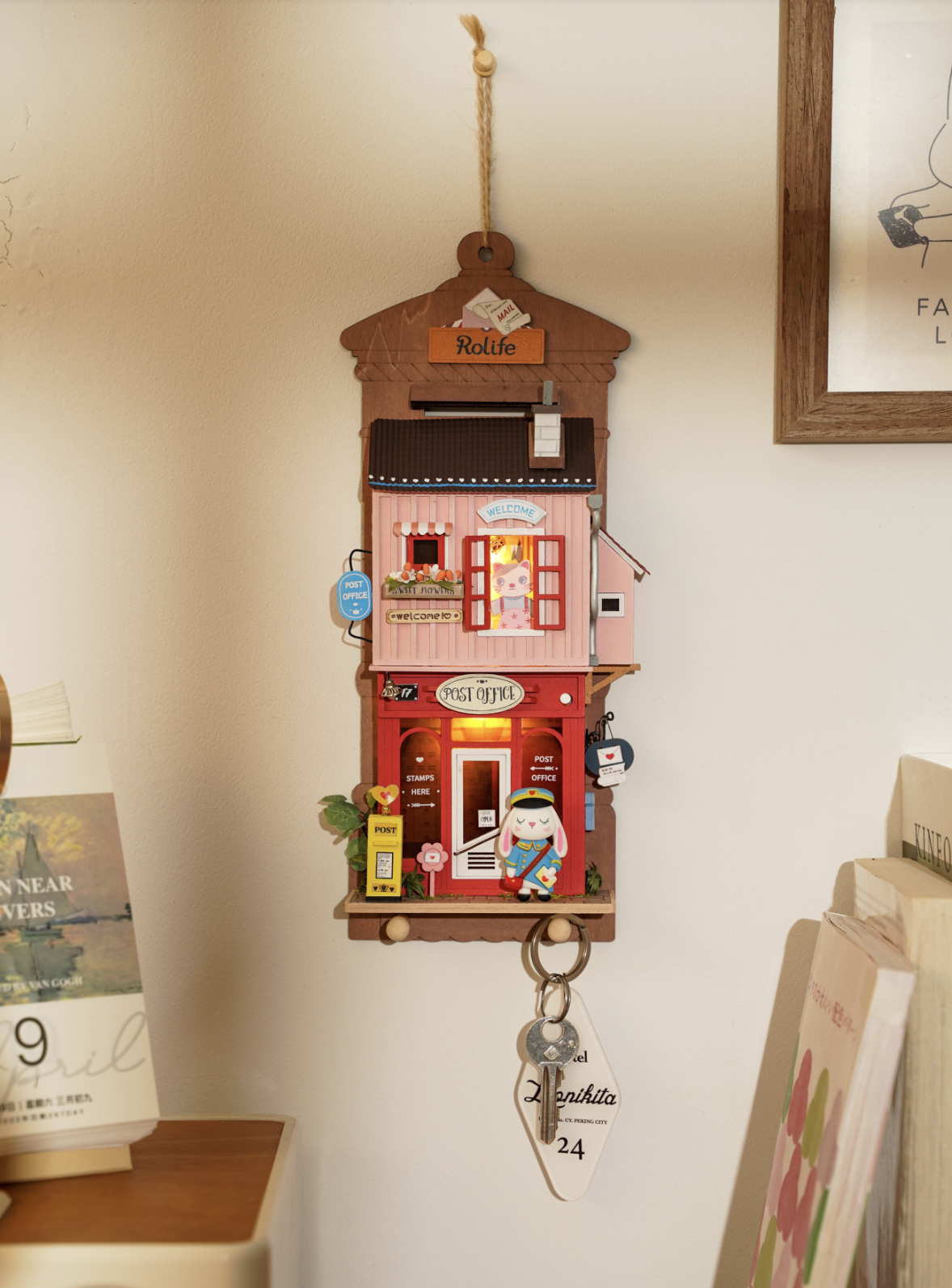 Finally, there is the little beachfront hotel down by the shore. This one goes all-out with the blue and white maritime colors on this cute three-story villa. The ground floor has a big welcoming sign and double door, with the cat owner ready to check you in. One guest is already admiring the view from the top-floor window. Extra features like the lamp, life-ring, and starfish add fun contrasting colors.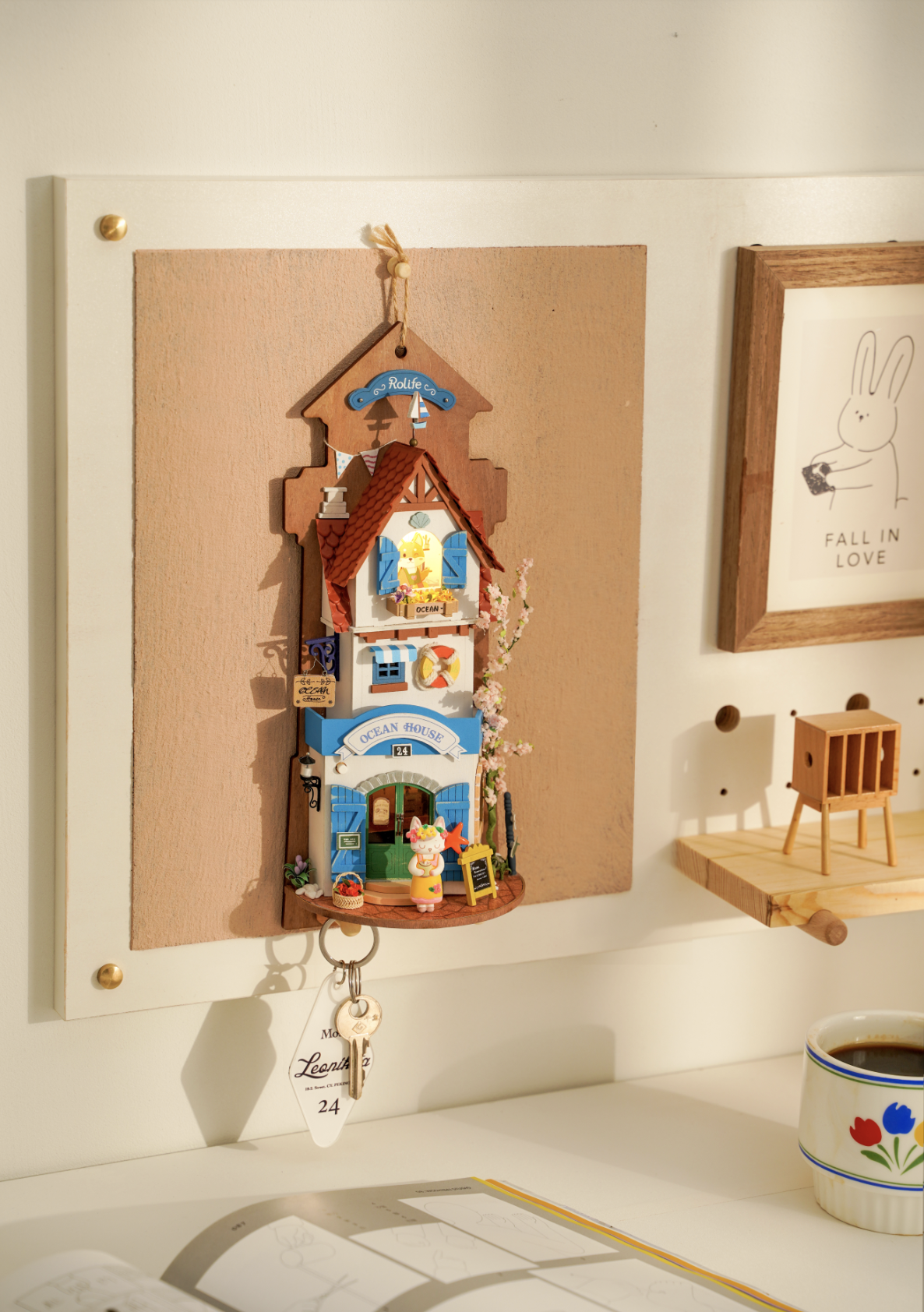 Go For A Full Set For Maximum Impact
There are two options with these wall hanging DIY miniature house kits. You can choose the design you like the best and make it a centerpiece of a bedroom or playroom wall, or you can go for all four in one set. This option allows for a more elaborate display in a larger living space and is more of a conversation starter with guests. Either way, these sets are sure to bring great joy with their alternative take on home décor.