Get Cozy With Rolife Little Warm Space DIY Miniature House Kits This Fall & Winter
Get Cozy With Rolife Little Warm Space DIY Miniature House Kits This Fall & Winter
Get Cozy With Rolife Little Warm Space DIY Miniature House Kits This Fall & Winter
Many of us will seek to create cozy spaces in our homes this fall and winter. But what if we could create that on a smaller scale with a cute DIY miniature house kit? That is exactly what you get with the new Little Warm Spaces series.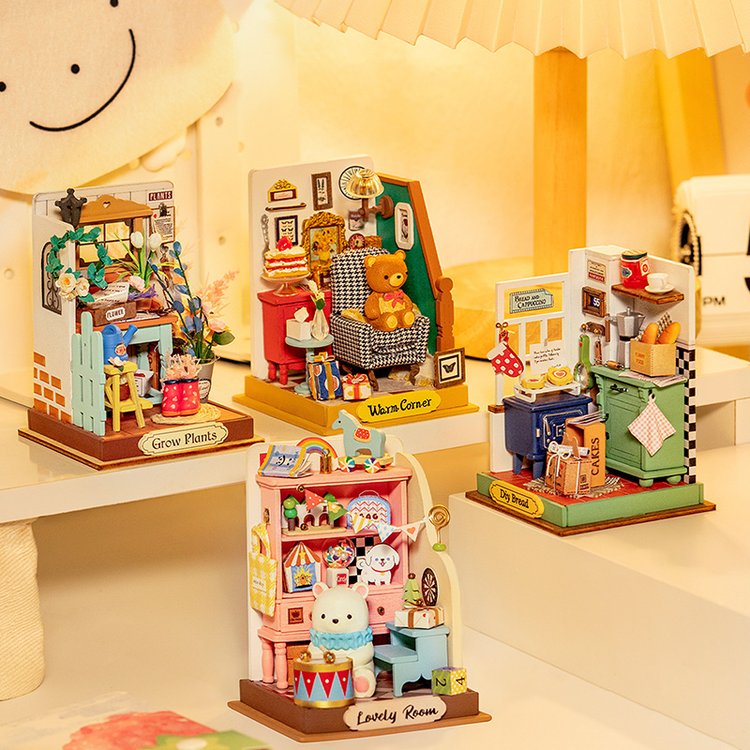 Introducing Rolife Little Warm Space Miniature House Series
As the name suggests, a Little Warm Space is somewhere cozy where creators can feel the warmth that comes from contentment and self-care. These little spaces are full of items to make us feel joy and enhance our mood. They are perfect for rainy days in winter when the outside world feels too unwelcoming. Builders can lovingly spend their time crafting these cozy corners and put them in pride of place on dressers, bookshelves, and other areas.
The great thing about these kits is that they aren't too complicated compared to some DIY dollhouse kits. This makes them ideal for beginners, who perhaps fall in love with the settings but worry about their experience level. They are also great first-time DIY craft kits for young children before moving on to more complex designs.
There Are Four Little Warm Spaces to Provide That Comfortable Glow Inside
This brand-new series contains four beautiful and unique sets that creatives will love assembling and setting up in their rooms. Each one forms a corner of a larger room, giving a sense of security and allowing for secure construction.
1) Rolife Childhood Toy House DIY Miniature House DS027
First, we have the Childhood Toy House Little Warm Space Kit. This is a cute option for younger builders who don't want anything too challenging. With that said, there are still plenty of details in the design. This child's playroom focuses on a large pink cabinet full of toys. This sits on an attractive tiled floor alongside a white bear and its toy drum. There are also festive elements here that players can add later in the year. The soft pastel color scheme, cute bunting, and wooden toys bring an old-fashioned charm and that all-important warmth.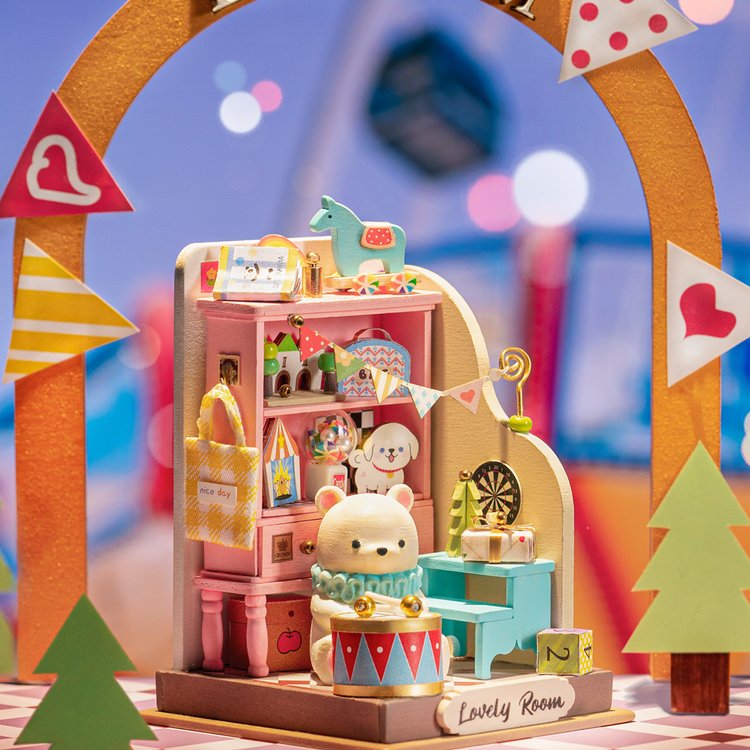 2) Rolife Holiday Living Room DIY Miniature House DS028
Moving into the living room of this adorable home, we have this Holiday Living Room Little Warm Space. This one would fit perfectly into an old English tea room and not just because of the massive pastry dessert on the side. There is also an old lamp in the corner, antique carved elements, and lots of art on the walls. The coziness of this warm space is amplified by the use of soft furnishings. There is a nicely upholstered armchair and a scarf for the bear. This is also another set with festive elements should you choose to include them.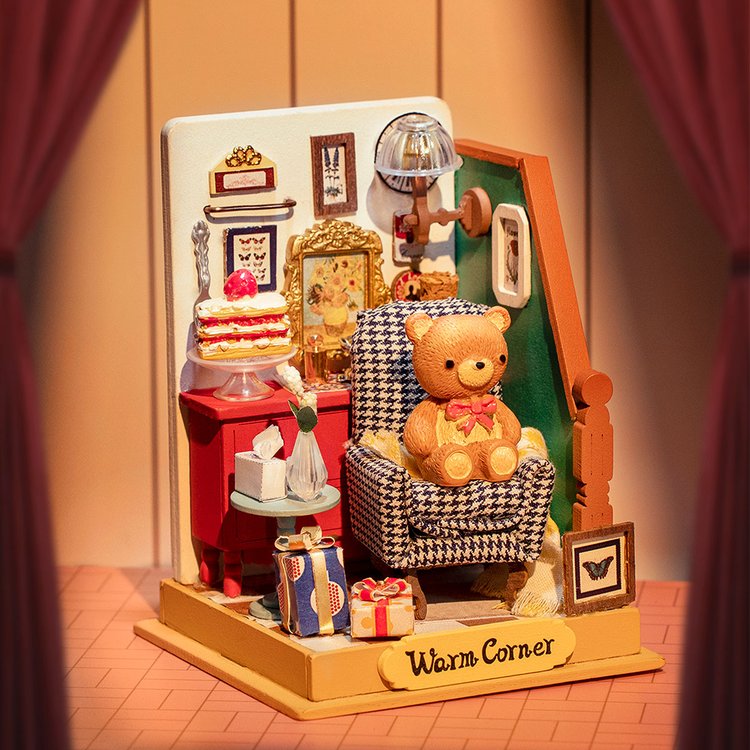 3) Rolife Afternoon Baking Time DIY Miniature House DS029
Next, we move into the kitchen with the Afternoon Baking Time Little Warm Space. This is another one with an old-fashioned feel - due to the antique cabinet, the aga, and the old coffee pot. Here, the warmth and coziness of this little corner come from the baked goods. Cookies are cooling on a rack, and there is a box of fresh bread. Other cute little details accentuate the vibe, including the note taped to the window, the little details in the furnishing, and the airmail delivery.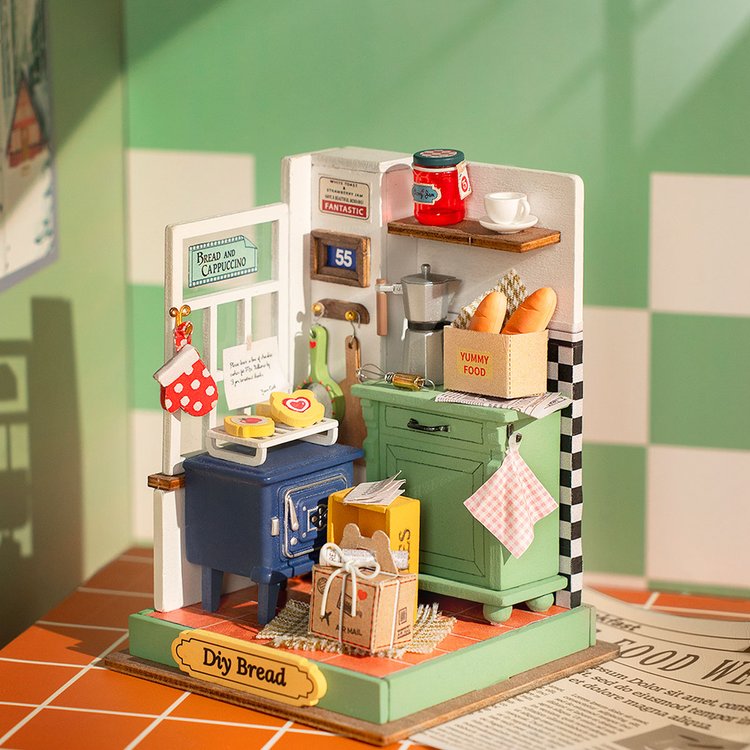 4) Rolife Dreaming Terrace Garden DIY Miniature House DS030
Finally, we are heading out to a quiet corner of the potting shed for the Dreaming Terrace Garden Little Warm Space. The warmth here is a little different, with the winter sun coming through the window and the last of the season's flowers looking beautiful in their pots. As with the child's bedroom, there is a soft use of color in the decor and furniture to make the room more inviting. There are also some really nice details for green-fingered builders, such as the little gumboots, the watering can, and other helpful tools.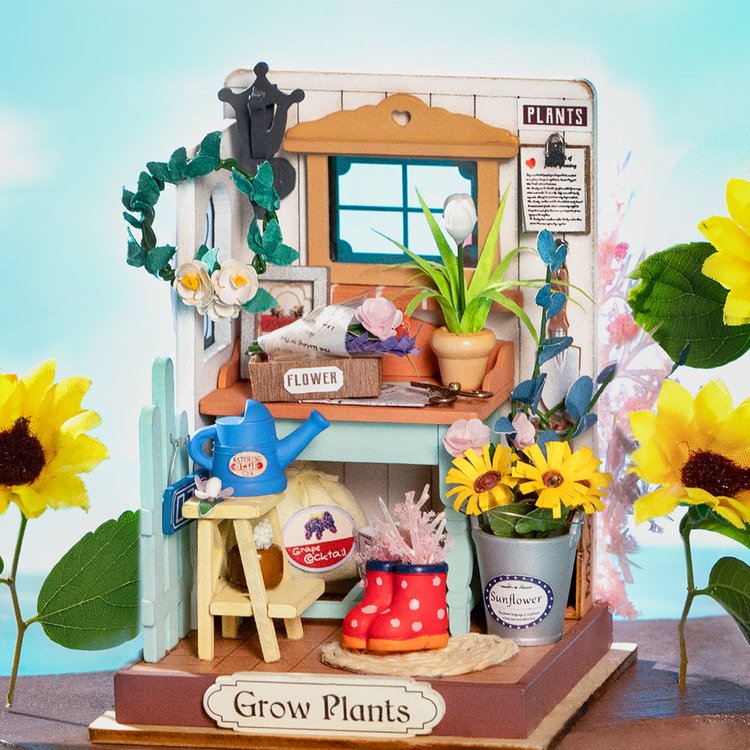 These Little Warm Spaces Are The Ideal Cozy Corner This Winter
These corners all have a distinct purpose and feel but still come together for an interesting set of DIY miniature house kits. These could prove to be a great way to bring warmth to the home this winter and offer new builders the confidence to try other projects.