Light up Your Shelf with Rolife Sunshine Town Bookshelf Insert
Light up Your Shelf with Rolife Sunshine Town Bookshelf Insert
Light up Your Shelf with Rolife Sunshine Town Bookshelf Insert
If you're looking for a unique product that will add more magic and charm to your bookshelf, then the Rolife Sunshine Town Bookshelf Insert is exactly what you need! It is a DIY book nook with a cozy design portraying a picturesque sunlit street designed specifically with book lovers in mind.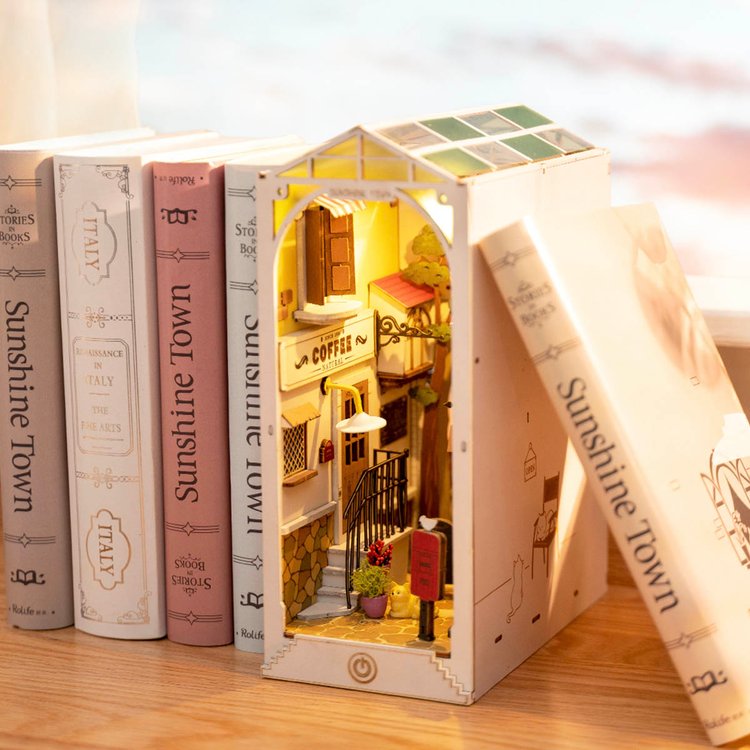 Unique design
The Rolife Sunshine Town Bookshelf Insert is truly one of a kind, created to look incredible whether you place it on your bookshelf, on your desktop, or in any other personal space. Though fairly slim and delicate, it catches the eye and adds a warm pop of color to any displayed space. The design, which depicts a quaint town containing a bookshop, a coffeehouse, and a beautiful golden clock, consists of plenty of intricate details. Every time you look at the finished product, you'll notice something that you hadn't noticed before.
A DIY project
It is a DIY book nook, so you'll get to enjoy the process of putting it together. With 246 pieces included and an estimated assembly time of 4-6 hours, the Rolife Sunshine Town Bookshelf Insert is a fairly challenging DIY project, but one that you'll appreciate putting your time and hard work into creating. Once you've constructed the street, the bookshop, the coffeehouse, the clock, and the tree, you'll be able to add the smaller details, which include a dog, a lamppost, a mailbox, and a cat.
Light up your shelves
To make this bookshelf insert even more unique, it is possible to physically light it up! All you need are two AAA batteries, and you'll be able to put the sunshine into Sunshine Town, lighting up the entire book nook with a soft golden glow. As the room gets darker, the light will also stream out of the back of the frame, silhouetting it against the rest of the space. This simple but innovative feature really elevates the Rolife Sunshine Town Bookshelf Insert above other similar pieces.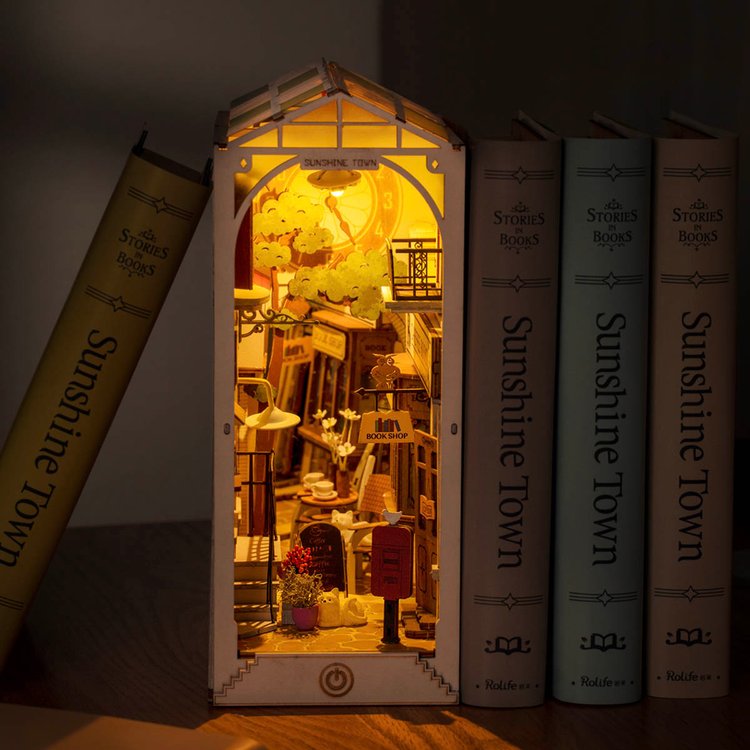 Durable and distinctive
Because it is made with wood instead of card or plastic, this product is also durable and stays looking great, so long as you look after it. Every piece is expertly crafted with its own sense of character, so you'll be able to admire it inch-by-inch for hours after you've fully constructed it. There are blends of different colors, distinctive design features, and little details that could be easily overlooked at first glance.
Cozy and calming
There is a sense of immersion that comes with this creative product. You can imagine yourself walking through Sunshine Town, enjoying a coffee, relaxing with a good book, and surrounding yourself with the everyday tranquillity of a slow-moving, peaceful community. This will put you in the perfect mindset to curl up with a good book in real life, perhaps in front of a warm fire with your favorite hot drink by your side and your pet sleeping at your feet.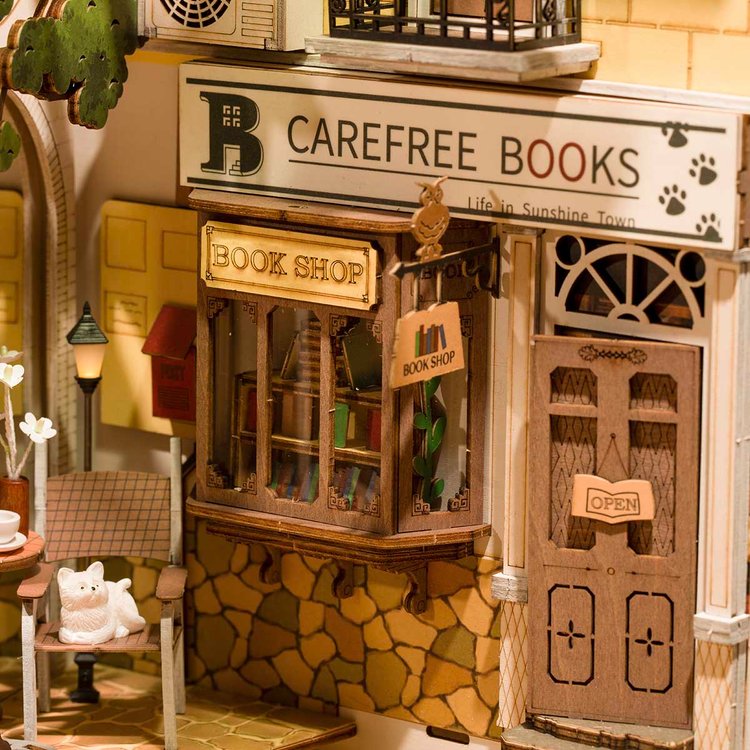 Perfect for all ages
The Rolife Sunshine Town bookshelf insert is great for children and adults alike because it has such a timeless elegance that completely captivates the eye. Having such a beautiful addition to the bookshelf could be just the motivation that your child needs to start reading more, a prompt that can also inspire the adults in the house! It's best to keep the small parts away from very young children, but once it is constructed, the book nook is perfect for a recipient of any age.
Robotime's most popular book nook
Whether you're looking to add some new life to your own bookshelf or choose the perfect gift for your bookworm friend, the Rolife Sunshine Town Bookshelf Insert has plenty to offer in the way of character and craftsmanship. Despite being aimed primarily at book lovers, it is an attractive product that will visually appeal to people with all sorts of different interests. Putting the book nook together yourself is a fairly elaborate process, but the end product is worth it.
The Rolife Sunshine Town Bookshelf Insert is beautiful, detailed, and, most importantly, different from any other book nook currently on the market. It is one of Robotime's most popular products, as well as one of the most distinctive, and it certainly lives up to the hype.