Rediscover Tabletop Games With The ROKR Pinball Machine DIY Craft Kit
Rediscover Tabletop Games With The ROKR Pinball Machine DIY Craft Kit
Rediscover Tabletop Games With The ROKR Pinball Machine DIY Craft Kit
Many of the best DIY craft kits will tap into various interests while offering a rewarding challenge. Some take builders on a journey with interesting mechanized parts while offering a chance to relive childhood memories. That is exactly what you get with the ROKR 3D Pinball Machine 3D Wooden Puzzle.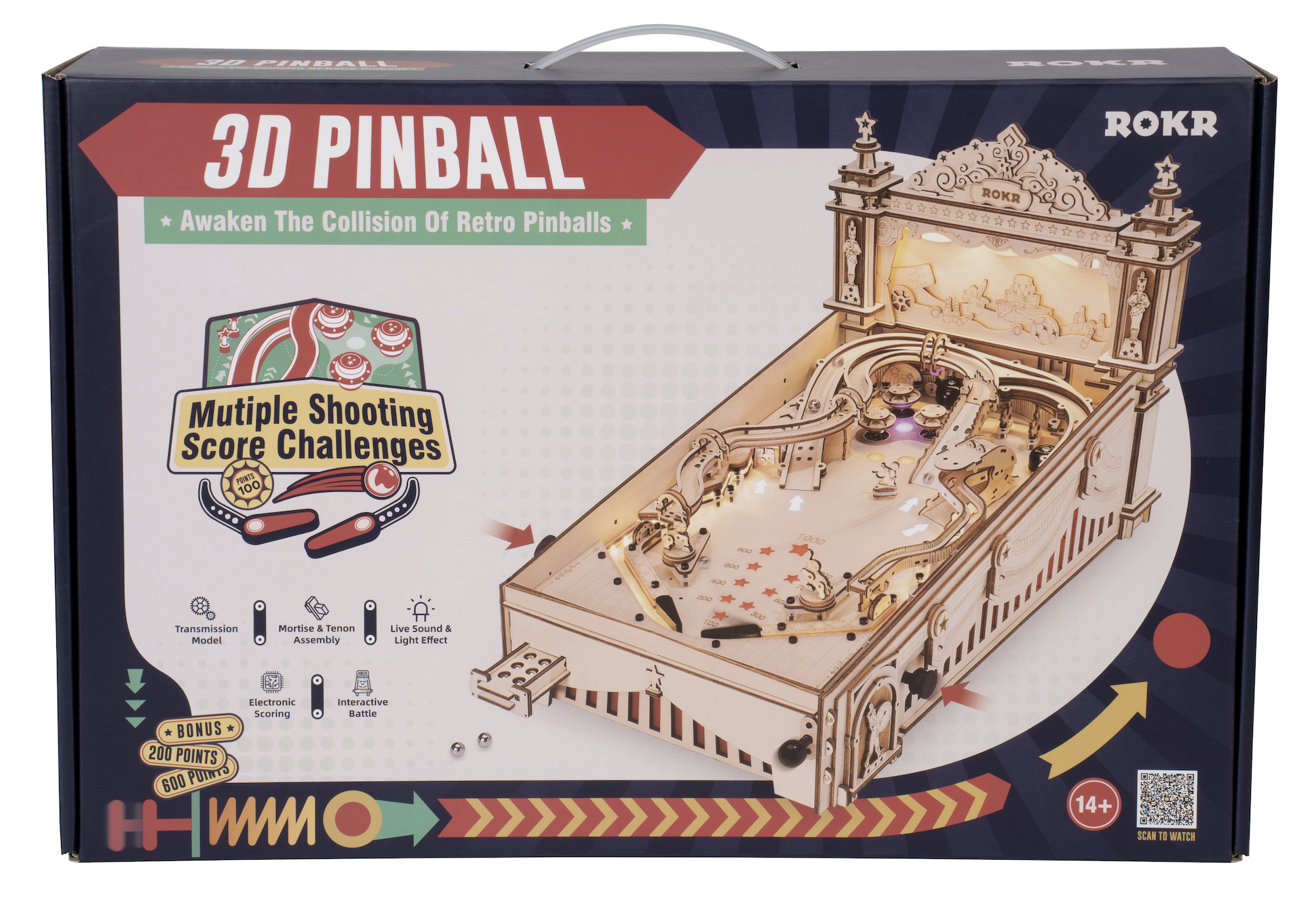 Pinball Table Top Games Are As Popular As Ever
The growth in tabletop gaming and the nostalgia for the non-digital age have led many people to return to physical machines and old-fashioned amusements. For some, this means returning to board games rather than video games or building extensive game rooms with arcade machines.
Part of all this is a renewed love for seaside amusements, old pub games, and other curiosities from our youth. Pinball machines were huge decades ago and have made a comeback. However, we can't all afford a real machine or have space for one at home. So, ROKR has the next best thing.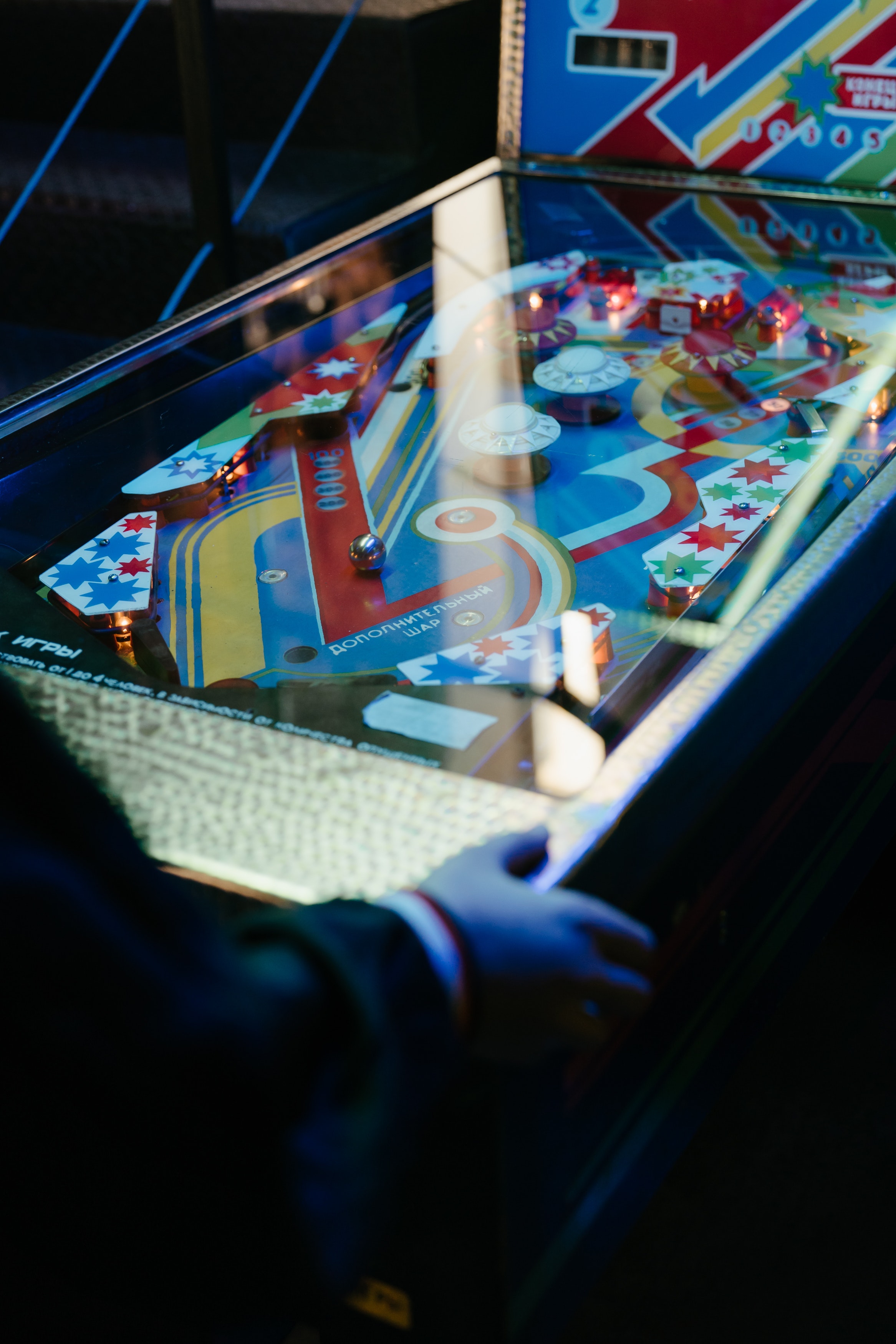 The ROKR 3D Pinball Machine 3D Wooden Puzzle Looks Beautiful With All Its Little Details
This wooden 3D puzzle lets builders create a scale model of a pinball machine in great detail. The exterior alone is impressive, with all of the circus-themed elements. The sides with the subtle red inset wood replicate the big top tent, and there are sweet carvings of little musical soldiers. On the large backboard is a relief image with items including a cannon and beach ball.
The attention to detail continues with all the internal features. There is great depth and structure with the different ramps and arches that meander around the surface. One even enters a crocodile's mouth. There are also wooden bumpers, figures of sea lions, and inset stars with points beside them. Another cute detail is the little container on the side for the balls.
There is a lot to consider when putting all of this together, and builders want to take their time making sure it is structurally secure. That is because this isn't just a model to admire when it's complete. This is a model that owners and their loved ones are going to want to play with time and time again.
This Pinball Game Is More Than Just A Detailed DIY Craft Kit
What makes this stunning 3D wooden puzzle even more special for collectors is that this is a working pinball machine. Among the different structural wooden elements are practical features that replicate the classic movement and gameplay of the "real" thing. Pull the launcher at the side to propel the stainless steel ball into the table. From there it will bounce around, repelling off the sides, ramps, and bumpers. Those bumpers even have little springs in them to help them bounce around. You also get a pair of controls at the sides for the flippers to keep the ball in play.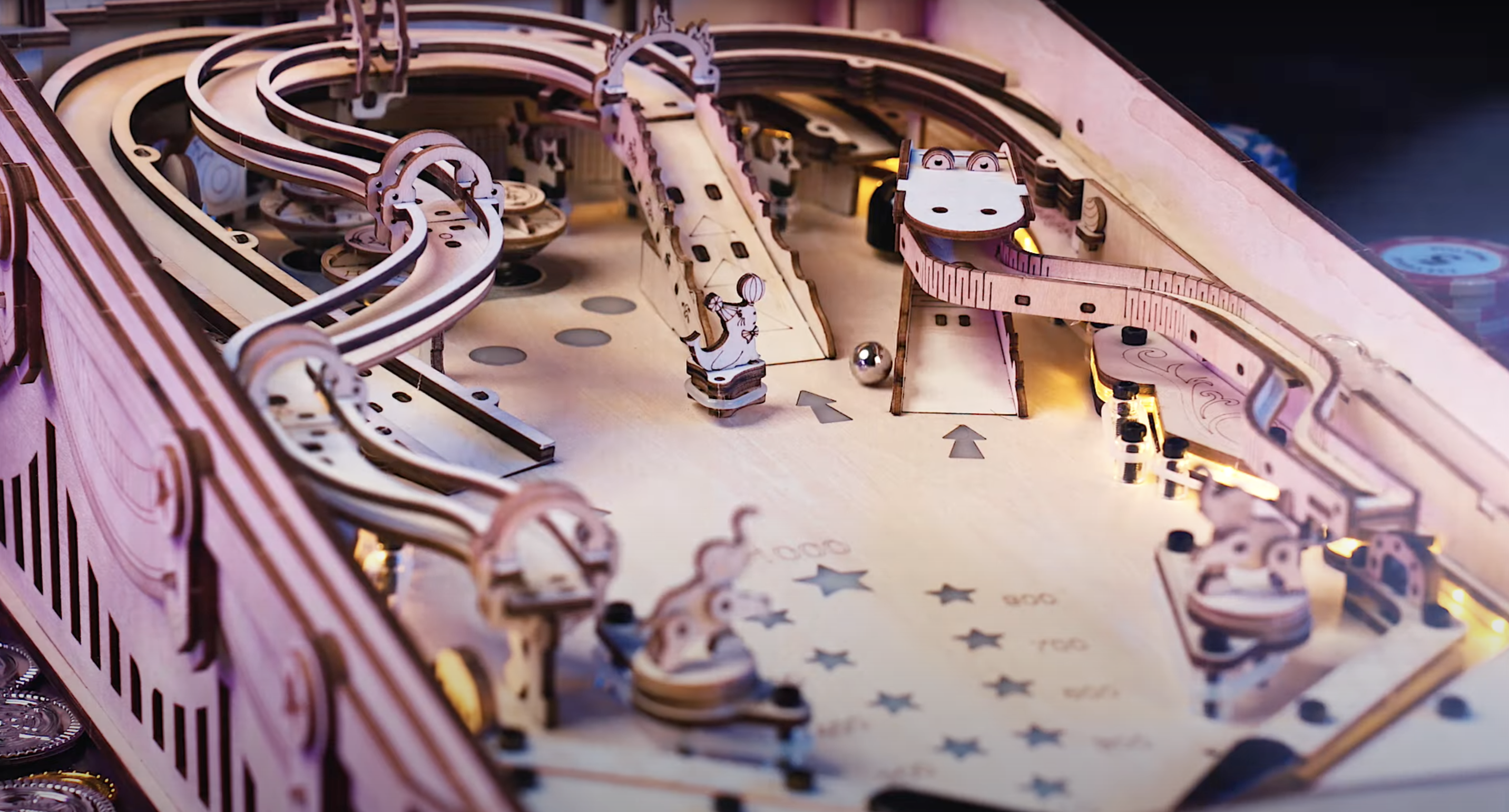 If that wasn't enough, the designers have cleverly added LED lighting to the design. There is just enough to evoke the spirit of the arcade as the ball hits its targets, but not so much that it takes away from the beautiful minimalist design.
ROKR 3D Pinball Machine: A Brilliant Gift For Keen Collectors Of Puzzles & Desktop Games
Because of all of this is it clear that this 3D wooden pinball machine has great appeal as a working tabletop game? It is sure to be a great addition to any collection in a games room, where friends and family can take it in turns trying out the quirky mechanics. It would also work great in a living room or kids' bedroom, where they might not be able to convince parents to give them a traditional pinball machine.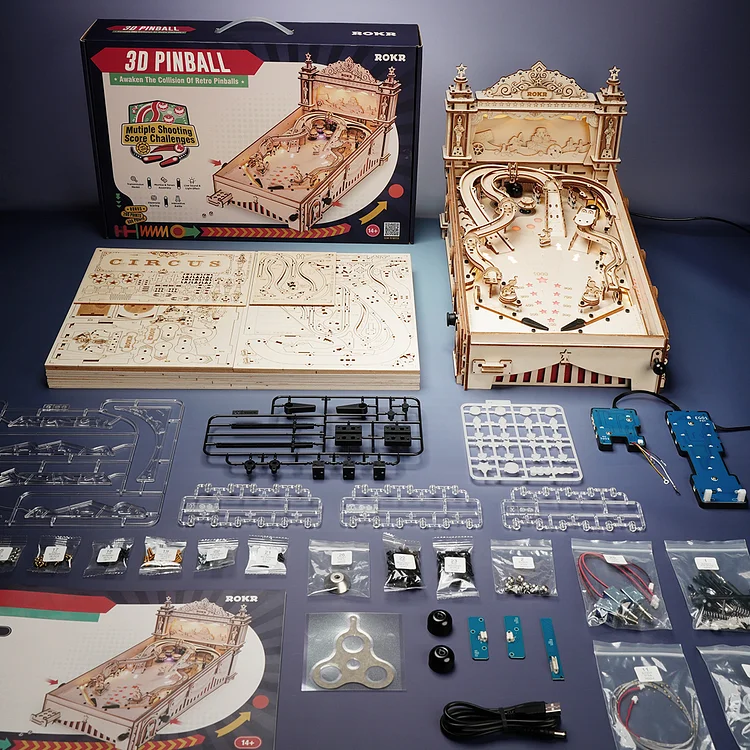 Of course, there is also the appeal for any collector of wooden puzzles and 3D models that wants something a little different in the collection. It will look great alongside other fairground-themed models, such as amusement park music boxes, to bring back childhood memories.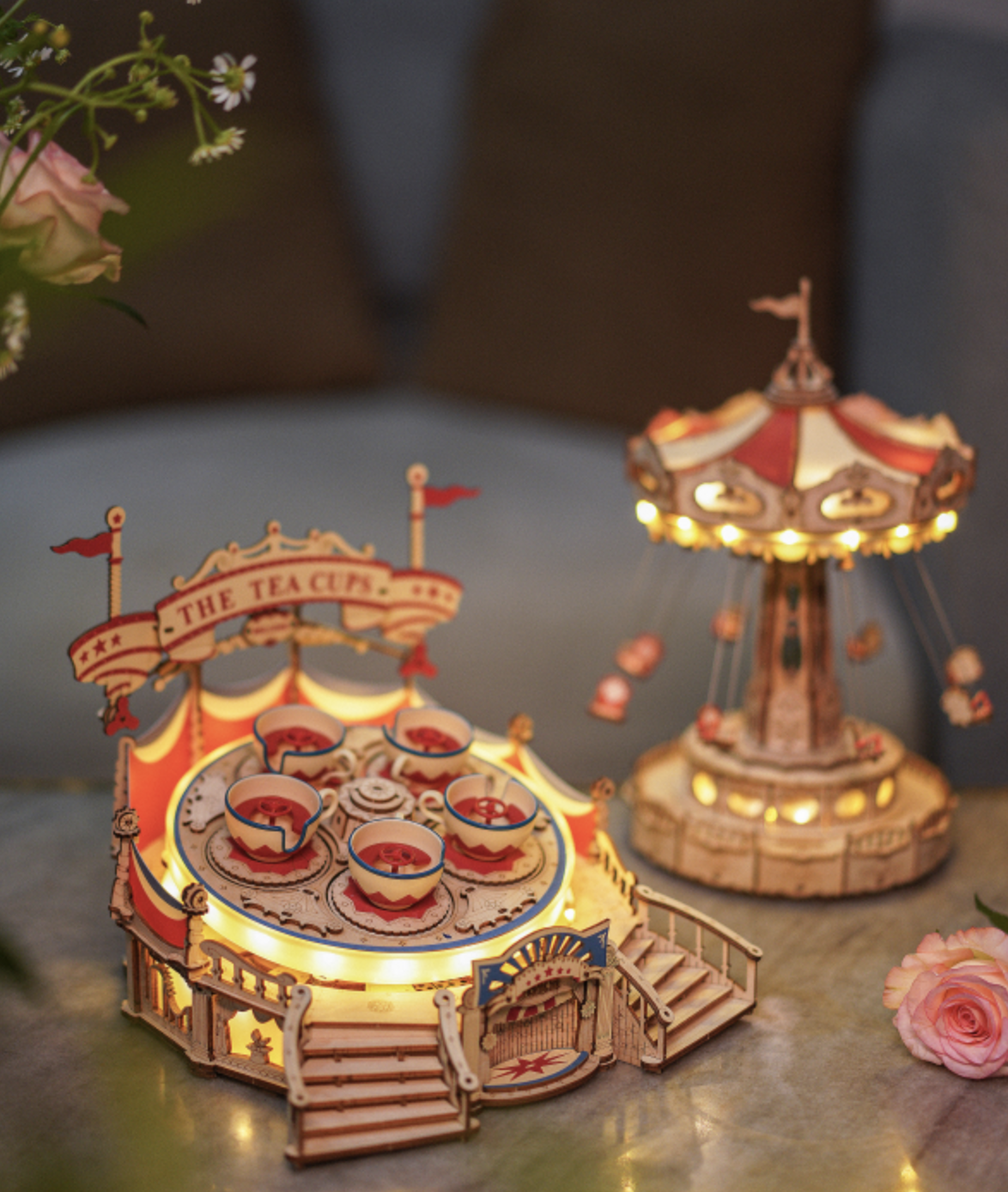 Whoever you have in mind, they are sure to love this ROKR pinball model building kit. With the right care and precision, it should become a well-loved toy as well as a beautiful model.