Rolife Sakura Densya Book Nook: The Reasons Why We All Love It
Rolife Sakura Densya Book Nook: The Reasons Why We All Love It
Rolife Sakura Densya Book Nook: The Reasons Why We All Love It
There's a good chance that you've seen the latest trend bringing unique highlights to people's book collections. Recently, Our Rolife Sakura Densya book nook has been popular among our customers. The 'Book Nook' is the perfect way to complement your bookshelf, and here's why.
Click here to view more about this product
Why Book Nooks are Trending
A Book Nook, in the form of a miniature house, is the perfect way to bring unique highlights to your collection. Originating from Japan around 2018, they usually resemble an alleyway or a view from a room that hints at leading to a whole new world sitting right behind your books. Book Nooks often feature lighting and an illusion of motion, adding some semblance of realism. They not only create a beautiful break in a display of books but hint at a whole new world just out of reach. A Book Nook is also an ideal way to separate books in your collection into classifications. For example, science fiction books can be separated from the next grouping by a nook that represents a walk through a corridor to a laboratory. The possibilities are endless, but the effect will be to bring a new and dynamic appearance to your bookshelf.
The Advantages of Making Your own Book Nook
To truly personalize your space and give it a sense of your own personality, you might want to make your own book nook shelf insert kits. Not only will this give your home a true sense of your own identity, but could also help you develop craft skills that you never knew you possessed. However, not everyone can produce a really beautiful nook from scratch. Luckily there are ways to create a truly beautiful and professional-looking nook with your own hands by using a DIY Book Nook kit. You will still be able to hone your fine motor skills, dexterity, and concentration because DIY 3D kits are the ideal way to use your time creatively and, in the end, have a bookshelf display that generates admiring comments and stimulating conversation. You can justifiably feel proud as you tell people, "I built that".
Introducing the Rolife Sakura Densya Book Nook from Robotime
This incredible kit is a wooden 3D puzzle that you put together with your own hands to make a truly beautiful Book Nook that will bring a whole new ambiance to your bookshelf and home. Once completed, the nook will give the impression of looking out from your personal book store over a gentle body of water, with floating leaves that have fallen from the cherry trees. You will look down a Tokyo Street scene in Spring as you watch a traditional tram appearing to slowly cross an old iron bridge, with the cherry blossoms framing the whole scene. The attention to detail in the kit adds a new dimension of realism, with passengers in the tram enjoying the scenery. The use of different materials in various elements of the kit gives a layered sense of wonder and allows the colors to appear both vivid and warm. The specially chosen material used to create the river gives the impression of rippling water, and the battery-powered lighting effects add a sense of wonder that will make you proud to complete this kit.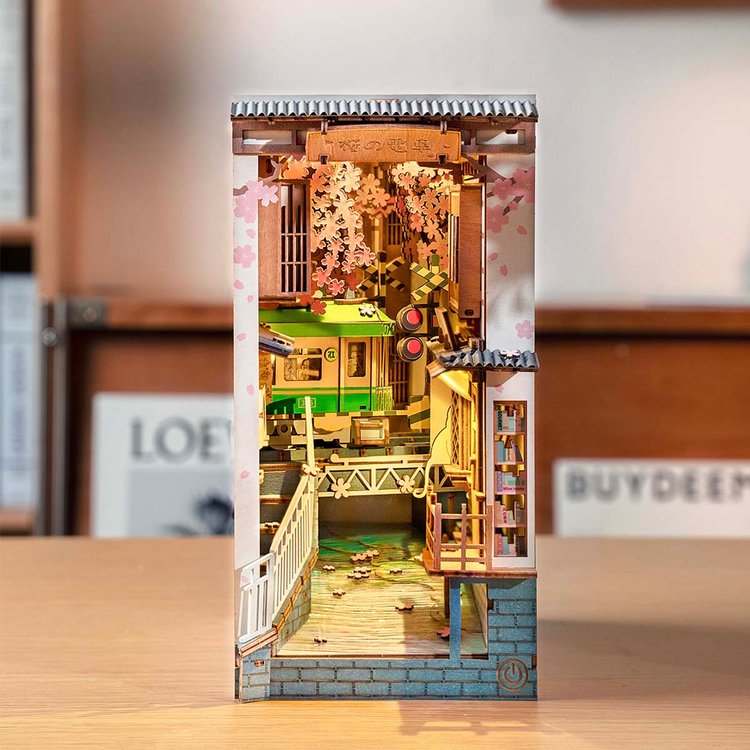 How to Build This Sakura Densya Book Nook
This 340-piece 3D wooden puzzle book nook kit arrives with the individual parts from each scene built into flat cards that you pop out with your fingers, then assemble to create one section of the finished Book Nook. Most pieces snap together, but a few will need the application of some suitable adhesive such as eco or super glue. It is best to work on a clear flat surface such as a dedicated puzzle board or table, but because each section completes one scene, you won't have to finish the entire puzzle in one sitting. In all it is anticipated that you will need 6 to 7 hours to finish the whole thing but, of course, everyone works at their own rate. Once you have all the scenes completed, you simply put them together to create a beautiful, finished scene that you will be proud of. Pop in some AAA batteries, switch it on, and you will have an incredible addition to your bookshelf.
Conclusion
You can add a stunning visual component to your bookshelf that will be a focal point of the room. Even better, you can be proud of assembling it yourself and of helping to keep your mind active and develop fine motor skills and dexterity while ultimately creating something that will enhance the ambiance of your home with a beautiful piece of art.