Top 10 3D Wooden Puzzles for Adults in 2023
Top 10 3D Wooden Puzzles for Adults in 2023
Top 10 3D Wooden Puzzles for Adults in 2023
Solving 3D wooden puzzles come with a boatload of health benefits including a boost in short-term memory, problem-solving skills, and visual-spatial reasoning. It even fights cognitive decline to reduce the risk of dementia. Assembling wooden puzzles will also help you reconnect with yourself and give you time to slow down.
However, if you're a regular puzzle solver, you might need to crank up the difficulty to get the most out of these benefits. We suggest you challenge yourself with some of our hardest wooden puzzles for a more rewarding experience.
If you're up to the task, take your pick at the best 3D wooden puzzles for adults that Robotime has to offer.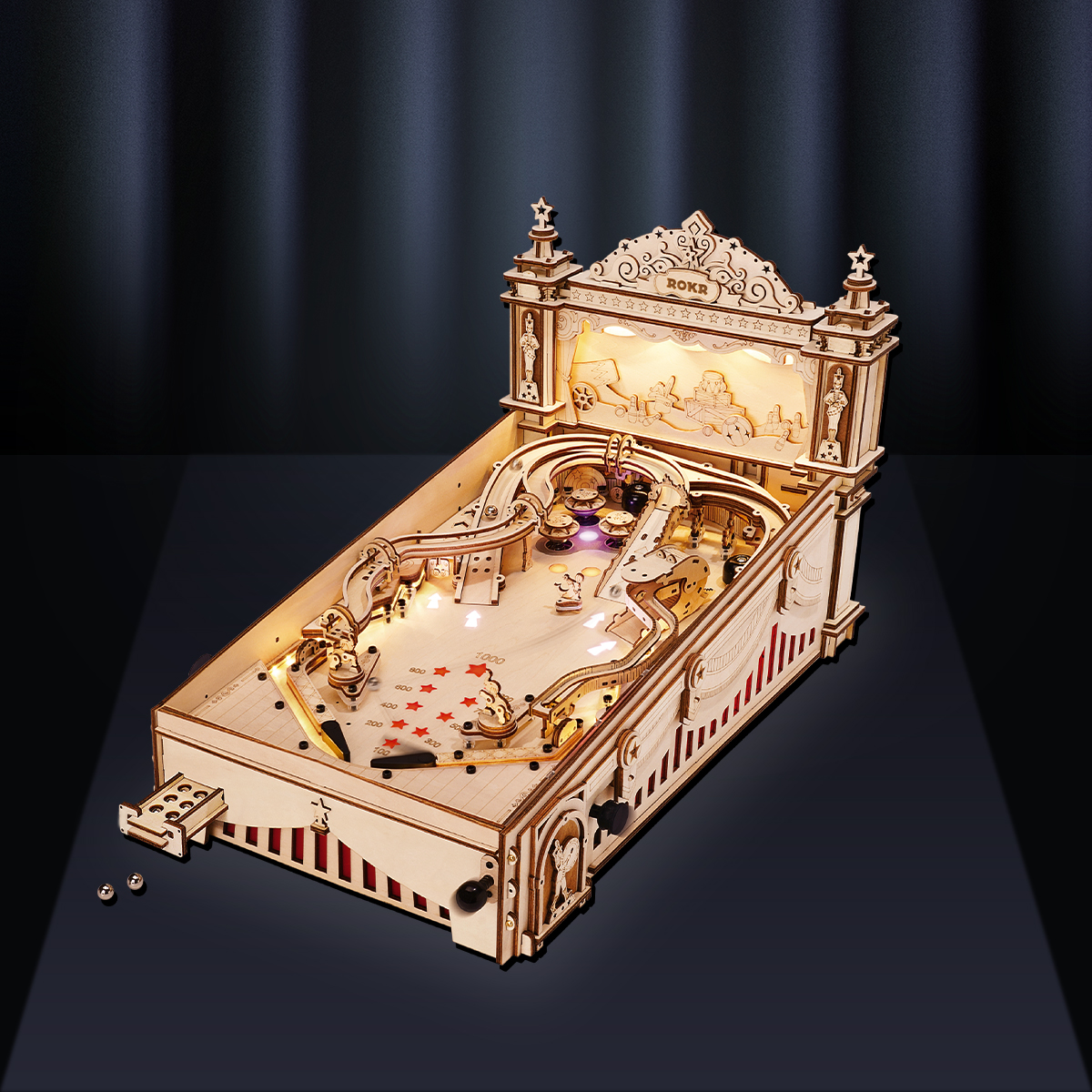 Difficulty Level: ★★★★★★
Pieces: 482
With 482 pieces that include mechanized parts as well as an estimated assembly time of 12 hours, our working detailed scale model of a pinball machine is one of our most difficult 3D wooden puzzles to date. However, builders and tabletop lovers will find it a joy to assemble as, piece by piece, they discover its charming circus-themed design and clever features.
Difficulty Level: ★★★★
Pieces: 294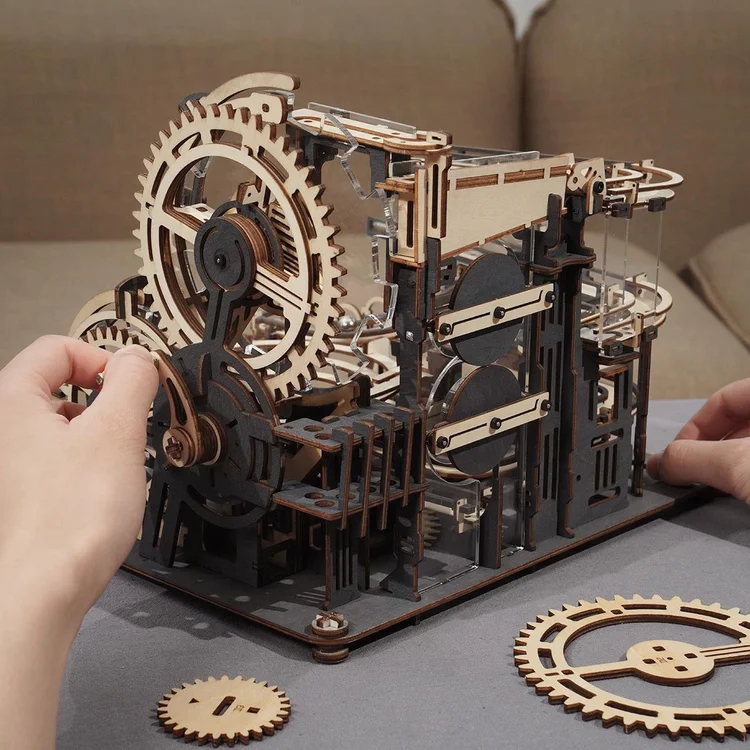 We took science, technology, engineering, and mathematical concepts to create a hand-built wooden city that's a beauty to explore. Though this marble run doesn't have as many parts as some of the hard wooden puzzles in this list, it's a challenge to connect the parts without affecting other pieces. You'll know you've reached your goal once the marbles run smoothly on the different tracks and crazy twists and turns.
Rokr Magic Cello Mechanical Music Box 3D Wooden Puzzle
Difficulty Level: ★★★★
Pieces: 199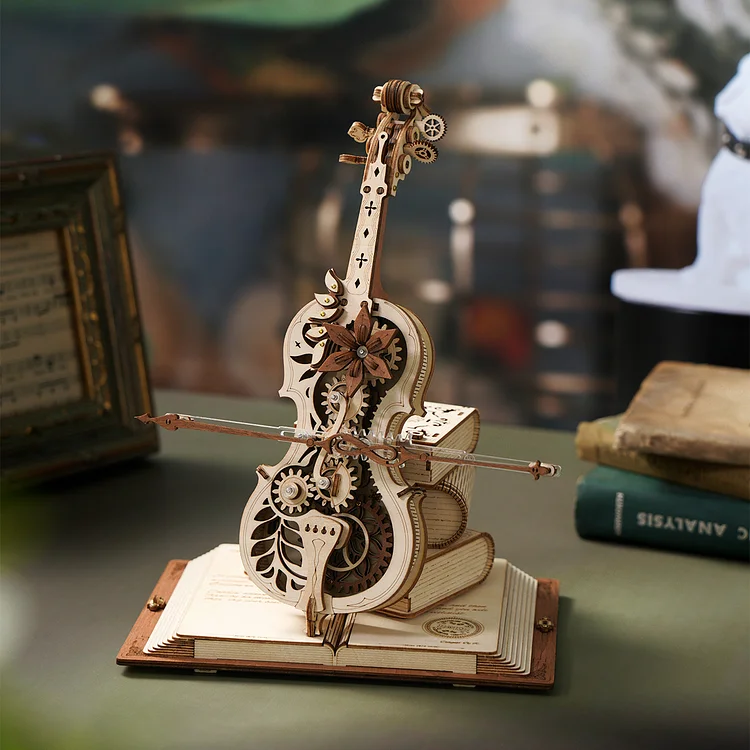 Though the Magical Cello Mechanical Music Box only has 199 pieces, even avid model builders will find it a challenge to assemble since it has so many small pieces. The hollow body of the cello houses delicate cogs and wheels that allow it to play music beautifully. To complete the magical picture, the vintage-style cello rests ever so gently on a stack of ornately carved books.
Difficulty Level: ★★★★★
Pieces: 180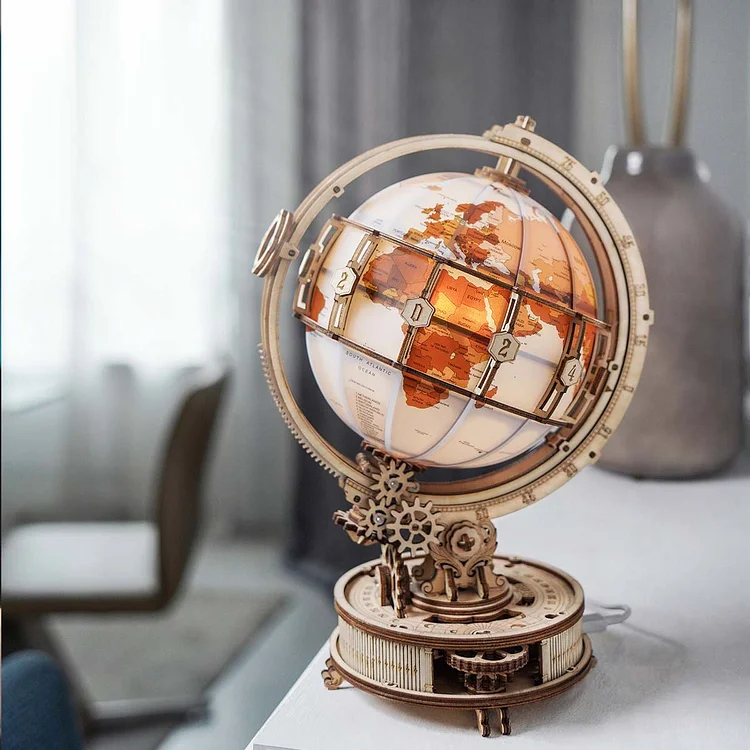 Our Luminous Globe might only have 180 pieces since the globe structure does not need to be assembled. Still, we consider this a very hard 3D wooden puzzle because of its intricate platform. You'll need to utilize your analytical and problem-solving skills to figure out which of the shapes, edges, and corners fit the adjacent puzzle parts. Once completed, you can take pride in its sophisticated aesthetics as well as its practical function, which is to serve as your warm light at night.
Difficulty Level: ★★★★
Pieces: 289
The Swing Ride Music Box is one of the best 3D wooden puzzles for adults who are looking for a challenging project that's both musical and festive. As part of our Magic Amusement Park Series, it features red and white suspended seats that rotate with the music. Warm bright lights, translucent side windows, and drapery eaves are added for a dreamy and romantic picture.
Difficulty Level: ★★★★
Pieces: 280
If you're charmed by the Swing Ride Music Box, you'll love the Tilt-A-Whirl Music Box as well. Not only does it have the same level of difficulty, but it also showcases yet another well-loved amusement facility - the old rotating teacup. To make it operate properly, you'll have to carefully connect the six transmission shafts, batteries, and lights to the teacups and stage. As the large stage rotates, the five mini teacups will spin to the tune of 'Wind and Moon.'
Owl Clock Mechanical Gears 3D Wooden Puzzle
Difficulty Level: ★★★★
Pieces: 161
For those who enjoy building kits with mechanical gear brain teasers, the Owl Clock 3D Wooden Puzzle is a good option. This enchanting owl-shaped clock is powered by battery movement and even comes with a spring-driven pendulum. The ringing timer is also very useful when you need a reminder for important moments. Overall, this difficult 3D wooden puzzle brings a lot to the table as a challenging project, an intricate display piece, and a functional time-teller.
Difficulty Level: ★★★★
Pieces: 340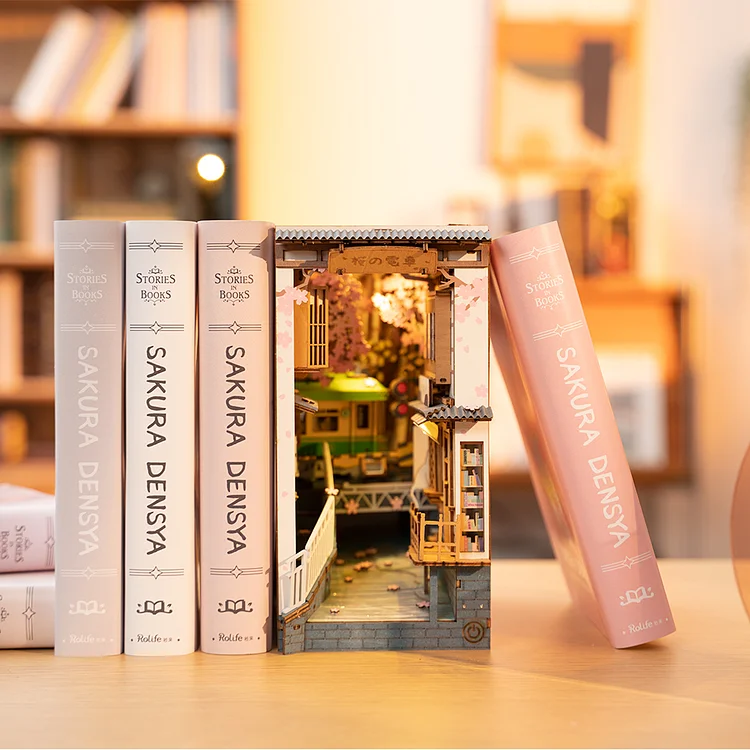 Build yourself a piece of springtime Tokyo that you can use to decorate your bookshelf using the Sakura Densya Bookshelf Insert Kit. With the 340 parts, you'll have about 6 to 7 hours of relaxation putting together different scenes that will make up the ethereal picture of Japan's cherry blossom season. It's one of the best 3D wooden puzzles for adults who want to hone their fine motor skills and dexterity while creating something magical.
Difficulty Level: ★★★★
Pieces: 240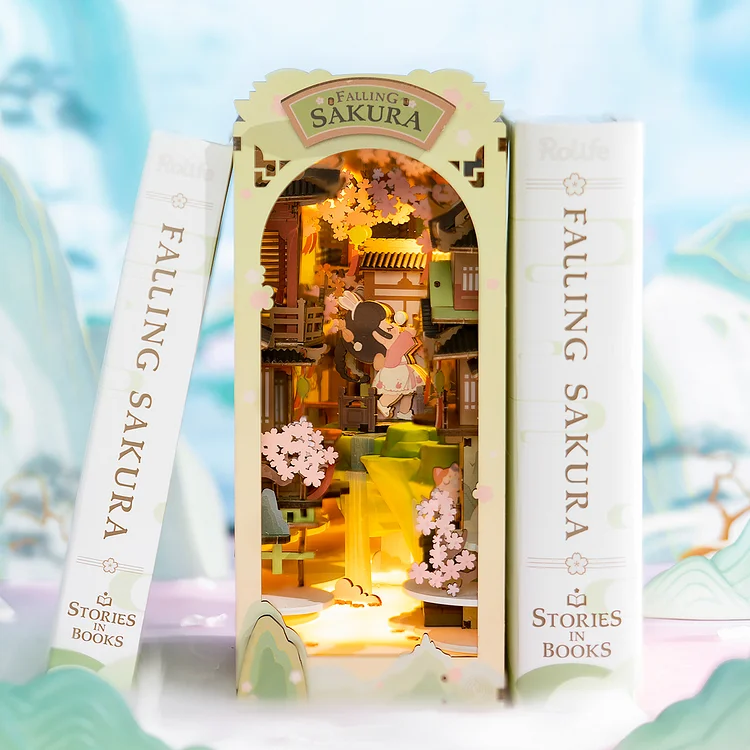 If you can't get enough of cherry blossom-themed bookshelf inserts, then you'll also love the Falling Sakura Kit. In just 3 to 4 hours, you can transform 240 laser-cut pieces into an immersive miniature 3D world. The warm light of the full moon graces the traditional pavilion and flowing river as delicate cherry blossom petals fall.
Difficulty Level: ★★★★★
Pieces: 183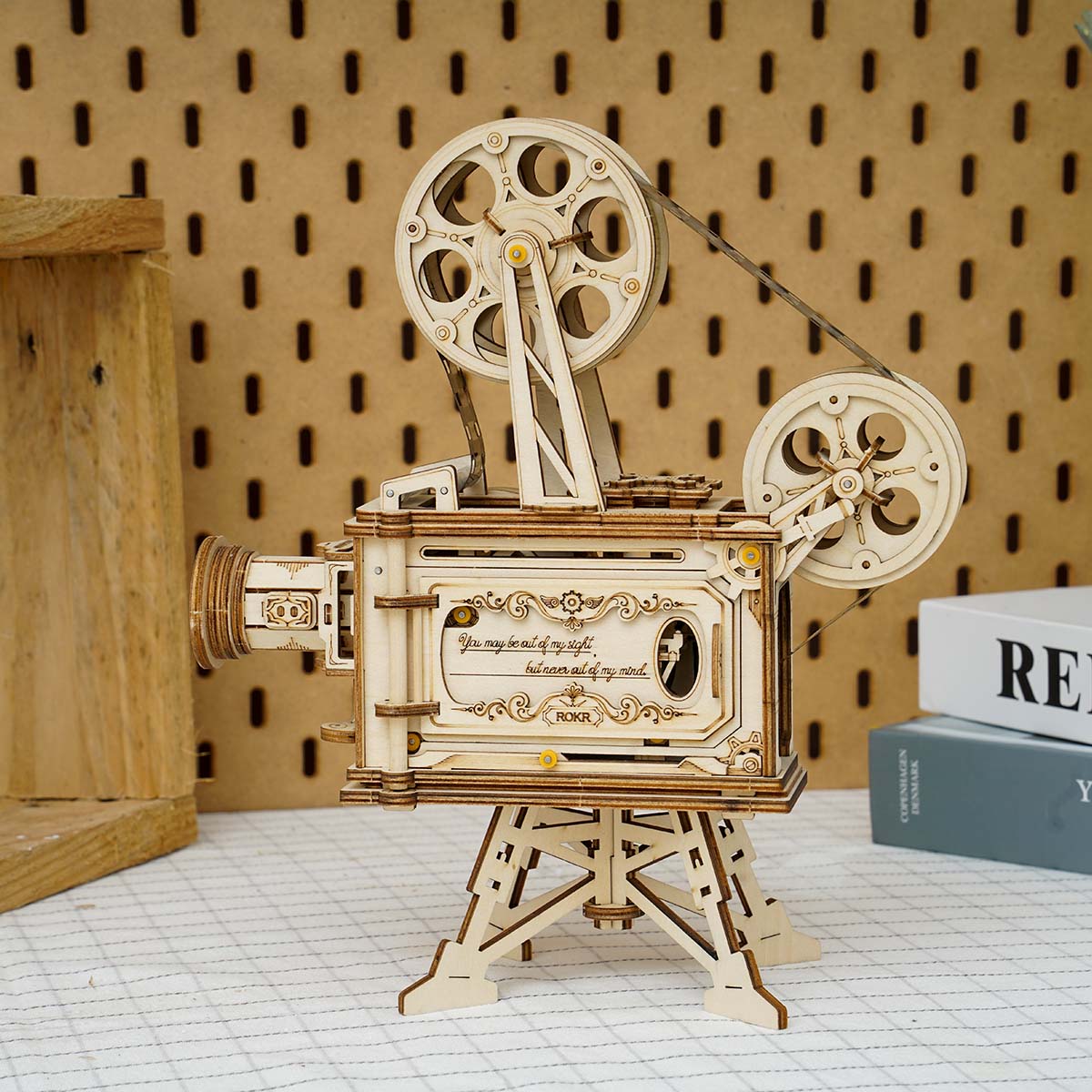 Next time your friends are coming over, impress them with a movie projector that you made on your own. The Vitascope Movie Projector Kit is another functional yet difficult 3D wooden puzzle for adults. The immersive building requires a high degree of care and will challenge your mind for 5 to 6 hours. Once the 183 pieces are properly placed, watch 'Chaplin's Modern Times' films come to life as you crank the handle to generate power. Meanwhile, as a vintage-style display piece, it's a great conversation topic that you can show off to your guests.
Last Conclusion
Finding a 3D wooden puzzle you love and conquering the challenging task is something to be proud of! Robotime is always dedicated to creating 3D kits suitable for everyone. You can set different levels for yourself to start challenging Robotime puzzles and start your DIY project journey with this and explore the greatness of human wisdom and mechanical beauty. You can draw inspiration from all the kits available from Robotime and create your own wooden masterpiece.
We are looking forward to your creations!