Top 5 3D Wooden Puzzle (ROKR's 2020)
Top 5 3D Wooden Puzzle (ROKR's 2020)
Top 5 3D Wooden Puzzle (ROKR's 2020)
The Official ROKR Top 5 list is compiled by the Robotime C&C, based on official sales.
【ROBOTIME, founded in 2007, is a world renowned brand that focuses on 3d wooden puzzles, toys and wooden handicrafts. ROBOTIME owns three(3) sub-brands: ROKR、Rolife and Robud.】
* All Customer photos below are from the ROKR group and please contact us:shop@robotime.com We will offer you 20% coupon code. Thank you for sharing!
And Say to all my fans, thank you for your support!
Any problem or advice about our products or service, please tell us.We will keep improving in the future.
Weight: 1.2 kg
Assembly time: About 6 hours
Package Size: 470*309*55mm
Wood Pieces: 168 Pcs
This series of products are created by Miko, a famous European designer, to create the beauty of the combination of machinery and time. Make invisible things into tangible art works that can be transmitted in front of you.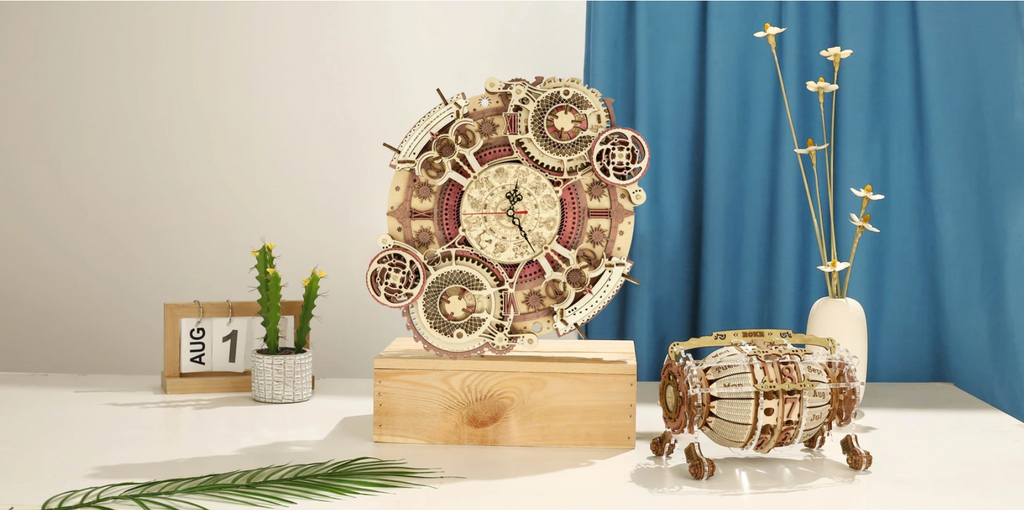 As long as you push the corresponding mechanical structure, the product will tell you the exact time and date. They are clocks and calendars that can be used in real life.
ROKR Fans Show
Wood piece: 424 pcs
Assembly time: About 12 hours (the most difficult one in 2020)
Weight: 1kg
Package size: 317*235*83 mm
It is inspired by the Gramophone invented by Thomas Edison. Retro design style with a vintage record player, It is not only just a model but also a gramophone that can really play records.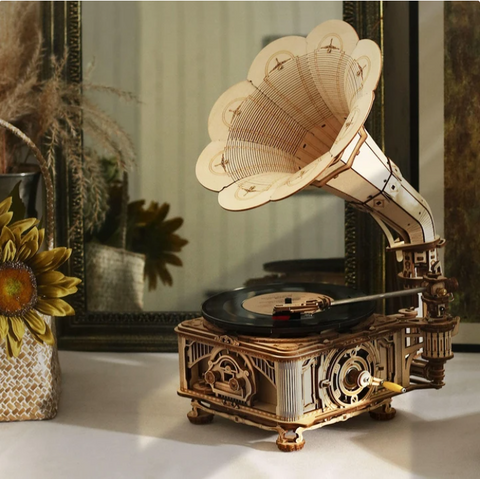 What is unknown is that most classical gramophone is manual. In order to revive the classics, we adopted a similar structure. Through the internal complex gear structure, it can be played without a battery, which makes people feel the unique experience of playing in person.
It supports 7-inch and 10-inch records. Manually control the volume through the knob. We also made a micro USB port, which can be connected to an external power supply to reduce the intensity of the hand crank.
Rokr Fans Show
Packaging Size: 345*235*57 mm
Weight: 1080g
Wood Pieces: 161pcs
Assembly time: About 4 hours
This mechanical clock with beautiful owl shape and battery movement. It has a wind-up pendulum with wind-up timer. When the time is up, timer bell will ring!(max: 30mins)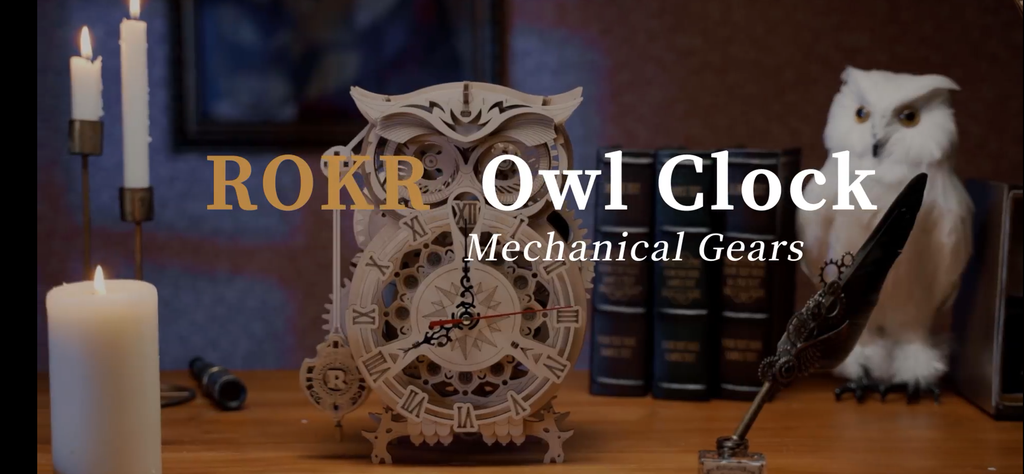 It is a cool project with absorbing building experience, also a beautiful home decor after finished.
ROKR Fans Show
Wood piece: 101 pcs
Assembly time: About 2.5 hours (the most difficult one in 2020)
Weight: 0.53kg
Package size: 271*192*69 mm
The Starry Night is a replica of the vintage Orrery mechanism. It is inspired by solar system model which illustrates the relative positions and motions of the planets and moons. The planets are made of colorful acrylic and circles while tunes playing.

ROKR Fans Show

Wood piece: 233 pcs
Assembly time: About 3.5 hours
Weight: 0.96 kg
Package size: 317*233*46mm
Marble Run Race is based on great human engineering. They combine the beauty of science and machines, involving so many small gadgets. Build the set and crank the handle, watch marbles run crazy down the slopes and twisting turns.
ROKR Fans Show
ROKR Collection Show
Which one do you like best?