8 Wooden Model Kits for Beginners: Fun, Easy, Affordable
8 Wooden Model Kits for Beginners: Fun, Easy, Affordable
8 Wooden Model Kits for Beginners: Fun, Easy, Affordable
Are you looking for a beginner-friendly wooden model kit? Well, you're just in time because we've rounded up a list of our favorite model kits that are not just easy to make but fun and affordable as well. So, whether you're a budding hobbyist who is still testing the waters or you're planning to introduce model building to a loved one, come on and pick your favorites among these aesthetic wooden model kits for beginners.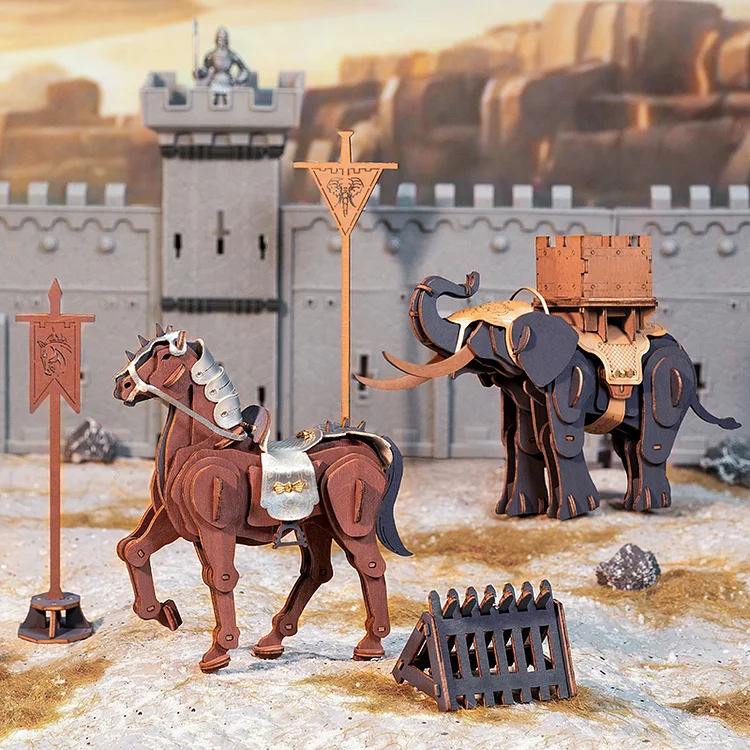 Difficulty Level: ★★☆☆☆
Number of Pieces: 96 for the Horse, 107 for the Elephant
Age: 8+
Assembly Time: 2 hours
Assembled Size: 125*40*130mm for the Horse, 210*55*125mm for the Elephant
First up, we have the Warrior Horse and Warrior Elephant duo that even kids as young as eight years old assemble. These are a great way to introduce children to model building and an even better activity to take their minds off digital devices, especially during rainy days when they can't go out. These warrior animals are a great addition to tabletop battle toys since they are decked out in leather armor and even have movable limbs for more realistic play. There are also totem battle flags and mobile guardrails that kids can use to decorate the battlefield.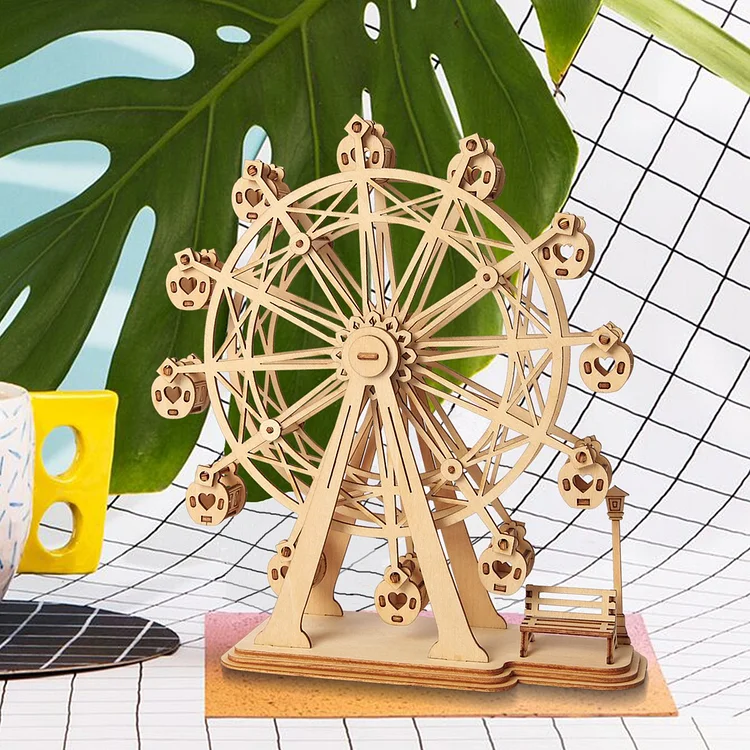 Difficulty Level:★★★☆☆
Number of Pieces: 120
Assembly Time: 5 hours
Assembled Size:H:6.1"(15.5cm) x W:6.5"(16.5cm) x D:2.4"(6.2cm)
Relive your happy childhood memories in a Ferris wheel while assembling this wooden model kit. This is a great option for kids, beginners, and seniors because it's easy peasy to make with the detailed directions and precisely cut wood. The wooden aesthetics has its own charm but you're free to paint it to match your childhood Ferris wheel. We gave extra points for coolness to this kit because it rotates smoothly by hand with the compartments hanging loosely and moving accordingly. It's definitely one beautiful piece that you can proudly show off to your family and friends.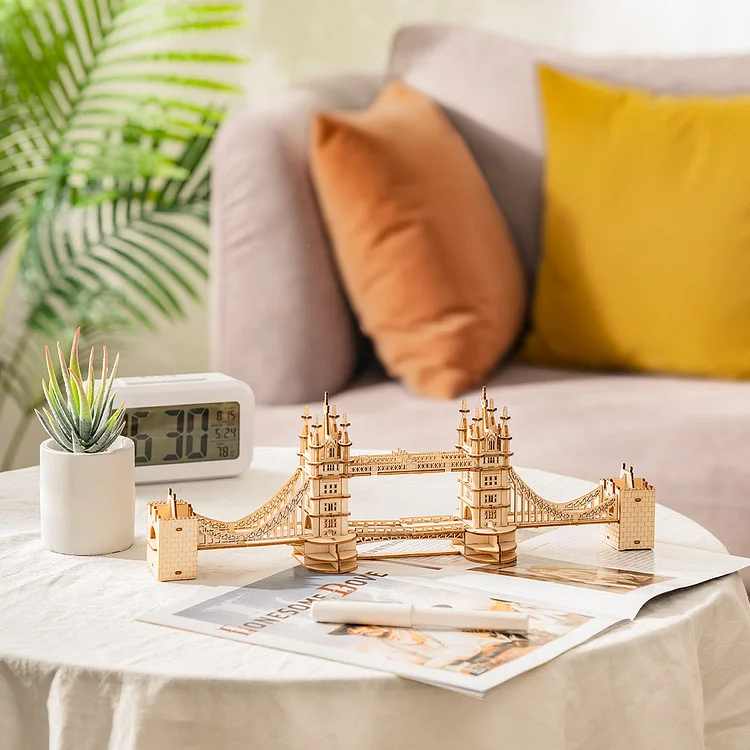 Difficulty Level:★★★☆☆
Number of Pieces: 113
Assembly Time: 5 hours
Assembled Size:H:6.1"(15.5cm) x W:6.5"(16.5cm) x D:2.4"(6.2cm)
If you're looking for a beginner-friendly wooden model with a wow factor, check out the Tower Bridge. It only take a little over an hour to assemble with just 113 pieces but still manages to look magnificent thanks to the plethora of fine details. Once you turn its lights on, you'll be transported to nighttime Victorian London's defining landmark, the Tower Bridge. Overall, it's an enchanting piece that deserves a spot on your shelf.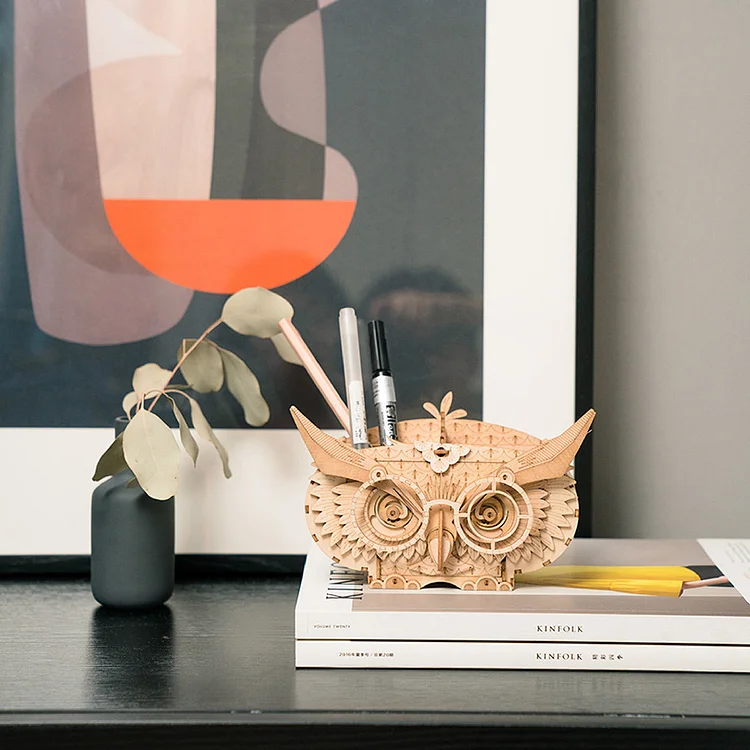 Difficulty Level:★★★☆☆
Number of Pieces: 61
Assembly Time: 5 hours
Assembled Size:H: D:3.9"(10cm) x W:6.5"(16.5cm) x 3.0"(7.5cm)
The Owl Storage Box is a fantastic starter wooden model kit for novices who have a special place in their hearts for anything that's both aesthetic and functional. Since it only has 61 parts, it won't take you more than a couple of hours to piece it all together. Once assembled, you can use this beautiful decorative box as a desk accessory to keep your pens and pencils organized.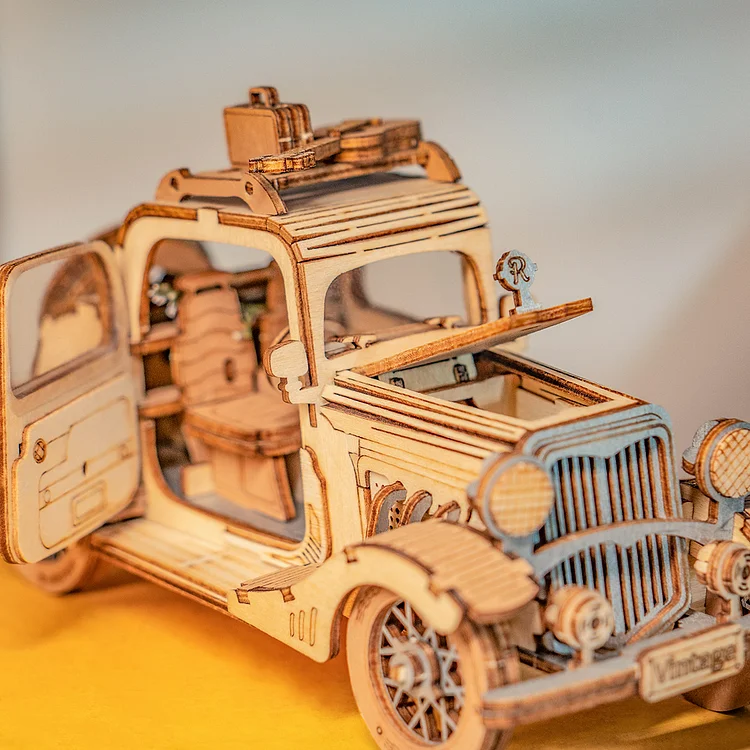 Difficulty Level:★★★☆☆
Number of Pieces: 164
Assembly Time: 5 hours
Assembled Size:H:6.1"(15.5cm) x W:6.5"(16.5cm) x D:2.4"(6.2cm)
If you're introducing wooden model building to a friend or relative who is a sucker for classic car models, we have the perfect kit for you. This wooden puzzle is a beautiful replica of the popular vintage car. After less than a couple of hours of assembly, your antique car fanatic of a friend will have the perfect conversation piece. There are also so many little details that he can explore and the wheels even turn when the car is pushed. Overall, this is definitely a kit that will hook car lovers into building more wooden model kits in the future.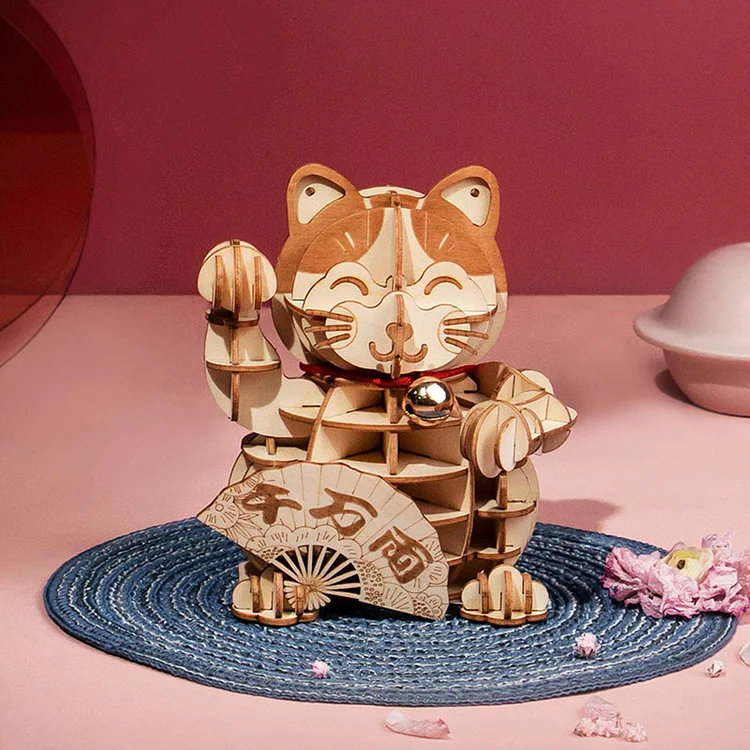 Difficulty Level:★☆☆☆☆
Number of Pieces: 72
Assembly Time: 5 hour
Assembled Size:H:44.7"(114cm) x W:37.2"(95cm) x D:3.9"(10cm)
What better way to start your journey as a builder than with a cat that will bring you good luck? The Plutus Cat is our take on the popular Japanese figurine maneki-neko who is said to bring its owners good fortune. It's one of our easiest wooden model kits as well since it only has 72 pieces with only a few small parts included. It even has a golden bell charm and a kawaii fan on its foot to add loads of cuteness in this small package.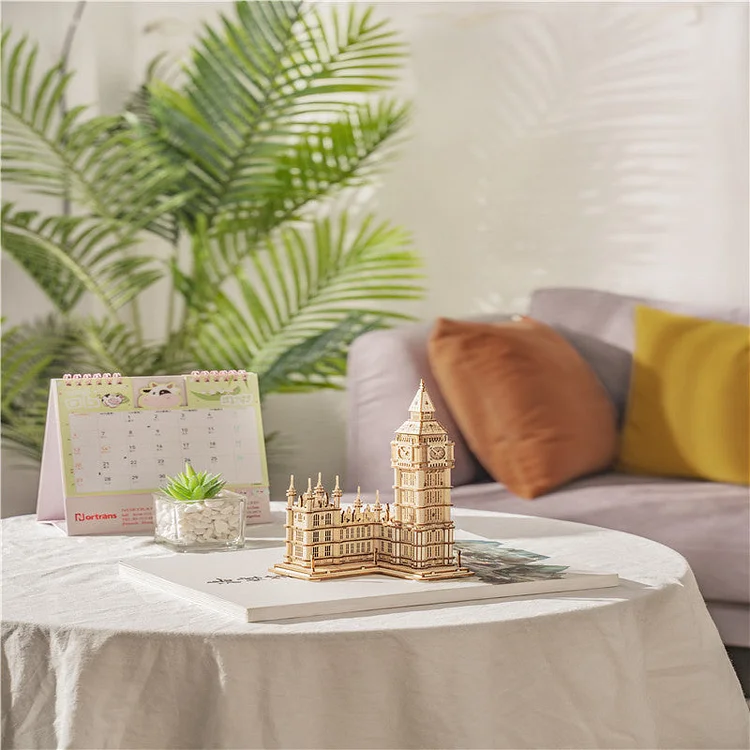 Difficulty Level:★★★☆☆
Number of Pieces: 220
Assembly Time: 5 hours
Assembled Size:H:4.0"(10.1cm) x W:7.5"(19.1cm) x D:4.2"(10.7cm)
Next, we have the Big Ben which you can build along with the Tower Bridge to create the perfect picture of nighttime London. Just like the Tower Bridge, the Big Ben lights up to emphasize the glorious details of its British architecture. Though it looks intricate and has a lot of pieces, even beginners can complete it in just two hours since the assembly is fairly straightforward.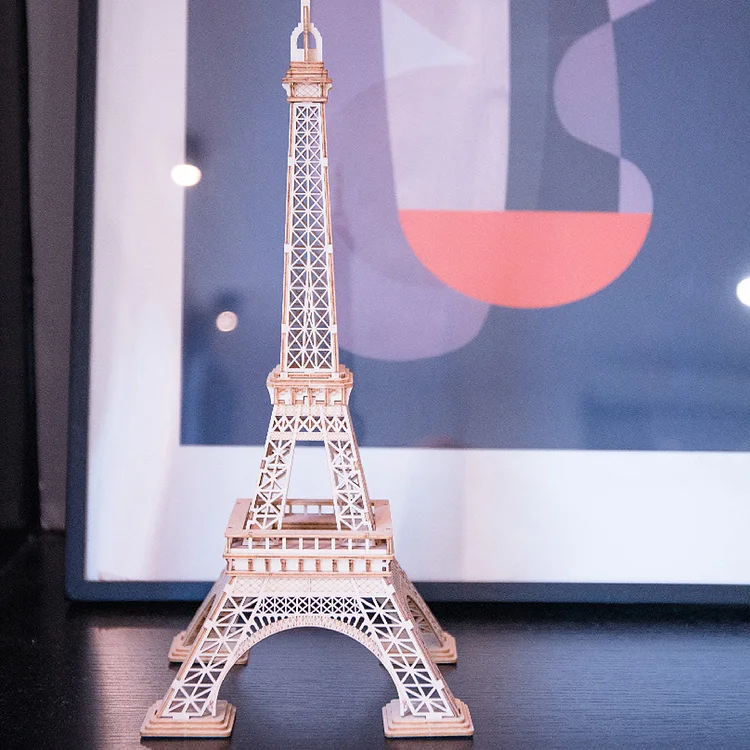 Difficulty Level:★★★☆☆
Number of Pieces: 121
Assembly Time: 3 hours
Assembled Size:H:14.4"(36.7cm) x W:6.5"(17cm) x D:6.2"(16cm)
Last but definitely not least, we recommend the Eiffel Tower, an elegant wooden replica of Paris City's world-famous landmark. Same with the Big Ben, you can't help but wonder how such a small piece can pack in all those intricate details. You can even use some acrylic paint to make it as close to the original wrought-iron lattice tower as possible. In just 3 hours, give or take, even people who are new to model building will have a beautiful display piece that they can proudly show their family and friends.
Final Words
There you have it - 8 amazing wooden model kits that are suitable for beginners and kids. They're all fun to make and easy on the budget. If you're interested in checking out more of our beginner-friendly wooden model kits, just go to our "3D Wooden Puzzle" collection and click "Easy Level" under the difficulty level. Enjoy building!