Introducing Rowood DIY Wooden Flowers Bouquet - A 3D Wooden Puzzle Set
Introducing Rowood DIY Wooden Flowers Bouquet - A 3D Wooden Puzzle Set
Introducing Rowood DIY Wooden Flowers Bouquet - A 3D Wooden Puzzle Set
The presence of flowers always brings joy and good fortune to people; they symbolize emotions and celebrations. However, the blooming period of fresh flowers is often fleeting, and they eventually wither after their glory days.
To capture these beautiful moments, Rowood's designers sought to preserve the splendor of these blooming flowers using wood, and thus, the Rowood Wooden Flowers Bouquet DIY 3D wooden puzzle set was born.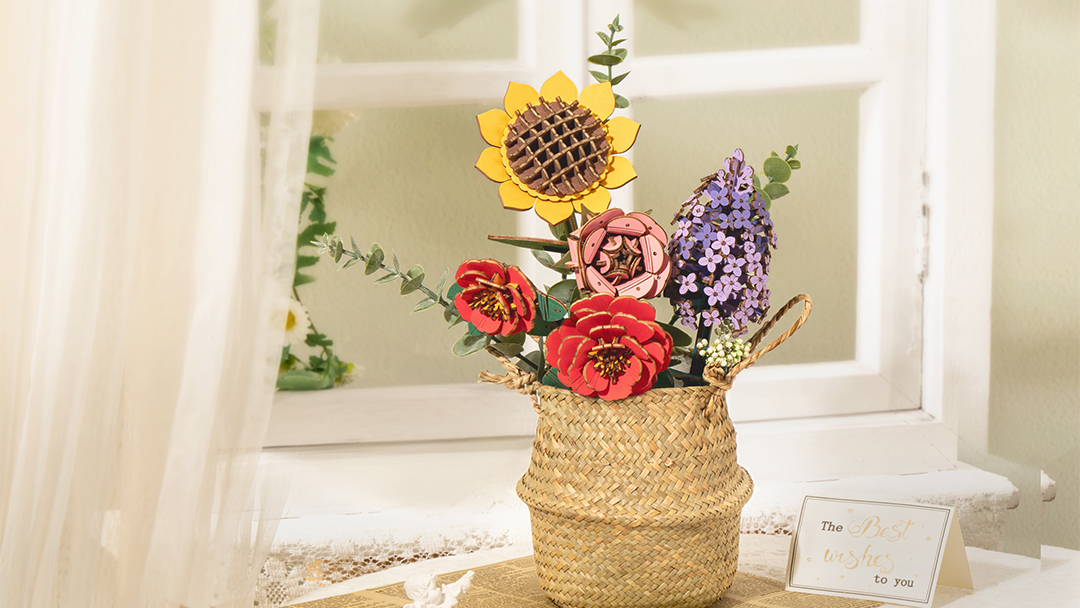 What Makes It Special?
A Plethora of Vibrant Flowers
This set includes a total of seven different flowers and plants: Sunflower, Lilac, Red Camellia, Pink Rose, Red Rose, Pink Carnation, and Eucalyptus.
These flowers and plants exhibit incredibly realistic and vivid colors, just like natural flowers.
Versatile Arrangement Options
The Rowood Wooden Flowers Bouquet 3D wooden puzzle offers flexibility in arranging these wooden flowers. You can create a bouquet, put it in a vase or wrap all the flowers in craft paper to form a charming flower bundle.
Adjustable Petals and Stems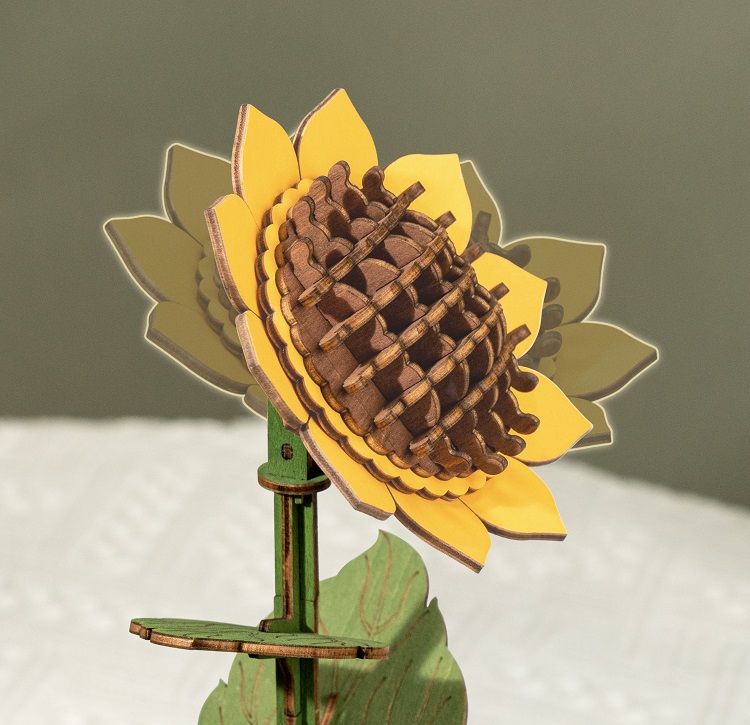 Each flower can be customized to achieve different effects. You can remove or add stems to adjust the length of the flower stems. You can make the flowers stand upright or curve gracefully by rotating the flowers. You can also modify the orientation of the petals, making them bloom or appear in bud.
Abundant Decorations and Accessories
Within the Rowood Wooden Flowers Bouquet, you'll discover a variety of delightful decorations and accessories, including adorable bows, artificial green fruits, artificial eucalyptus, artificial stems, and more.
Furthermore, each flower comes with its paper box, which can be crafted into a miniature flowerpot to showcase these wooden flowers.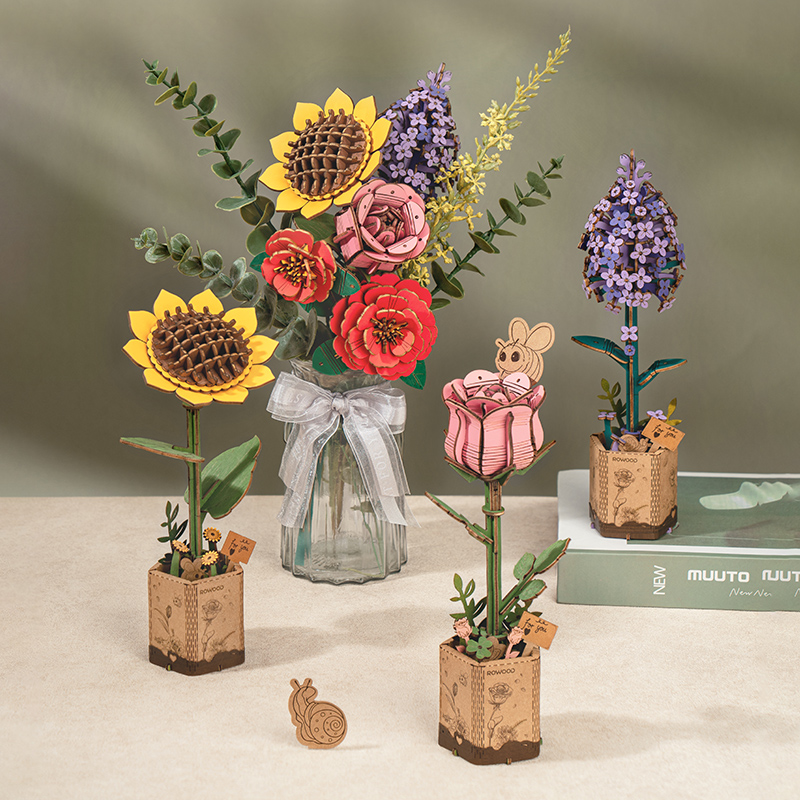 What's in the Box?
As shown below, you'll find all the flowers and accessories neatly in the box.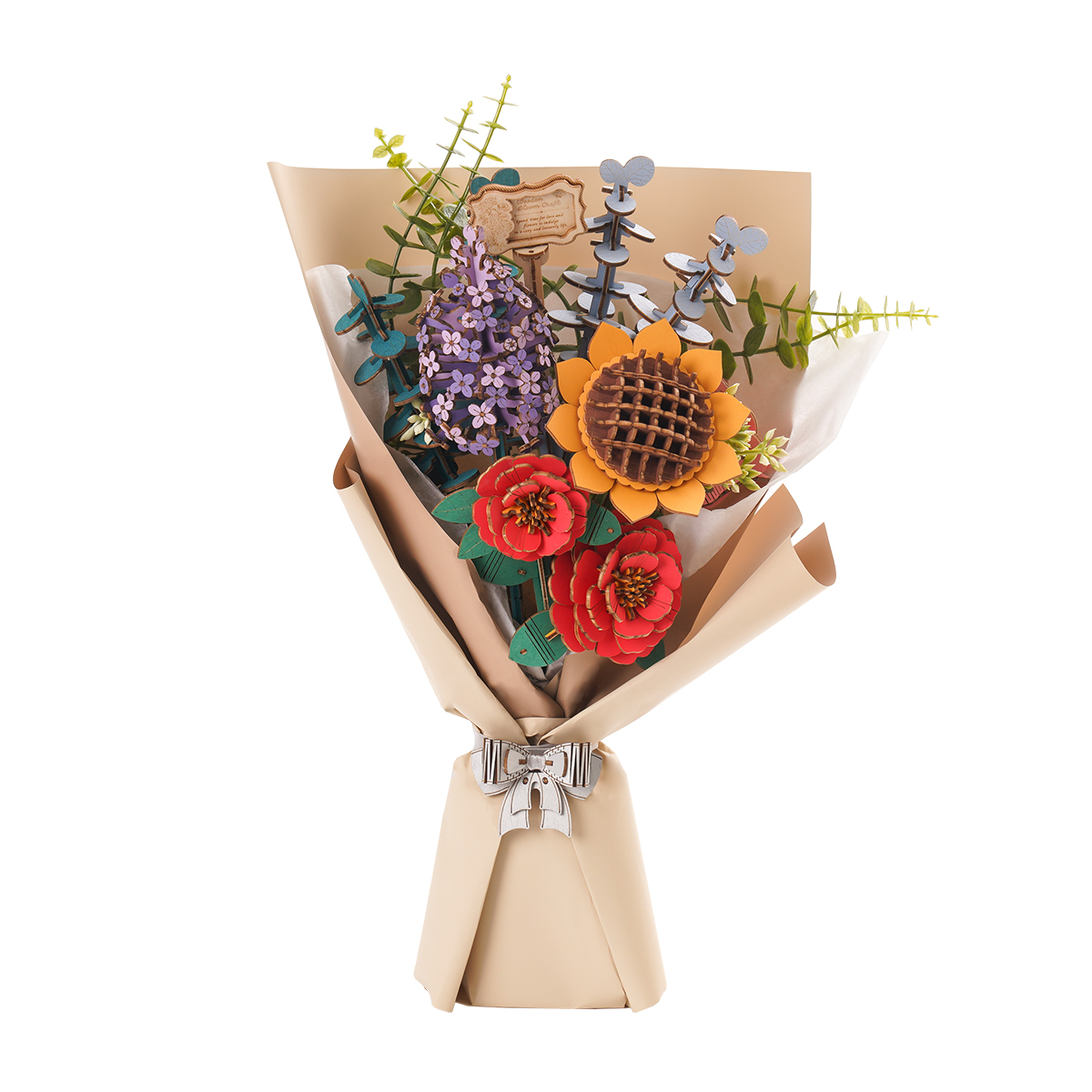 Six Varieties of Flowers and Plants
The set includes six distinct flowers and plants: Sunflower, Lilac, Red Camellia, Pink Rose, Dark Eucalyptus, and Light Eucalyptus.
Please note: These flowers come pre-colored and are laser-cut for your convenience. You only need to detach them from the wooden templates and follow the provided instructions for assembly.
Decorative Items and Accessories
Additionally, the kit includes the following decorative items and accessories:
Artificial green fruits (6 pieces)
Bows (1 piece)
Artificial eucalyptus (5 pieces)
Artificial stems (3 pieces)
Cardpaper (1 piece)
Dual-color wrapping paper (2 pieces)
White wrapping paper (1 piece)
Invisible tape
Why You'll Love It
It's truly astonishing how pre-colored wooden pieces can flawlessly emulate the appearance of blossoming flowers. Each flower is incredibly lifelike and beautiful. You can place them in your vases to decorate your space, creating a personalized atmosphere.
Of course, you can also use the wrapping paper in the Rowood Wooden Flowers Bouquet package to wrap them up and present them to your loved ones.