ROKR Electric Guitar Model 3D Wooden Puzzle TG605K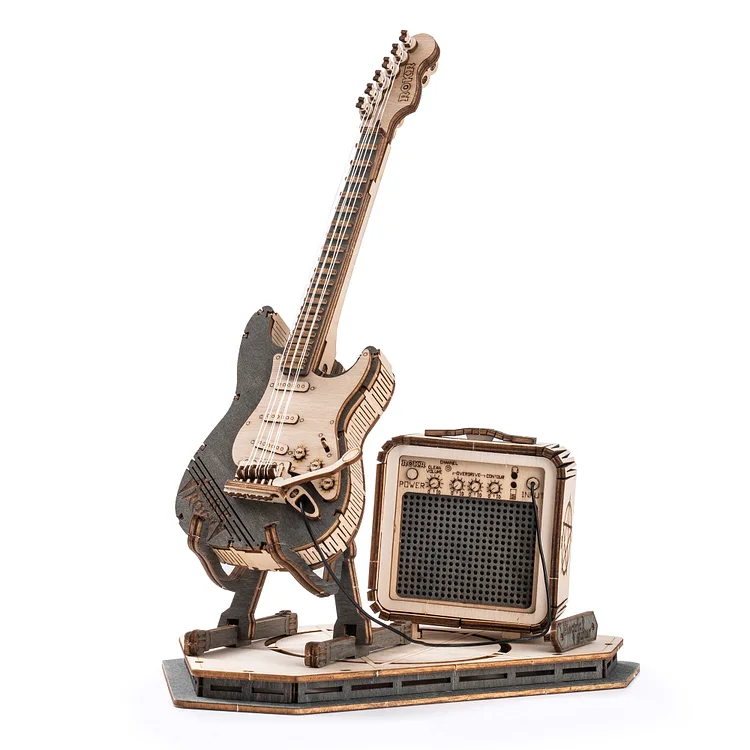 Product information
Assembled Size:
6.7*4.1*8.7"(17*10.5*22cm)
Robotime-ROKR Electric Guitar Model 3D wooden puzzle TG605K is a well-designed wooden electric guitar model that can build with your own hands. With fine details and nice proportions, this mini exquisitely crafted guitar model will be a great gift for any music lover. Exquisitely Designed: Every detail of this electric guitar model is exquisitely designed. The body, headstock, strings, pickups and the amplifier are all made of high-standard materials with laser cutting technology. Easy to Assemble: This is an easy-level 3D wooden puzzle kit that contains 140 wooden pieces. It takes around 1.5 hours to finish assembling it, which is beginner-friendly. Perfect DIY Gift: This product is a perfect DIY gift for boys & girls, friends & family, music lovers on birthday and Christmas.
This Starry Night mechanical music box gets the inspiration from that but simplifies it into a mechanical musical box 3D wooden puzzle kit. You will see how planets orbit when music plays.
The jewel-like stars shining along the track symbolize protection and eternity. When the gear starts and the stars shine, we will start a star river love. The beads of the stars can be combined freely according to their own wishes.
ORRERY MECHANISM: This DIY music box shows how the solar system circles around each other while tune playing.
MERIDIAN CIRCLE: The floating circle will also move after winding up, representing the universe.
WIND UP MUSIC BOX: Driven by wind-up spring and gear trains, this mechanical music box 3D wooden puzzle will be a ton of fun to build and play with family.
RETRO-STYLE OUTLOOK: It will be a wonderful collection and decor for your home or office. Also, a pleasant toy to play with kids or friends.
UNIQUE GIFT: A beautiful hands-on gift for any DIY lovers or any occasion like Christmas, holidays, birthdays.
*Note: Due to customs policy wax may not be included in packages.