ROKR Luminous Globe 3D Wooden Puzzle ST003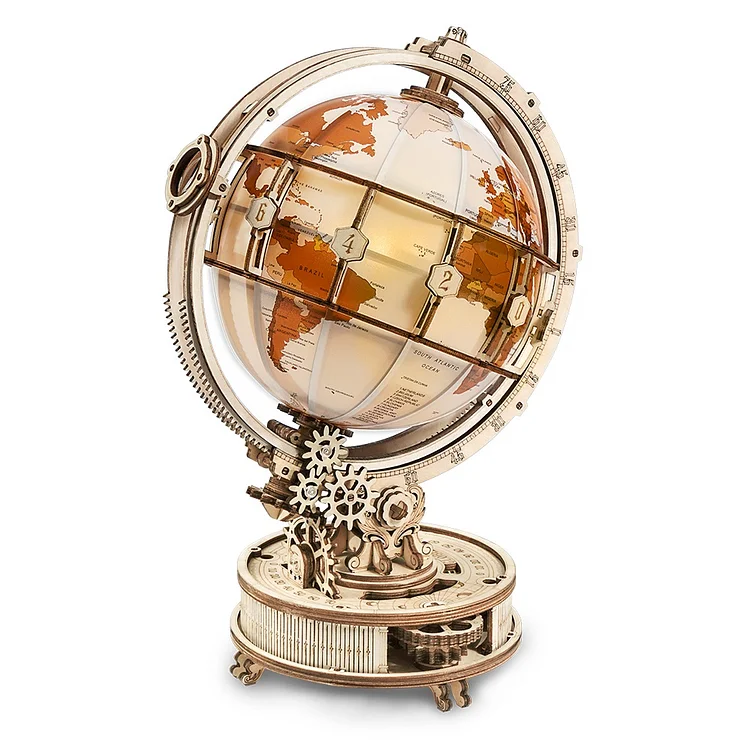 Product information
Assembled Size:
6.6*8*11.5"(16.7*20.3*29.3cm)
This Robotime-ROKR Luminous Globe ST003 is not only a classically sophisticated globe ornament but also a practical night light with a warm glow. This sophisticated globe model 3D wooden puzzle is perfect for a fun time with your family or friends.
*Notes:Due to customs policy, the wax may not be included in the package. Wax: you could use ordinary candles, crayons, beeswax, etc.
Biuld Your Own Luminous Globe
Easy to Assemble

Mortise and tenon technology, full structure of physical assembly, enjoy the fun of self-assembly

Night Light

Warm yellow night light, light up the real world

Micro USB

With a micro USB port, it can be continuously luminous to light up your night.
Mobile orbital magnifier
This mobile orbital magnifier, with a 25mm diameter, magnifies maps by 3 times, allowing you to look at every intricate detail.
Translucent map
Designed by PP sheets in warm earth tones, this translucent map highlights famous cities. Once turned on the switch, the globe gives out a soft glow through its translucent layers.
Gear-driven globe and magnifier
With multiple engaged gears, this model allows you to effortlessly adjust the globe and magnifier positions by turning the wheel and knob.
Promise
Easy-to-Follow Assembly

Match numbered wooden pieces with visuals in our manual. Watch the video on our YouTube channel for guidance.

Boost Brain Skills

Builds logic and motor skills, fostering patience in kids

Gift and Decor ldea

Perfect for special occasions or as a unique decor item.

Pride in Completion

Share and showcase your finished piece with friends and family.
FAQs
What if some parts are broken or lost?
What should I do if I encounter assembly issues?
How many times is the globe field of view magnified?
Designer's Journey
Humans have never stopped exploring the world since the beginning of civilization. The invention of globe is a symbol of exploring the earth. To pay tribute to great discoveries in geography, ROKR designed this globe with light and magnifying glass to make it not only a scientific and educational model but a retro home decor at the same time.
Excellence in Material and Assurance
Eco-friendly, Durable, Corrosion-resistant Wood

Precision Laser Engraving Machine, Secure Fit Parts

Certified Quality, Comprehensive Testing