Rolife Sunshine Town Book Nook Shelf Insert TGB02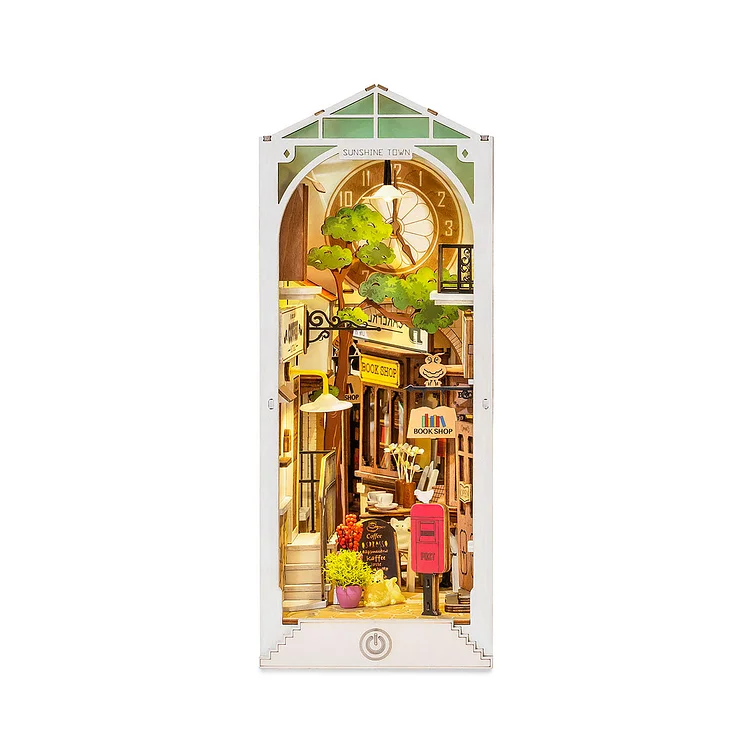 Product information
Assembled Size:
7.3*3.9*9.5"(18.5*10*24.2cm)
Robotime-Rolife Sunshine Town Book Nook TGB02 book nook is a creative 3D wooden DIY miniature house. We have offered you everything you need to build this mini-town scene - with all the wooden pieces and tools, and you will gradually recover the entire scene, such as the stores, road, trees, clock, etc. It will be an easy and fun-to-build book nook shelf insert that is suitable for both kids and adults. This self-assembly book nook kit will also be a unique and exquisite decoration for your bookshelf and office desk. It will also look amazing when you put it in the dark with the warm lights on.
*Notes: Due to customs policy, the batteries (2 pieces of AAA/LR03/AM4 1.5V) and glue may not be included in the package. Glue: you could use eco-glue, wood glue, or strong glue.
Build Your Own Book Nook
Easy to Assemble High-Quality Structure

It's easy for beginners to complete within 6h and ideal for family bonding and interaction. Stickers are provided for easier assembly with no cutting required.

Lovely Bookshelf Inserts

After completing this satisfying crafting project, you'll not only have a model kit but also a captivating piece of interior decor for your shelf. When darkness falls, simply switch on the LED light to create a soothing ambiance in your room.

Unique Gift

It makes a unique and creative gift that is perfect for anyone who appreciates charming and whimsical decor or who enjoys DIY projects. It is sure to bring joy and delight to the recipient.
Product Details
Elegant Transparent Roof
The transparent sheets provide a clear view of the inside arrangement.
Retro Book Shop
The design stimulates the scenarios of book shopping and enhances the aesthetic.
Cozy Sip Nook
The exquisite corner lends an air of leisure to the scene.
Promise
Easy-to-Follow Assembly

Match numbered wooden pieces with visuals in our manual. Watch the video on our YouTube channel for guidance.

Boost Brain Skills

Builds logic and motor skills, fostering patience in kids

Gift and Decor ldea

Perfect for special occasions or as a unique decor item.

Pride in Completion

Share and showcase your finished piece with friends and family.
FAQs
What if some parts are broken or lost?
Which battery type to use?
What should I do if I encounter assembly issues?
What if the light doesn't work after turning on the switch?
Miniature Dreams
Turn on the light and you can enter the Sunshine Town, with light passing through the transparent top sheet. It is five o'clock in the afternoon. The warm-colored light enhances the realism of the sunset. Nothing is better than sitting down, ordering a cup of coffee, and enjoying quiet and leisurely time here. The air is filled with the aroma of coffee, tempting you to sit down. You begin to enjoy everything around you with a book and a cup of coffee. Besides, two little cats are lying on the chair with you.
Excellence in Material and Assurance
Eco-friendly, Durable, Corrosion-resistant Wood

Precision Laser Engraving Machine, Secure Fit Parts

Certified Quality, Comprehensive Testing