Description
Children are always curious and eager to learn the world by imitating parents or people around them. It is important to guide them develop  fine motor skill or social skill in a safe way. A realistic beautiful playset can make this easy to achieve!
Realistic Microwave & Read Numbers: Open its door and put play food in it.  Panel with numbers on it also encourages kids to recognize numbers.
 Rotatable Oven Knob: Rotate the knob and hear a click. Experience real cooking in every kitchen details. 
Cookware Accessorys: Pan, pot, turner, knife made of wood. Kids can safely imitate from choping, washing to cooking and other motor skills.
Large Storage Room: Big oven stove cabinet can store many toys for kids. It will make it easy to tiny the room after game.
SPECIFICATION
Assembled Size: 55.5*28*79cm
Package Size: 64*15*34cm
Weight: 18kg
Includes: Wood board, kit accessories, some tools, clear English instructions.
Note: It needs assembled by adults first, and then can used by kids under parents' accompany.
Best Gift Toys For Girls& Boys!
SAFE ROLE PLAY GAME: A pretend game in kitchen can involve so many kids imaginary drama! But wooden playset make every 'cooking' part safe and fun. No worrying about safety issues anymore.
MOTOR SKILL& SOCIAL SKILL: From chopping vege to preparing food, from washing dishes to invite friends, kitchen game can teach kids more about real life than just reading books. 
STURDY AND BRIGHT: High-quality eco-friendly wood materials is 100% safe for kids to play with. Smooth surface and bright color is easily to capture kids' attention. Best way for parents to settle them down at home. Perfect birthday gift for kids.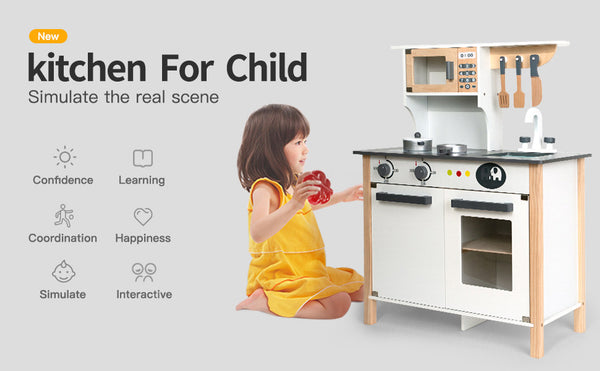 Payment & Security
Your payment information is processed securely. We do not store credit card details nor have access to your credit card information.