Brain Teasers Metal and Wooden Puzzles 6 Pcs Set BP02
Brain Teasers Metal and Wooden Puzzles 6 Pcs Set BP02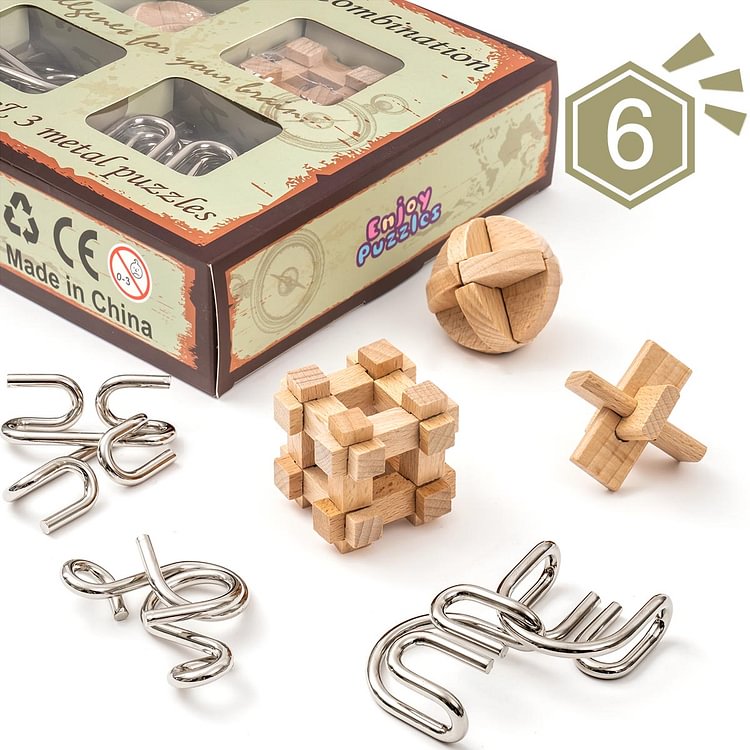 Test logic and creative minds with this cool yet simple brain teaser.
These
brain teaser puzzle
games are perfect for passing time, fidgeting, and avoiding gadgets and electronics. They're a healthier way to practice focus and concentration. Can also be used for fun party games.
3D brain teaser
: Precision assembles non-identical pieces into a 3D shape. Challenging 3D puzzle game. Your mind will be sharpened enough to develop your problem-solving capacity through reasoning, the development of mental stamina, and boosting your self-confidence.
Wooden 3D brain teaser puzzle toy originated in ancient China called Kong Ming Lock.
Wooden game with interesting logical thinking and perfect for the development of the brain.
Metal coils are smooth and have NO SHARP EDGES
for endless play without getting hurt. The links are made from heavy-duty 4.5 stainless steel that doesn't easily bend or break even when thrown or stepped on. Players can't force them open so there is no chance of cheating.
Perfect gift
- For every occasion! for Christmas gifts, office gifts, etc. 3D brain teaser puzzle can take anywhere.