Hanging Macrame Cat Hammock Bed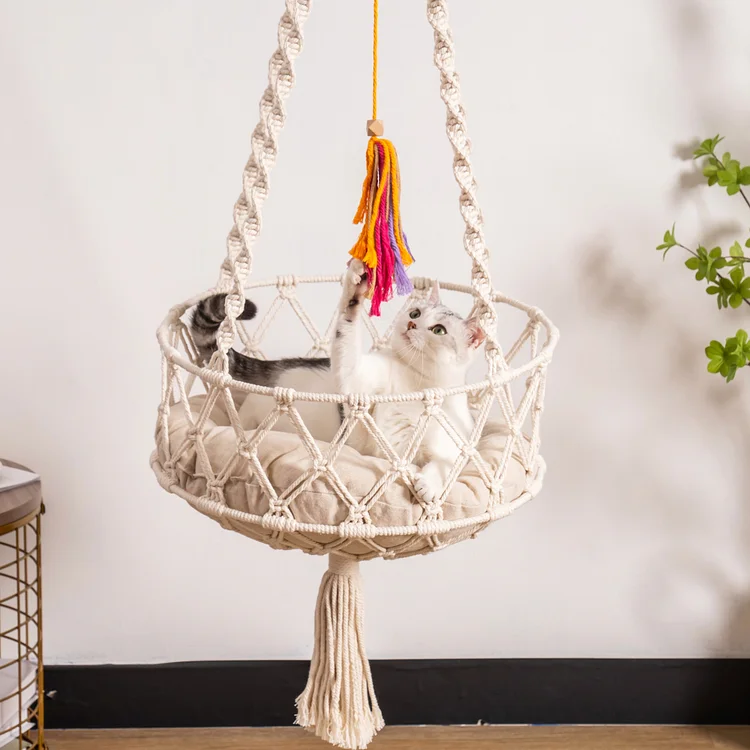 Natural Material:Our cat hanging bed is made of handmade cotton rope weave, with excellent sturdiness and breathability, and higher strength, load capacity of 16.5lbs, suitable for most cats.
Comfortable, Soft and More Fun:This space-saving cat beds & furniture comes with a cotton mat to keep your cat have a good bed . A knitted toy is to keep your cat from being alone and prevent them from scratching the furniture.
Versatile Usage Locations:The unique appearance of our cat window perch hammock, combined with the tassel design, brings you great aesthetics, not only as a cat hammock, but also as a decorative ornament to hang on the wall, roof or any corner of the room, as a delicate wall hanging or storage platform , providing more space for your cats to play and jump around without feeling constrained.
Easy to Care:You will receive one cat cushion. Cat mat only need to be machine washed in cold water and dried at low temperatures to get a clean cat hammock.