Metal & Wooden Brain Teasers Puzzle 8Pcs Set BP01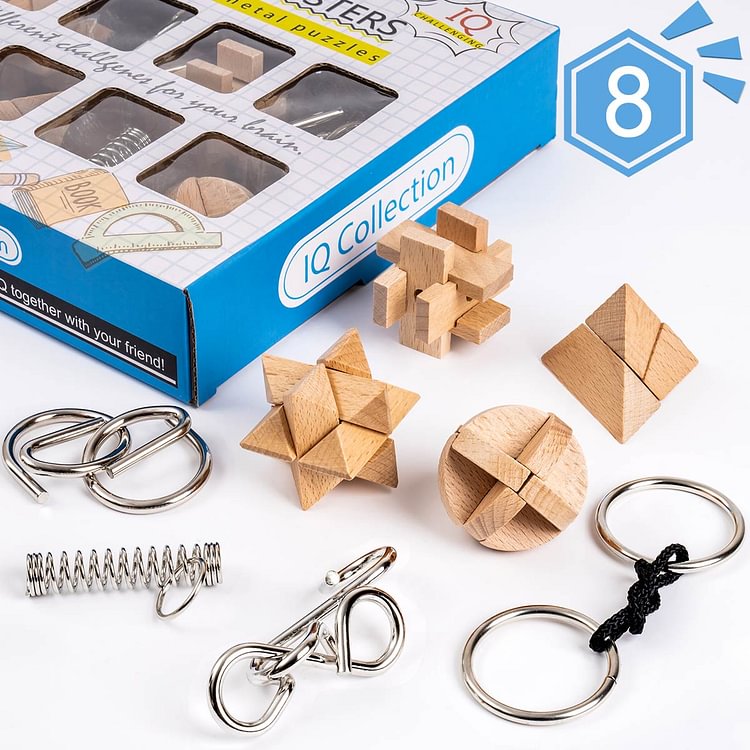 IQ Test Disentanglement Metal & Wooden Puzzle Toys - These cool yet brain teaser puzzles are perfect for challenging players' critical thinking and problem-solving while helping improve their IQ and EQ. These brain games are perfect for party games, family games, office toys, relaxation passing time, and avoiding gadgets and electronics. They're a healthier way to practice focus and concentration. Also, these work as fidget toys.

Brain Teasers Puzzle 8 Set For Kids, Adults- All the coils and blocks are smooth and have NO SHARP EDGES for endless play without getting hurt. The links are made from heavy-duty stainless steel as well as lightweight and durable beech wood that doesn't easily bend or break even when thrown or stepped on. Players can't force them open so there is no chance of cheating. Both the metal & wood brain teaser puzzles have held up nicely. Buy them as a challenge, also works as a great fidget tool!

Durable Intellectual Lock IQ Toys Set for all occasions, these are perfect to hand out for birthday parties, party favors, classroom rewards, educational prizes, gifts, stocking stuffers, Easter egg filler, and much more. Also a great gift for boys, girls, men, and women ages 5 to 105. The perfect size makes it easy for small and large hands to play comfortably. Everyone can enjoy these unique novelty gifts, from children, teens, and adults. Caution, not suitable for kids 5 years old and below.

Best Novelty Idea - Get an assortment of 4 coil wire puzzles and 4 wooden block puzzles of different shapes from easy to hard levels. You can play by yourself or with friends. The set comes with 1 storage bag to store the puzzles and keep them from being misplaced.

Portable, Interactive, and Fun Slide Puzzle - Solve these puzzles anywhere: in the car, at school, at home, or at the office. They're mini and super light and can fit in your pockets. They are a travel must-have. Have endless fun with friends with these handheld mind twisters.