ROKR Scale Model Vehicle Series 4 Sets 3D Wooden Puzzle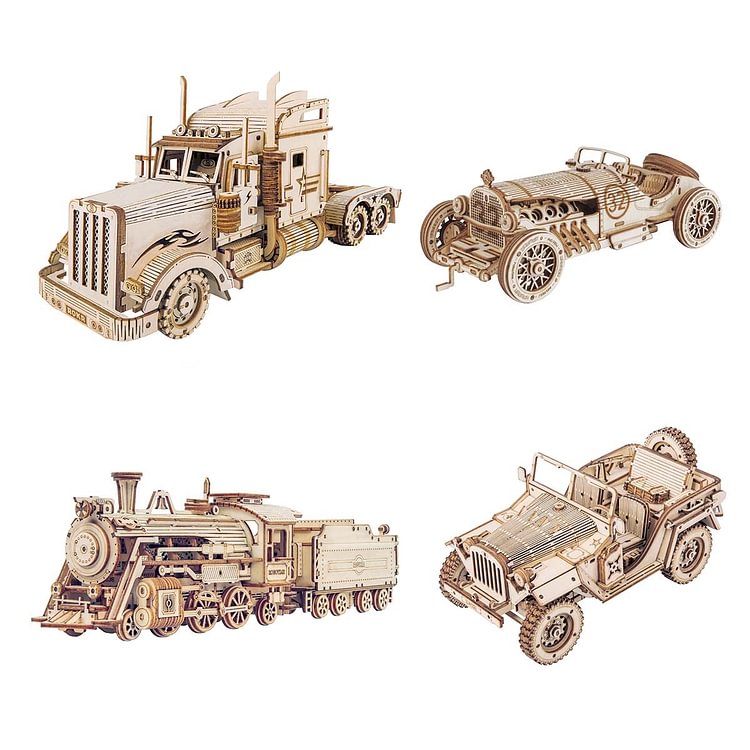 Robotime-ROKR 3D wooden puzzle Scale Model Car Series includes 4 sets:
Army Field Car MC701 -1:18 Scale Jeep Model
Robotime-ROKR 1:18 scale Jeep model Car 3D wooden puzzle MC701 replicates the tough car vehicle in the army field. Rugged wheels of off-road Jeep and weapon decoration equipped on the car. Vivid details with fluent building experience make it a special collection of car model lovers.
Grand Prix Car MC401 -1:16 Scale Model
Robotime-ROKR 1:16 Scale Model Grand Prix Car MC401 replicates the retro-pioneer sports car, Grand Prix Car. Vivid details with realistic structures need patience and dexterity for such a delicate scale model. Best 3D wooden puzzle gift for boys.
Heavy Truck MC502 -1:40 Scale Truck Model
Robotime-ROKR 1:40 Scale truck model Heavy Truck MC502 reproduces the most characteristic vehicle in modern transporting. With a robust and sturdy outlook, you can imagine it roars through the wild road when finished. Precise pre-cut wood sheets ensure a fluent building experience. Perfect wooden 3D puzzle toy for truck lovers.
Prime Steam Express MC501 -1:80 Scale Model Train
Robotime-ROKR Prime Steam Express MC501 is a 1:80 scale model of an ancient steam train in the 1860s. Realistic details like a steam whistle, shaft wheels, and a detachable tender, all make it an exquisite decor for your home.
*Due to customs policy, wax, glue, or battery may not be included in the package.
Creative Play from Our Customers
Specification
Steam Train
Model Size (Assembled): 307 x 67 x 82 mm
Assembly Time: 6H
Military Jeep
Model Size (Assembled): 189 x 99 x 89 mm
Assembly Time: 4H
Heavy Duty Truck
Model Size (Assembled): 224 x 73 x 100 mm
Assembly Time: 4H
Grand Prix Car
Model Size (Assembled): 189 x 80 x 60 mm
Assembly Time: 3H