Rolife Magic House DIY Book Nook Shelf Insert TGB03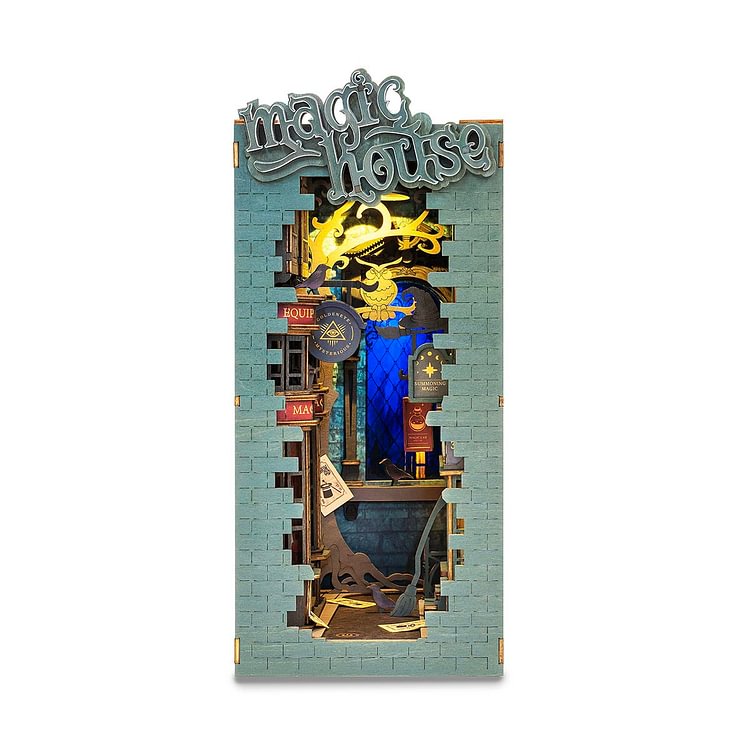 Robotime-Rolife Magic House DIY Book Nook TGB03 DIY miniature house is a mysterious magic alley that only those who can do magic can enter. Here, you can buy all the necessary equipment and essentials for living in the magic world. Now, assemble all the 3D wooden puzzle pieces and build this magic house with your hands. It will be a super cool and unique book nook shelf insert & home decoration and will look amazing when you put it in the dark with the warm lights on. It's also a perfect hands-on gift for DIY lovers and magic lovers on birthdays and holidays.
Potterheads, rejoice! This is the ultimate piece of resistance you need for your harry-potter-themed DIY bookshelf insert. This will complete the feel and your other magically inspired bookshelf decoration pieces, along with your hardbound copies of the Harry Potter novels and the other Hogwarts multiverse books.
Notes
The item is pre-colored, but the package may still include a pigment. If included, some parts need to be colored by yourself. We have detailed instructions to tell you where to color. Also, if you have more creative ideas, we are very happy to see excellent works from you.
The package includes important information, and please keep it well for future reference.
Children must assemble under the guidance of adults in case of swallowing.
The product requires 2 pieces of AAA batteries.
Due to customs policy, glue,

pigment,

or battery may not be included in the package.
Unlock the seal, say the spell, release the magic and shine the miracle
The lights are flashing and the neighborhood that sells magic must be ahead. Using UV printed PET sheets as glass both enriches the interior scene and softens the light.
Creative acrylic doorways guide you to the entrance of the magical world - right here, pick a corner of the street and secretly practice magic and spells