Rolife Super Creator Double Joy Bubble Tea Plastic DIY Miniature House Kit DW006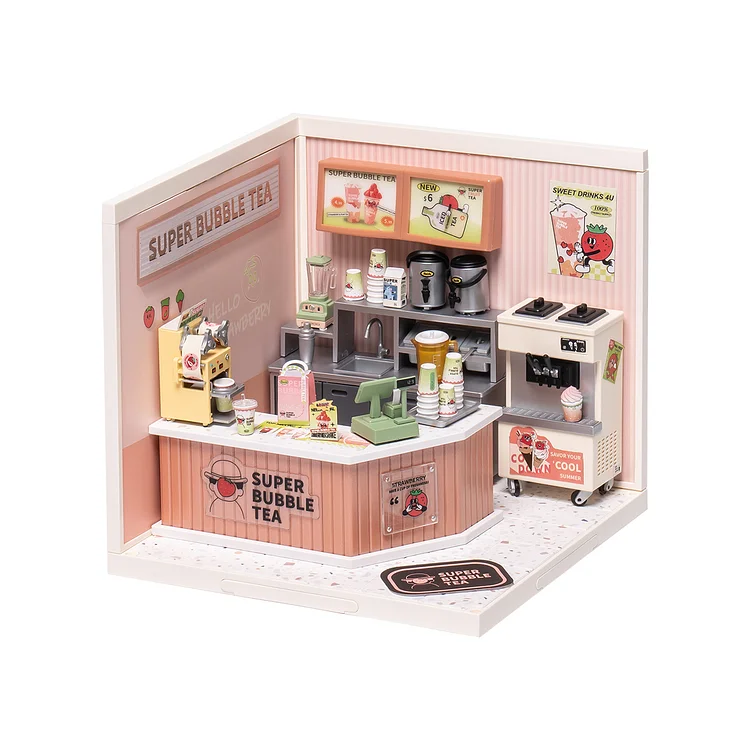 Product information
Assembled Size:
6.4*6.4*6"(16.3*16.3*15.2cm)
Double Joy Bubble Tea DW006 is a plastic DIY miniature house from Rolife Super Creator - Super Store Series. We believe that people's sorrows and joys may not be connected, but the mood of wanting to drink bubble tea is connected! This top-selling milk tea store offers a wide variety of tasty and healthy bubble tea and soft drinks. Don't miss our strawberry drinks since strawberries are recently in season! Build this miniature bubble tea shop with your own hands and enjoy the happiness it brings to you!
Horizontal & Vertical Stacking:
The miniature house is made of "three boards" as the main structure, and the edges of the boards are equipped with connectors, supporting "—" horizontal stacking, "I" vertical stacking and "L" type, "Pin" type and other combinations. The finished effect is solid. Feel free to connect it with other Super Creator kits.
Easy Assembly (no coloring/glue needed):
The components are mostly finished. Many of the bakery store's small furniture use the bayonet structure - a plug & snap to complete the assembly, simple and easy to operate, the entire assembly process is very healing. The assembly itself does not require glue, but you can attach the glue to the bottom/back of the assembly to prevent displacement and provide stability.
High quality & Playable Details:
Each single part(furniture) can be played. For example, paper cups and straws can be taken at the counter area; the door of the storage cabinet can be opened and stored inside; the top cover of the ice-cream machine can be opened, etc.
Ambient Light Set:
This kit comes with light boxs and top light set. Turn on/off the light(s) with the touch switch: short press to control the switch, long press to adjust the brightness. *Batteries need to be prepared by yourself. Roof and dust-proof door need to be purchased additionally.