ROKR 3D Pinball Machine 3D Wooden Puzzle EG01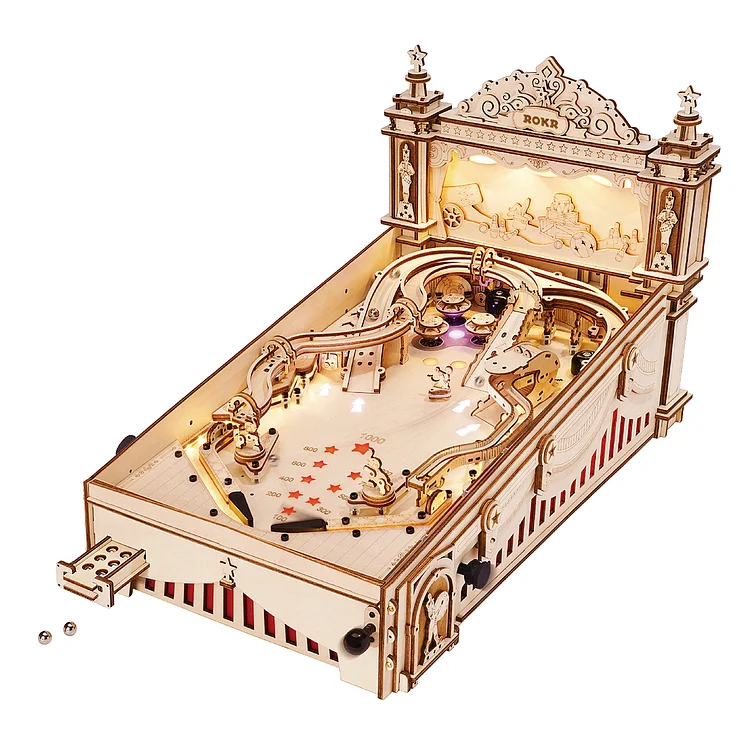 Product information
Assembled Size:
10.8*18.7*11"(27.5*47.5*28cm)
If you love classic pinball games, then get ready for the Robotime-ROKR 3D Pinball Machine 3D wooden puzzle kit EG01! This is a vintage-style pinball game machine that will take you back to the good old days of the '90s. Challenge yourself by assembling all the pieces together and building your own pinball machine. With all the transmission model, live sound & light effects, electronic scoring, and other exquisite detail design, this ROKR 3D pinball puzzle will bring you so much fun playing on your own or interacting with family and friends. Try to survive as long as you can and score as many as possible!
*Notes: Due to customs policy, the wax may not be included in the package. Wax: You could use ordinary candles, crayons, beeswax, etc.
Product Details
Unique Retro Design

With the retro circus decoration as the theme, the overall design of this 3D pinball game gives a delicate nostalgic appeal.

Easy & Smooth Assembly

The wooden puzzle uses mortise & tenon joint design to bring you a smooth and delightful assembling experience.
Easy-to-Follow Assembly

Match numbered wooden pieces with visuals in our manual. Watch the video on our YouTube channel for guidance.

Boost Brain Skills

Builds logic and motor skills, fostering patience in kids

Gift and Decor ldea

Perfect for special occasions or as a unique decor item.

Pride in Completion

Share and showcase your finished piece with friends and family.
Scoring Positions & Rules
FAQs
Does the pinball machine set keep your score as you play?
I have a question about the pinball ball size.
Do I need tools to put this kit together?
Hello, I'm looking for a possible Birthday gift for a 12-year-old who likes crafts. Would it be too difficult for him?
Can it be painted? Will it affect the induction?
Designer's Journey
Incorporating the core rebound mechanism seen in video games alongside an impressive scoring display and infrared sensor tracking, this product offers an enjoyable assembly experience. Through this process, consumers not only revel in the assembly process but also gain insight into basic circuitry and principles of physics.
Eco-friendly, Durable, Corrosion-resistant Wood

Precision Laser Engraving Machine, Secure Fit Parts

Certified Quality, Comprehensive Testing