ROKR Mechanical Orrery ST001 3D Wooden Puzzle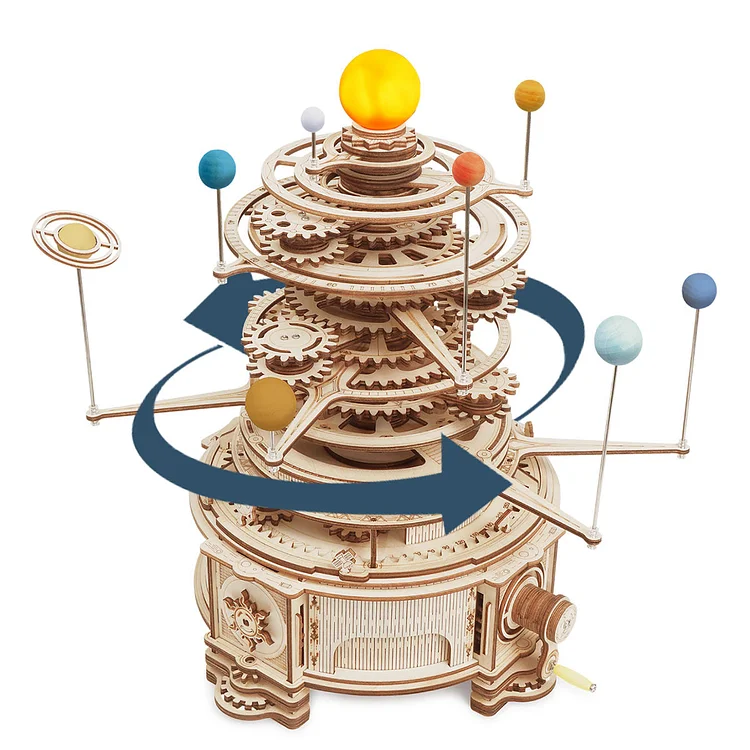 Product information
Assembled Size:
15.7*15.7*13.8"(40*40*35cm)
This Robotime-ROKR Mechanical Orrery ST001 is a 3D wooden puzzle showing the orbits of the 8 planets in the solar system. This is an entertaining & educational puzzle toy which cultivate curiosity and creativity as well as gain knowledge. Have fun self-assembling!
LASER CUTTING: The unique Interference Fit Process, combined with high-precision CO2 laser cutting technology, controls the error within five microns, ensuring consistent assembly accuracy under different temperature environments.
NICELY DESIGNED STRUCTURES: The 25mm miniature magnifying glass allows for a better view of every detail on the globe's map. The dimensional engraving in gothic letters gives the whole piece a vintage look. The wave wheel activation structure allows you to experience a better feel when turning the globe.
UNIQUE GIFT & STYLISH DECOR: A huge unique hands-on gift for any DIY lovers or any occasion like Christmas, Father's Day, Birthday. Luxury interior decor for your room and office.
*Notes: Due to customs policy, the wax may not be included in the package. Wax: you could use ordinary candles, crayons, beeswax, etc.
Mechanical gearing module, simulating planetary orbits
Nine different orbits with multi-layer variable speed gear sets
Rolling pulp process to create eight planets