A Trip to An Indoor Amusement Park! The 2nd Station - Parachute Tower EA01
A Trip to An Indoor Amusement Park! The 2nd Station - Parachute Tower EA01
A Trip to An Indoor Amusement Park! The 2nd Station - Parachute Tower EA01
Welcome to the 2nd station of the Indoor Amusement Park! We are glad to tell you that the 2nd 3D wooden puzzle of the Magic Amusement Park series has been released, called "Parachute Tower EA01." It takes the real classic skydiving tower as the design prototype. But the designers of ROKR made adjustments to make the reciprocating parachutes fluctuate dreamily.
Now, we will make a detailed introduction of Parachute Tower EA01 for you to know more details and tricks.
More Details about Parachute Tower EA01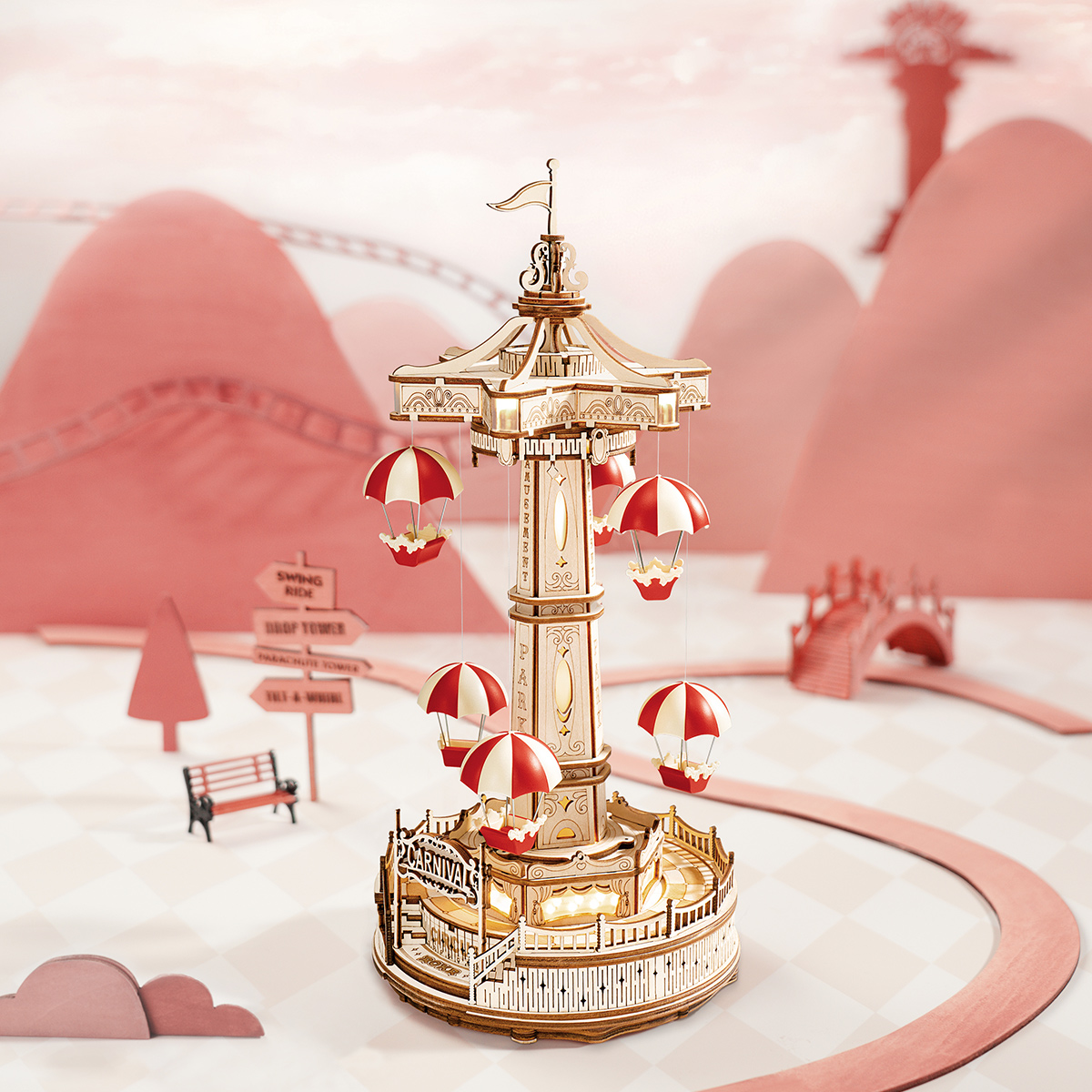 Parachute Tower EA01 is composed of a canopy with the shape of a Star, a central column, a base, and six cute parachutes.
Looking at overall, it belongs to the European retro style. The parachute surface combines red and white colors, which is warm and romantic. In addition, the translucent side windows match with classic draperies, and the ceiling adopts a star shape, echoing the base's patterns.
The lights are shining on the ceiling, central column, and base. However, the top and central columns adopt constant light, while the base adopts Intermittent lights. They form a sharp contrast, which makes them more dreamy.
Once completed and operated, it will play the "Falling Flower" music. When the light combines with the music, it seems like playing the actual parachute tower in the amusement park.
Unlike the Swing Ride EA02, EA01 cannot rotate but can achieve cyclic symmetry lifting of the parachutes.
Why like Parachute Tower EA01?
An amusement park is a favorite place for both adults and children. It adds a variety of joys and memories to us. Whether you have tried the actual parachute tower or not, you can experience it through this Rokr puzzle kit. Also, ROKR will satisfy your need if you experience more amusement park facilities. Welcome to join the ROKR Magic Amusement Park series.
Besides, it is a 3D wooden puzzle, so you must be an amusement park engineer to build it! Also, you can DIY its outlook to make it more unique with different pigments.
At the same time, Parachute Tower EA01 is marked as "Difficult", which is recommended for assembling by adults. To ensure its smooth operation, you should correctly connect six parachutes with interior transmission shafts and batteries with lights. The process is very challenging.
This is a vlog to enjoy its assembly process in 20 seconds.
To be an engineer to build up your amusement park
Until September 2022, ROKR has released two facilities of the Magic Amusement Park series - Parachute Tower EA01 and Swing Ride EA02. You can collect them to form a set. By assembling them, you can be an amusement park engineer, and you will lead your friends to enjoy the romantic journey in the indoor amusement park to gain more joy with your friends.
Learn more about the Swing Ride EA02 3D wooden puzzle kit here: A Trip to An Indoor Amusement Park! The 1st Station - Swing Ride EA02