Catch a Mechanical Beetle - Rokr Scout Beetle 3D Metal Puzzle Model MI02
Catch a Mechanical Beetle - Rokr Scout Beetle 3D Metal Puzzle Model MI02
Catch a Mechanical Beetle - Rokr Scout Beetle 3D Metal Puzzle Model MI02
Despite its small size, "beetle" has extremely strong vitality. It is unbelievable that the oldest known beetles can be traced back to the Permian period (about 295 million years ago). It is hard to imagine that they have existed on the earth for many years.
Surprisingly, such fragile insects are major parts of our world's biodiversity. Therefore, it is important to protect them! Conservationists try to attract people's love for beetles to protect their habitats. The designers of ROKR refers to its appearance characteristics of it. It combines it with steam, machinery and electronic technology. Thus, a new species mechanically transformed and equipped with "various advanced weapons and equipment" was born.
The designer gave it a unique name - Scout Beetle because it is like a team scout. It takes the Ladybird with elegant flying posture as the mock prototype. It has metal etching flapping membranous wings at the back.
More details about Scout Beetle
Unlike the previous 3D Wooden Puzzles of ROKR, the main body of the Scout beetle is made of ABS polymer structural material with good impact resistance, and the appendage is made of soft PVC material, which all can better protect the model.
In Scout Beetle's membranous wings and the mechanized abdomen, the designer added a large number of metal parts to improve the model's texture and realized functions such as flapping membranous wings and dynamic demonstration.
When you connected to the base, you only need to touch the switch, and Scout Beetle can vibrate its wings.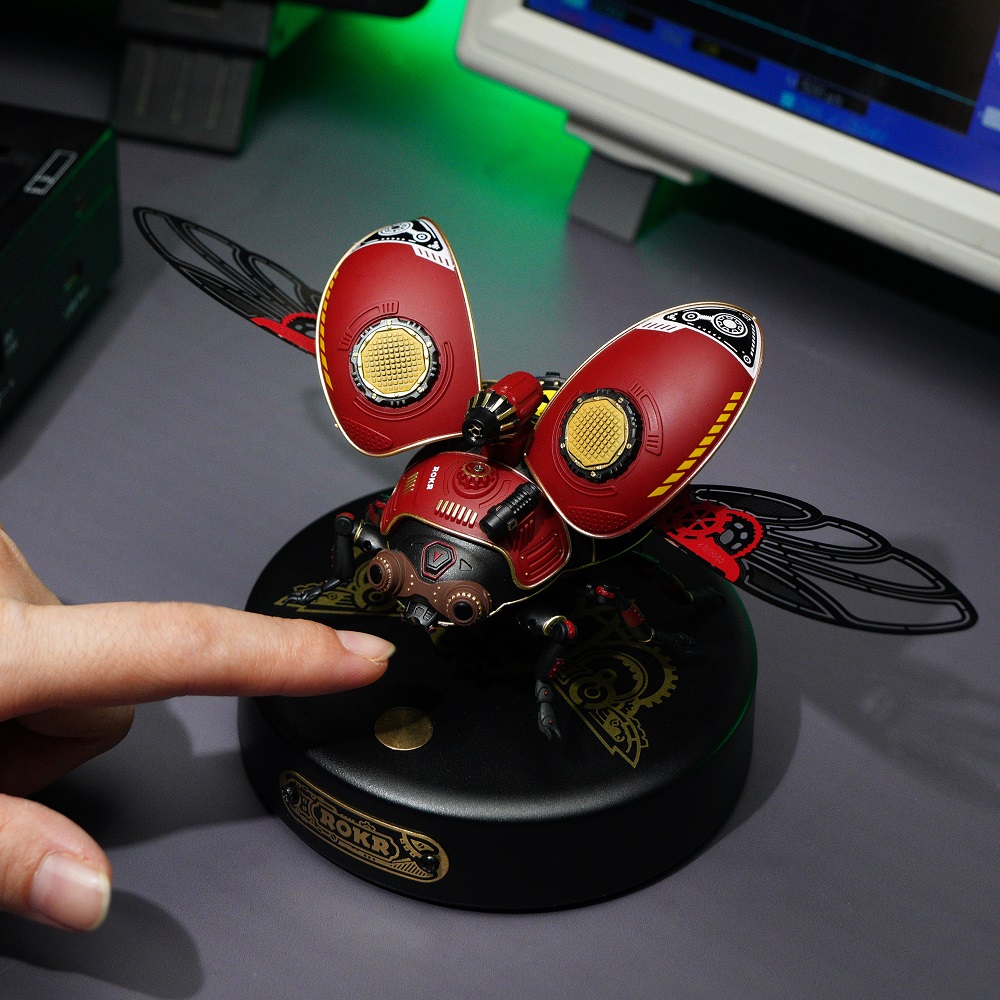 The beetle is equipped with a simulated nuclear reactor power source. It transmits power to the body through a special booster gear on its back. Isn't it very cool?
To achieve reconnaissance, through the combination of full scene detection light and active phased array radar, Scout Beetle can quickly escape from danger by relying on the emergency vortex jet acceleration port at the body's tail and the horizontal identification compass at the back in case of crisis.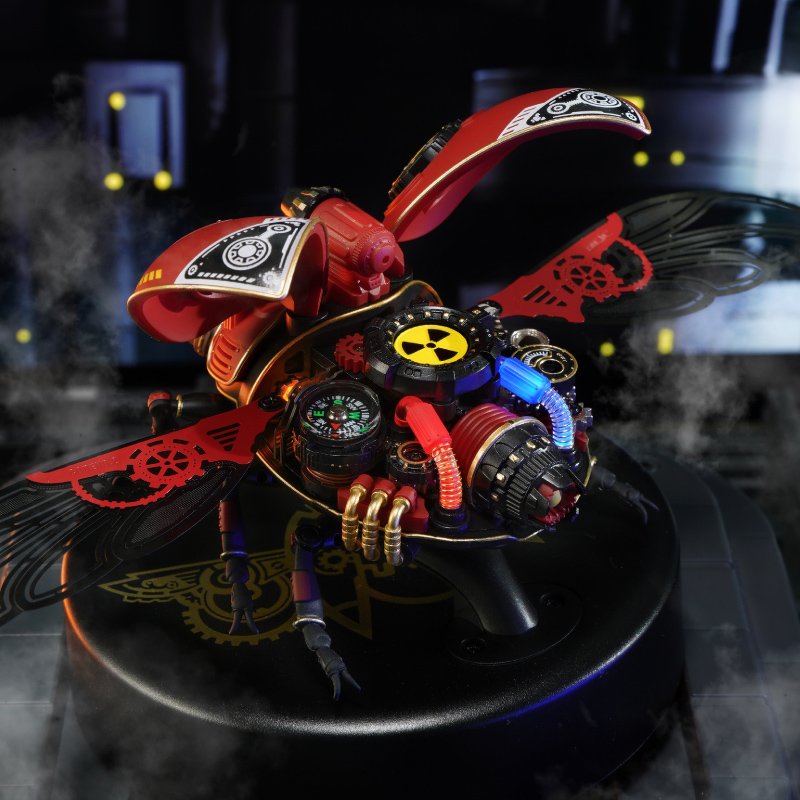 Why we lova it?
Scout Beetle is a 3D puzzle for adults which combines steampunk with mechanical metal beauty. It is greatly different from previous wooden puzzles, whose main parts are ABS polymer structural material, which has good impact resistance.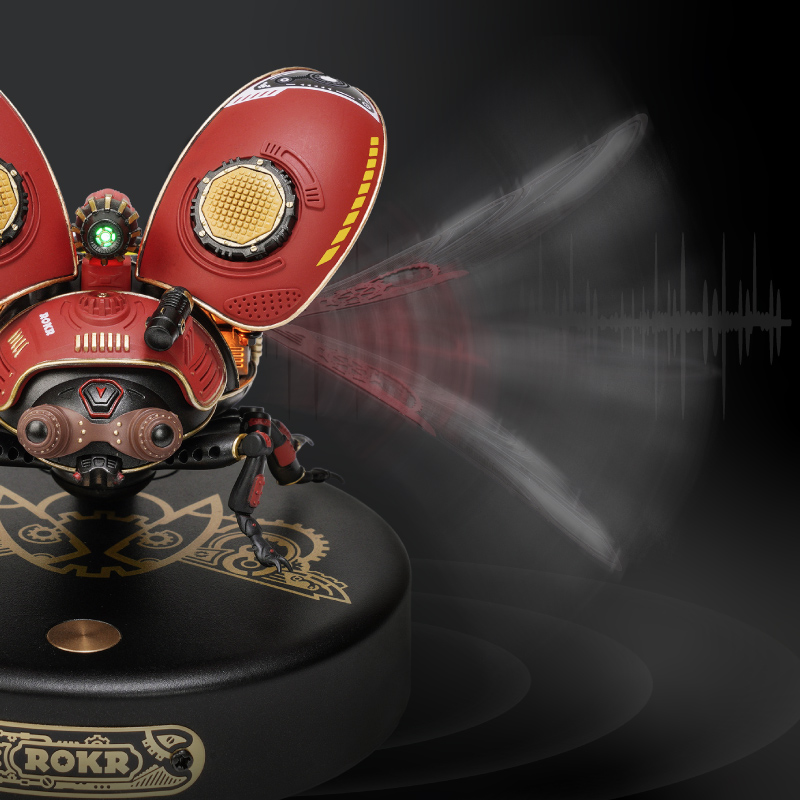 Scout Beetle is not too difficult to assemble and has a 3-star level(★★★). You can finish it within 3 hours, which is very suitable for newcomers to puzzle assembly.
Through the video below, you can get a general understanding of its assembly process.
Besides, the red and blue light effect signs are used with cool lights to warn the power status. The scanning searchlight can detect the enemy anytime and provide information for the team members.
Last Thought
As the first product of the "Mechanical Age" of ROKR, it is also the brand-new start of exploring more new tricks. ROKR hopes to bring more fun to its born and appeal to people to know more about beetles. However, some of them may be pests destroying agricultural and forest crops. But anyway, due to their existence, people have a colourful life!
So, do you like such a steam-mechanical beetle? Click here catch (buy) one now!