ROKR Scout Beetle Model DIY 3D Puzzle MI02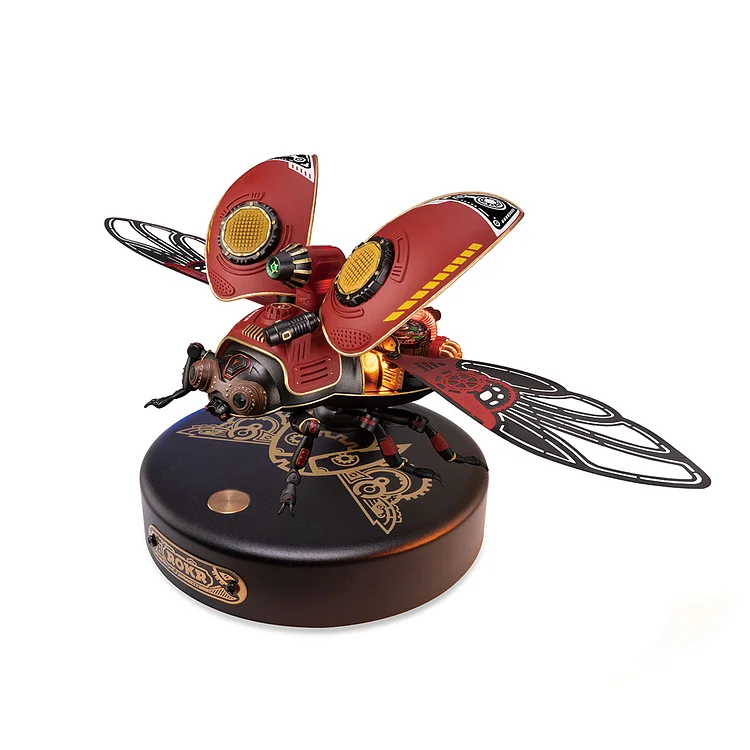 Product information
Assembled Size:
3.9*7.7*3.7"(10*19.5*9.5cm)
ROKR's new DIY Mechanic Organism 3D puzzle Series is here! The designer combines steampunk elements with real beetles that exist in nature to create a highly mechanical aesthetic battle mech. While restoring the details of the beetle, it also shapes the realistic mechanical transformation body shape.The main body of MI02 Beetle is made of ABS polymer structure material with good impact resistance, and the appendages are made of soft PVC material to better protect the model. At the same time, the designer also added a large number of metal components to the beetle's membrane fins and abdomen - this not only enhances the texture of the model, but also achieves such functions as membrane fin vibration, power demonstration, etc.
Connected to the bottom of the power supply base, a number of models also have vibrating membrane fins, stereo dazzling light effect,full-scene detection light,kinetic gear set,emergency vortex acceleration port, active phased-array radar,Horizontal identification compass,dynamic & static pressure Instrumentationt and other functions.
*Notes: Due to customs policy, battery(AAA*3) may not be included in the package.
MI02 Beetle is the scout of the squad, it uses the real beetles in the natural world as the design prototype. After connecting the custom base, the model can be activated by gently touching the activation point at the top of the base.This cool DIY 3D puzzle is highly playable, ideal for hardcore players to collect and play!
Simulated metal vibrating membrane wings are under the protection of hard wings on both sides. Activate it by gently touching the button on the base
The top detection light & the radar can control the battlefield situation in real time
The body is equipped with LED light modules to bring punk ambient lighting effect
Forged by powder metallurgy process & provide efficient mechanical transmission
Miniature planetary geared motor can provide strong and continuous power supply
Include 14 processes such as spraying, printing & painting to create a high quality texture