How to Build A Mini Convenience Store: New Rolife DIY miniature dollhouse kits
How to Build A Mini Convenience Store: New Rolife DIY miniature dollhouse kits
How to Build A Mini Convenience Store: New Rolife DIY miniature dollhouse kits
The craze for DIY miniature dollhouse kits has allowed for a wide variety of styles and themes. Kids that love vocational playsets, such as toy grocery stores, will love the chance to play with a store they build from scratch. This alternative approach to crafts for kids is a rewarding way to engage with the subject and create a more detailed store.
The basic premise here is that kids get the chance to build their very own convenience store. This 24-hour shop is the perfect place for residents to come whenever they require a sweet treat for a late-night study session or just need a joyful pick-me-up. The name Energy is apt here because of all the cakes and drinks on offer. There is a chiller on one side for cold drinks and desserts, a warming rack on the other for treats fresh from the oven, and shelves with fun snacks.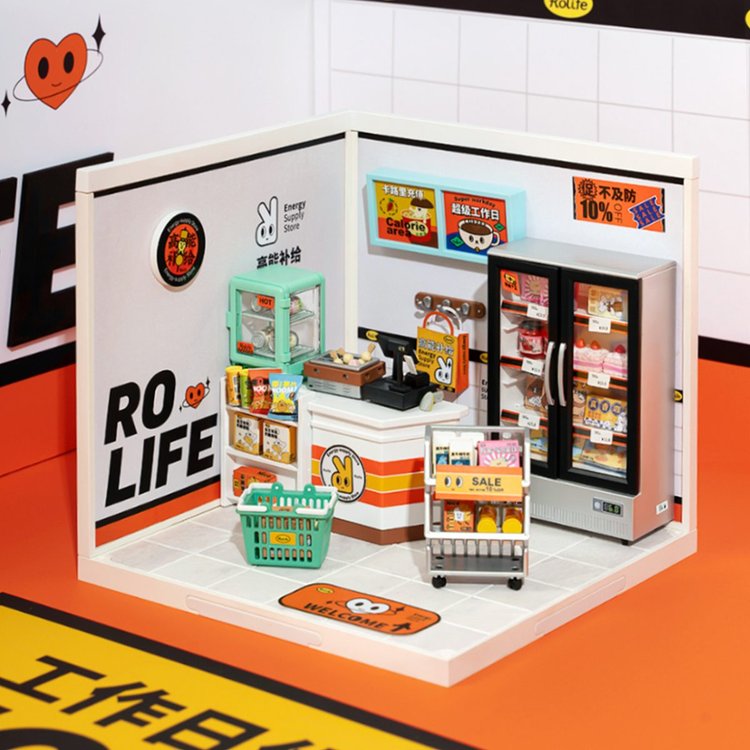 The attention to detail here is impressive. There are lots of little pieces that you can put on display for sale across the departments. There is even a little grocery basket to carry them in and a scanner to tally up the bill. The hook for the back wall then holds a reusable bag with the store logo - perfect for repeat business. Finishing touches like the advertisements on the way and welcome mat make the store even more interesting and inviting.
In fact, this mini convenience store's whole vibe is adorable for those who love that Kawaii Japanese aesthetic. The logo of the little bunny rabbit and the heart on the welcome mat is accompanied by the characters on the advertisement boards and the fun color scheme.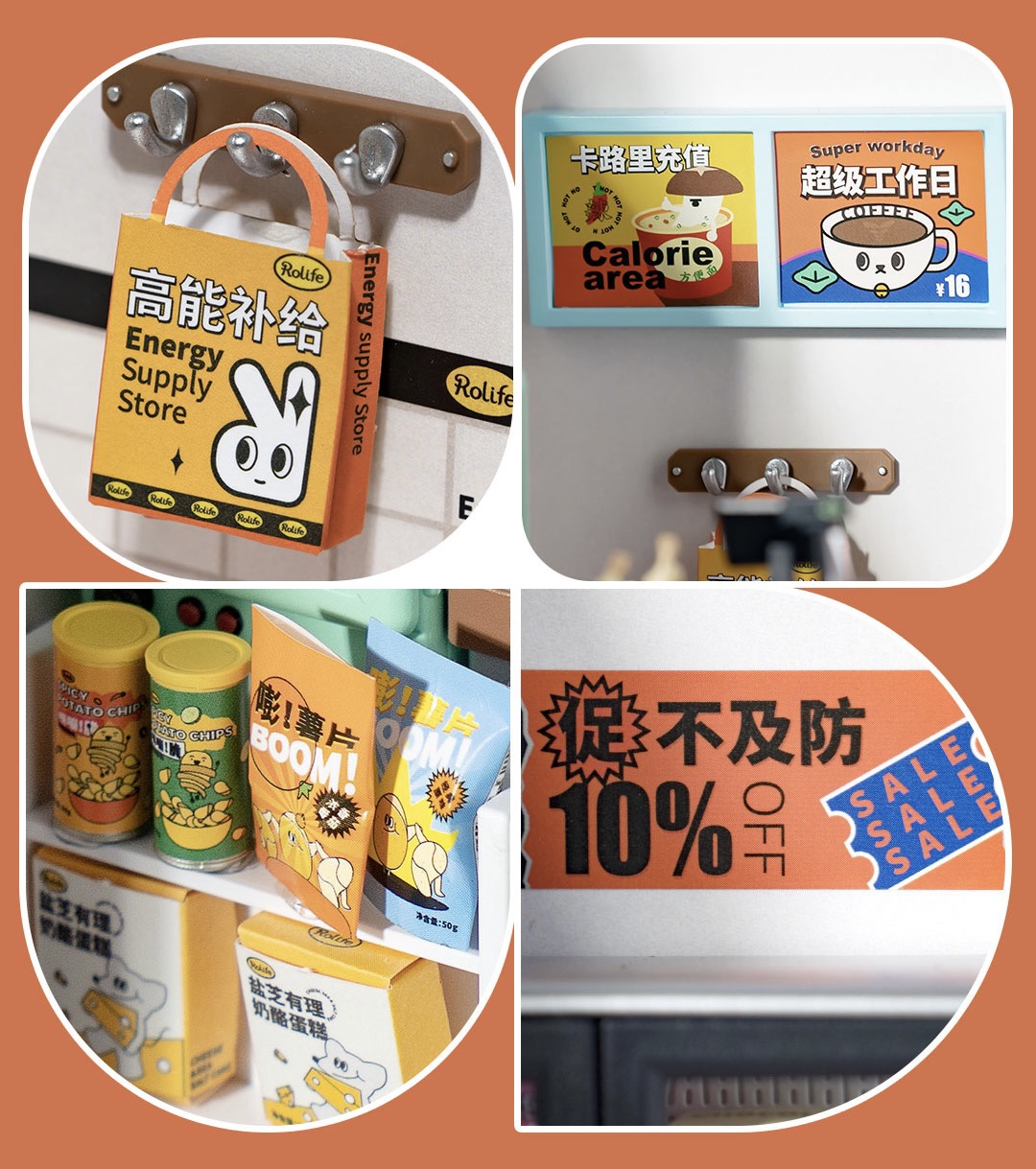 How To Build The Rolife Super Creator Energy Supply Store
Let's start with the floor and walls of your new unit. It looks like you've been able to rent out a modest little corner unit on a busy urban street. Secure the walls into the base plate for the best structure, and get ready to set up all your cabinets, shelves, and chiller. The construction supports both horizontal and vertical stacking for a more secure finish.
Don't worry about all the tiny little pieces included in this set. They snap together easily, so you can construct all the cabinets and shelving units for your perfect little store. It will take some love and perseverance for some elements because there is so much here. Each little door and shelf has its place. But, the more your build, the more authentic your business is. Just think of it all as adorable flat-pack furniture. You also don't have to worry about any gluing.
Once you have the bare bones of the store in place, you aren't going to attract many customers without all the goods to sell or your cashier's counter. Again, take your time to put everything where you want it and enjoy the act of displaying your goods at their best. Finally, there is the finishing touch of the light, which has a battery box in the air conditioner unit.
Perfect For Creative Pay & Social Skills
The best DIY miniature house kits will always be great for imaginative kids that love to make pretend. Role-play stories involving professions take this even further, which is why bookstores and tea rooms are also such a hit. This alternative miniature dollhouse kit lets friends and siblings take turns purchasing items and serving behind the counter. This will also build on social skills so that they can handle similar transactions in the future.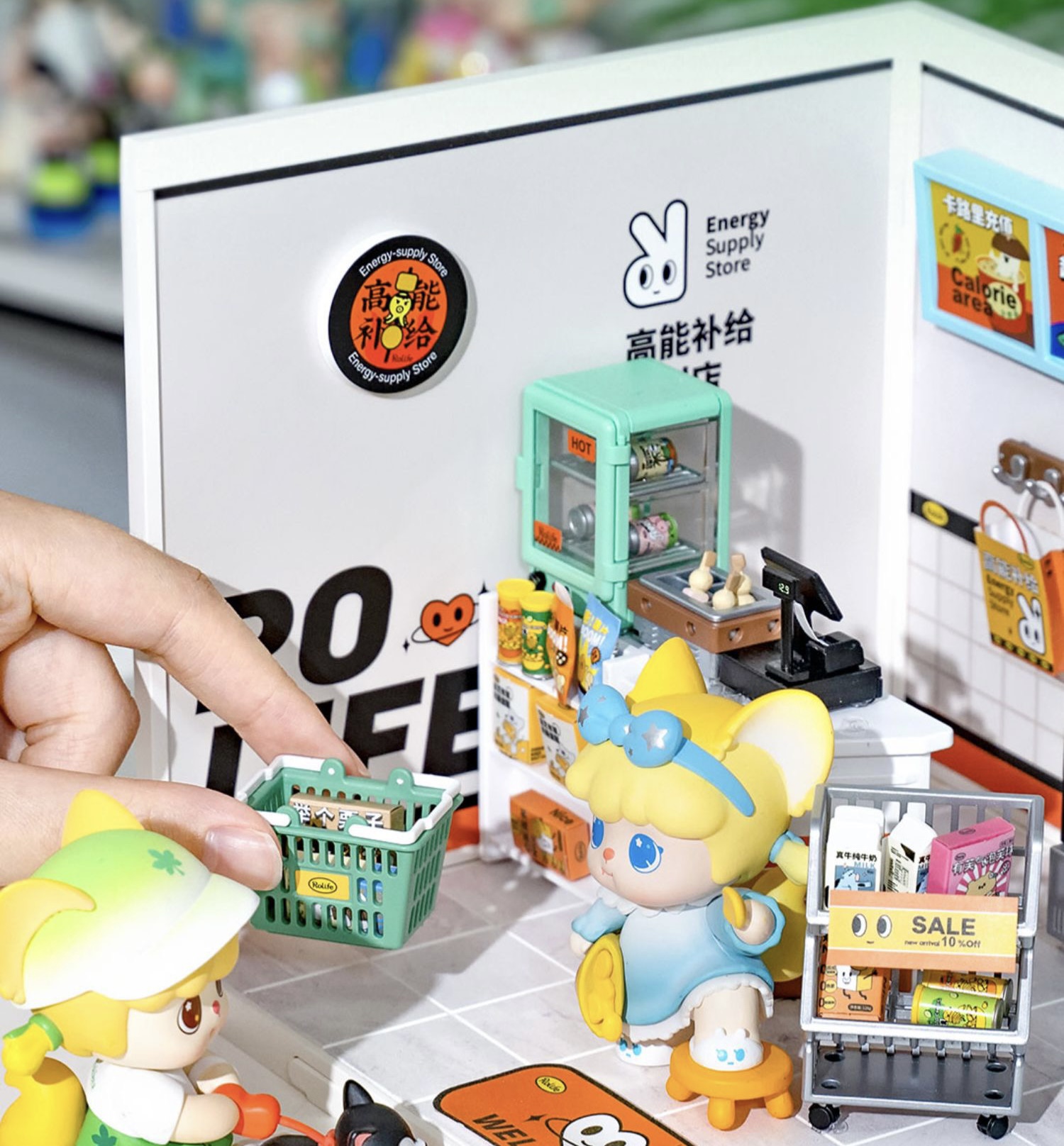 One way to enhance these creative playtime sessions is with a figure to go around the store and buy those fun cakes and drinks. Perhaps a Nanci, Suri, or Nai Hanhan figure doll needs an energy boost after a long day's adventures?
DIY Miniature Convenience Store Toys Can Be Even More Interactive
Scanning wooden toys with fake scanners in your bedroom are fine, but you don't get the same sense of place as you do with a DIY convenience store kit. When you build something like this from the ground up and add in all those details, you get something kids will cherish for a long time.
To learn more information about this miniature dollhouse kit product, please click here!