Introducing the Rolife Holiday Garden House - A French Floriculture Miniature
Introducing the Rolife Holiday Garden House - A French Floriculture Miniature
Introducing the Rolife Holiday Garden House - A French Floriculture Miniature
We're glad to introduce the new Rolife book nook kit - a magnificent miniature embodying the essence of a European flower charm to everyone. Unlike previous book nooks, we have added more exciting scenes and materials to this new book nook. Then let's explore its wonderful story and more details together.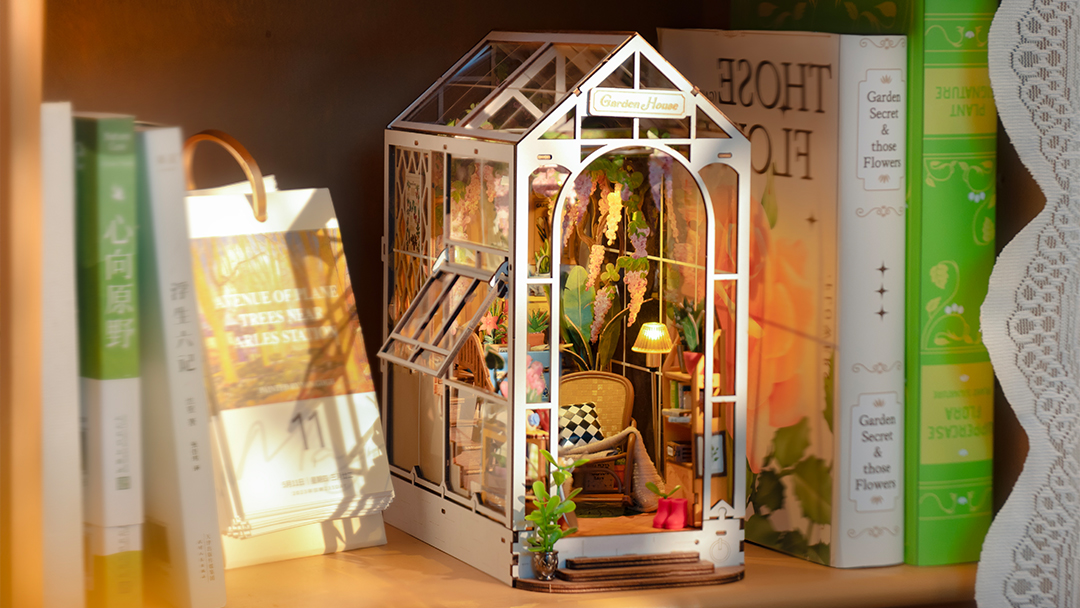 Details:
Package size: 230*76*310mm
Assembled size: 203*110*241mm
176 pieces
About 5 hours of assembly time
Difficult level: ★★★★
Main materials: Basswood board, MDF, paper, plastic
Features:
European pastoral style theme
Use transparent materials to allow you to see the scene inside
The interactive design adds even more fun
It is crafted with transparent material, allowing for the bright and vibrant colors of the 14 types of various flowers to shine through, recreating the allure of the French flower houses in the past. This miniature Garden House draws inspiration from a blissful day awakened by the gentle sunlight, surrounded by blossoming flowers. It offers a tranquil and nostalgic experience of enjoying a fresh cup of brewed coffee in the morning.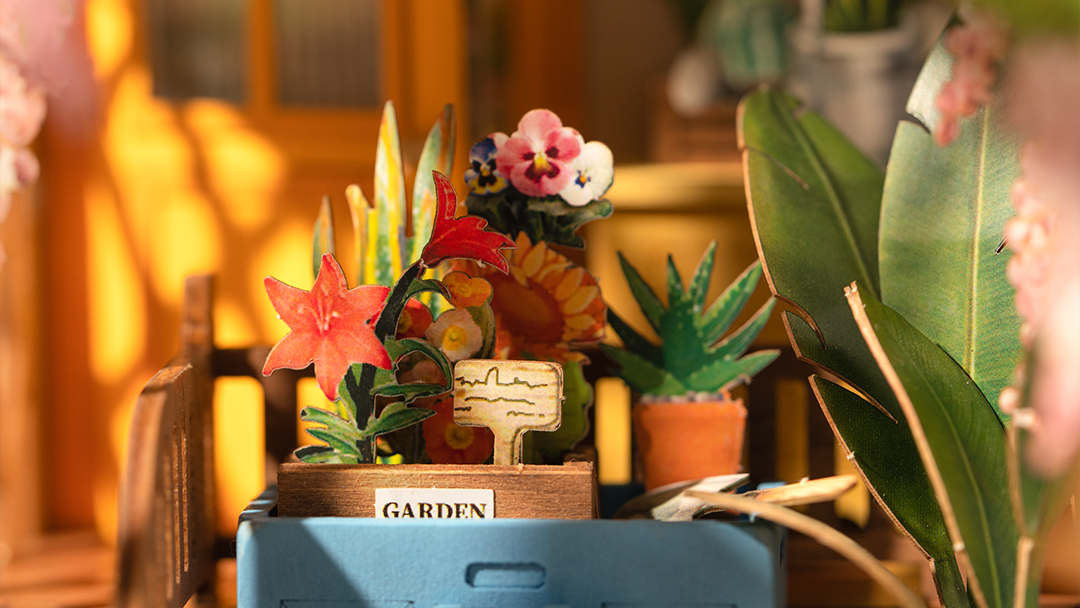 Everything inside the Holiday Garden House Book Nook speaks "French Floriculture," offering a unique layering and interior design from the Wisteria surrounding the top of the house to the use of the floral art furniture down to the Monsterra detailed carpet. You can also find gardening tools inside, like a watering can and shovel. The plant guide hanging on the wall is an excellent touch of authenticity that completes the immersive experience.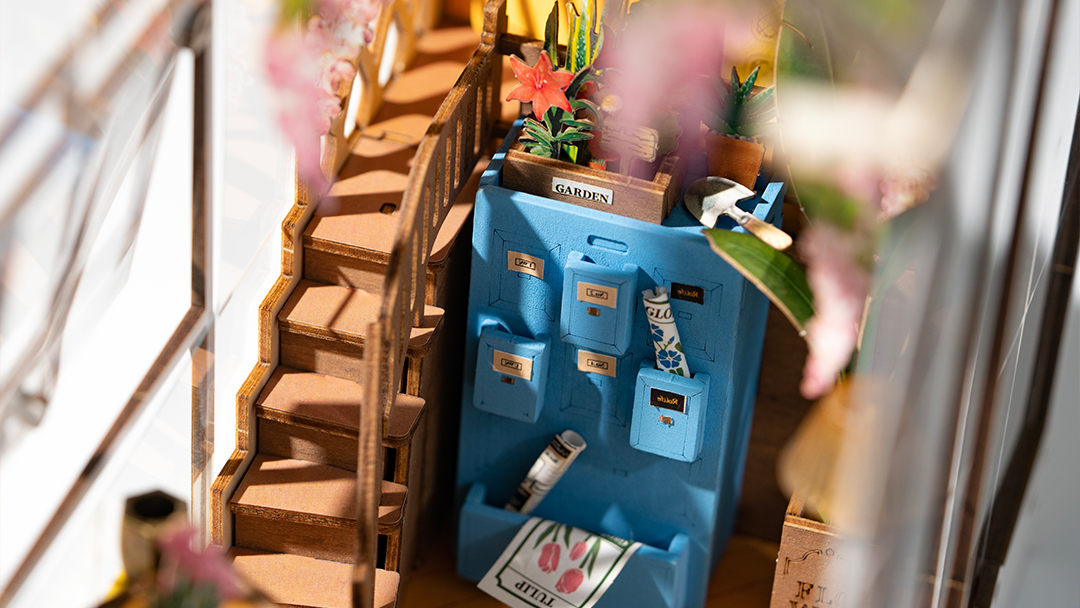 The romantic arched door and the dim ribbed glass, coupled with the retro staircase with a bending design, create a more rural-styled aesthetic that comes alive in a nutshell and adds a touch of elegance to this beautiful space.
The Holiday Garden House book nook has an ambiance where you will be greeted by nature when you open the doors and windows. The careful decoration and attention to detail to recreate the romantic atmosphere of a flower house is nothing short of extraordinary. It is a retro-styled aesthetic with simple and ancient basswood home supplies.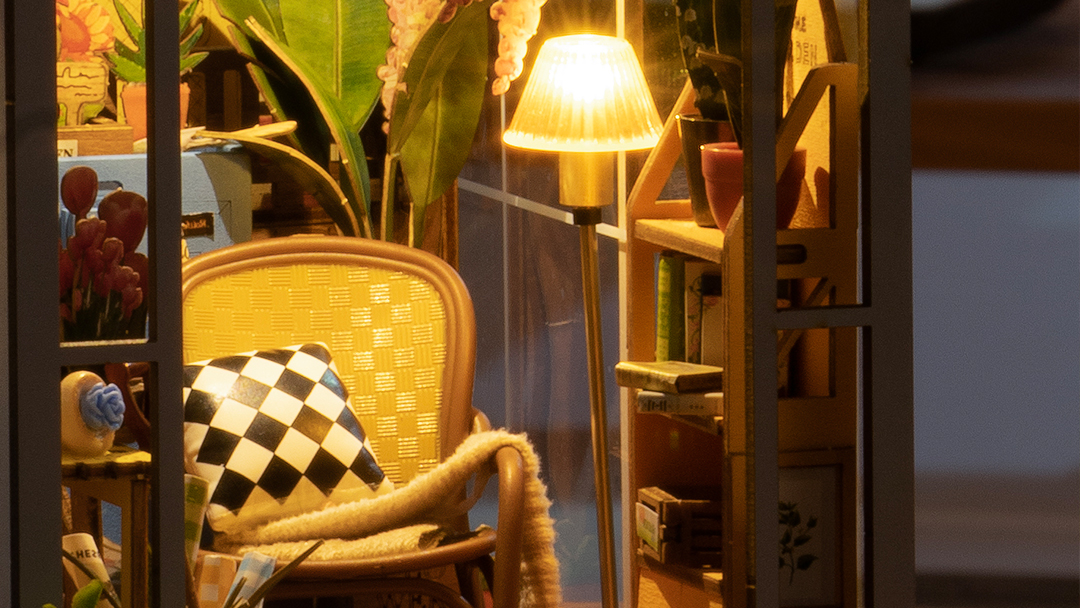 Building a Holiday Garden House can be a joyous journey as it ensures a fun and engaging experience. The mortise and tenon process guarantees a closely connected and stable structure. And the frames are easy to build up and disassemble, offering convenience and flexibility. As an environmentally conscious choice, the Holiday Flower House is made from recyclable and eco-friendly materials such as PET, basswood, MDF, paper, and acrylic board.
Last Conclusion
If you love reading and decoration, don't miss out on this latest book nook kit. Its standout feature lies in the use of transparent PET material, allowing you to appreciate the entire flower house's romantic ambiance fully.
It possesses the functionalities of most book nook kits and boasts a superior appearance and scene, making it an extraordinary decorative piece. Now, immerse yourself in the world of this miniature Garden House book nook for 5 hours and witness the bloom of romance and tranquility.