Introducing the Stylish ROKR Monocular Telescope 3D Wooden Puzzle
Introducing the Stylish ROKR Monocular Telescope 3D Wooden Puzzle
Introducing the Stylish ROKR Monocular Telescope 3D Wooden Puzzle
While traditional puzzles already have an outstanding ability to spur brain activity, it's always better to own one that could also provide a mixture of eye candy and utility.
In that sense, the ROKR Monocular Telescope ST004 stands out. Stick around as we analyze what makes this ROKR product unique regarding entertainment and pedagogic value.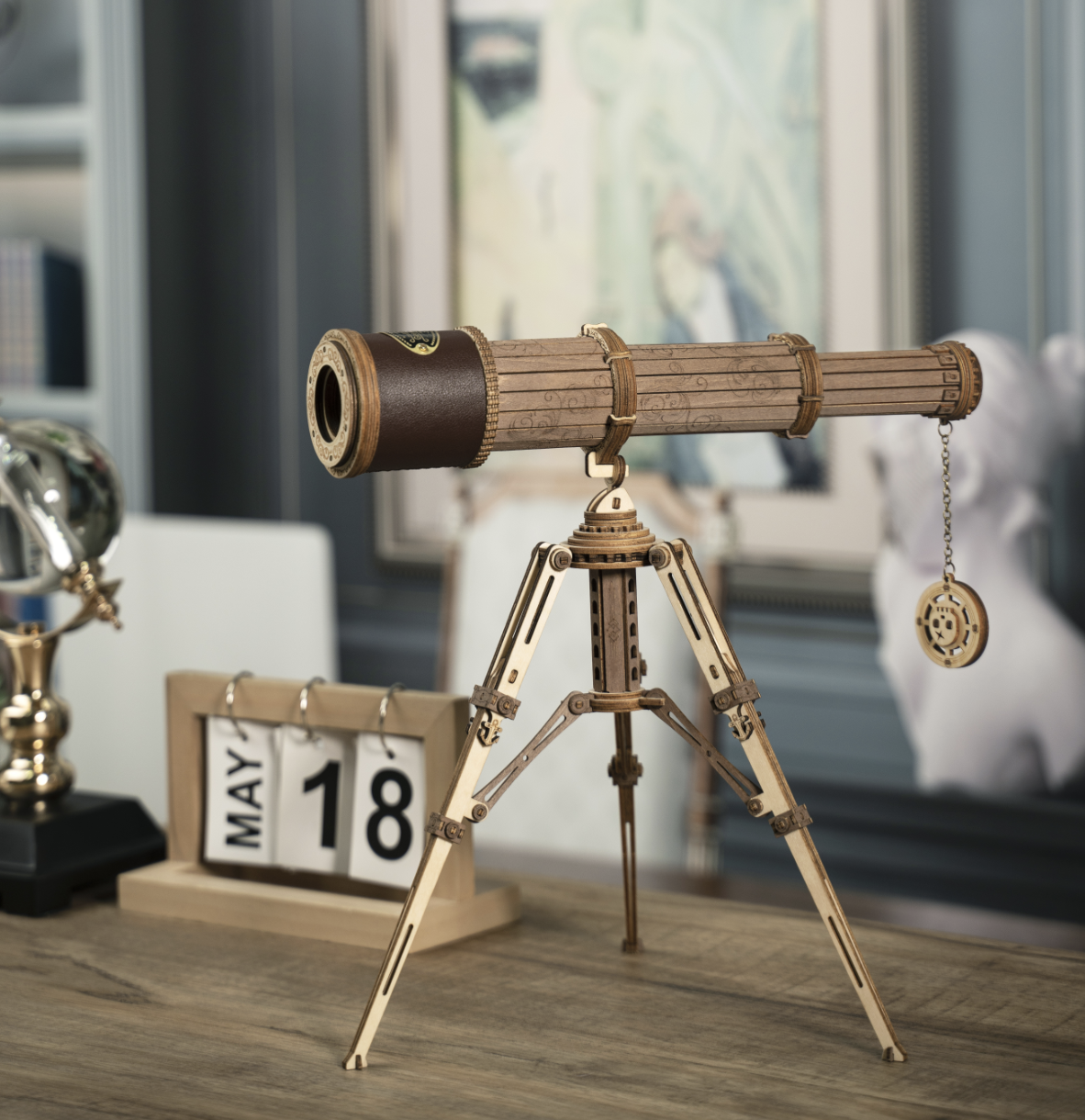 What Exactly Is the ROKR Monocular Telescope 3D Wooden Telescope?
The ROKR Monocular Telescope 3D Wooden Puzzle is an educational toy and model-building kit that DIY enthusiasts and family members can enjoy. This relatively beginner-friendly contraption presents, at the same time, a fun challenge to both teenagers and amateurs. Not only will they get a thrill out of it, but the results will be long-lasting.
Moreover, the puzzle allows astronomy fans to understand how telescopes generally work. Even though they can only zoom in just enough to see distant buildings and sights, telescope lovers will get a nice jumpstart to build more professional-tier equipment in the future.
What Are the ROKR Monocular Telescope 3D Wooden Telescope Specifications?
The telescope is a pirate telescope replica comprised of over 314 pieces that must be put together by the "players." The extensible tripod and the three different-sized barrels must be assembled separately with moderate precision. However, the individual plywood pieces are already cut to their intended dimensions, so your only concern would be to fit them correctly.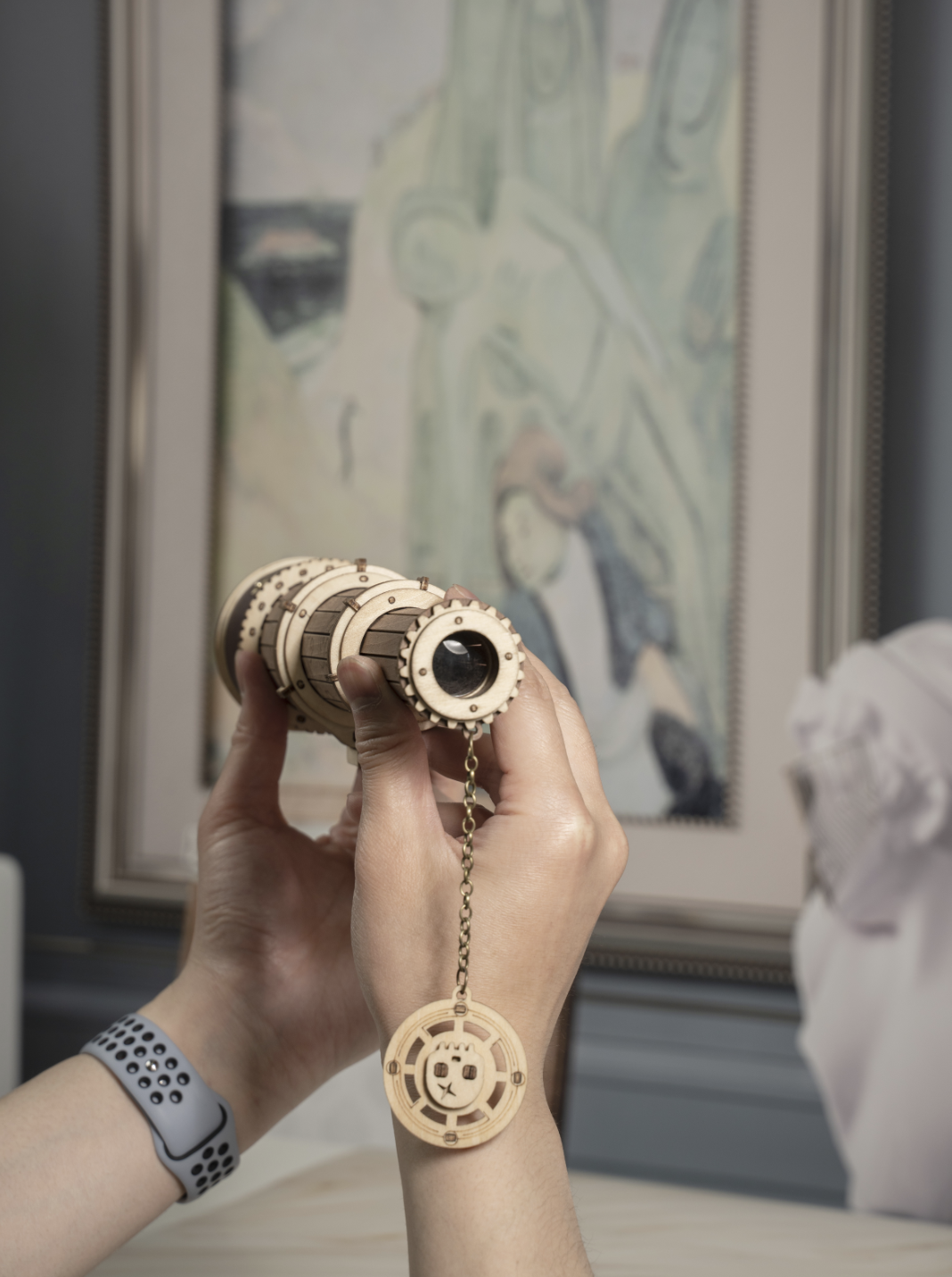 Included in the package, you'll find three different lenses: The "telescope lens," the 20mm "search" lens, and the 30mm "objective" lens, granting you a viewing distance of up to 150 meters and three levels of adjustment. The assembled puzzle is quite hefty - measuring 13" x 9.4" x 12.8" - requiring thus generous indoor or outdoor space.
To complement its "Pirates of the Caribbean" vibe, the telescope bears a pirate flag mirror cover attached via a chain to a vintage-feeling telescopic bracket. This blends nicely with its elegant leather decorations and classy-looking embellishments.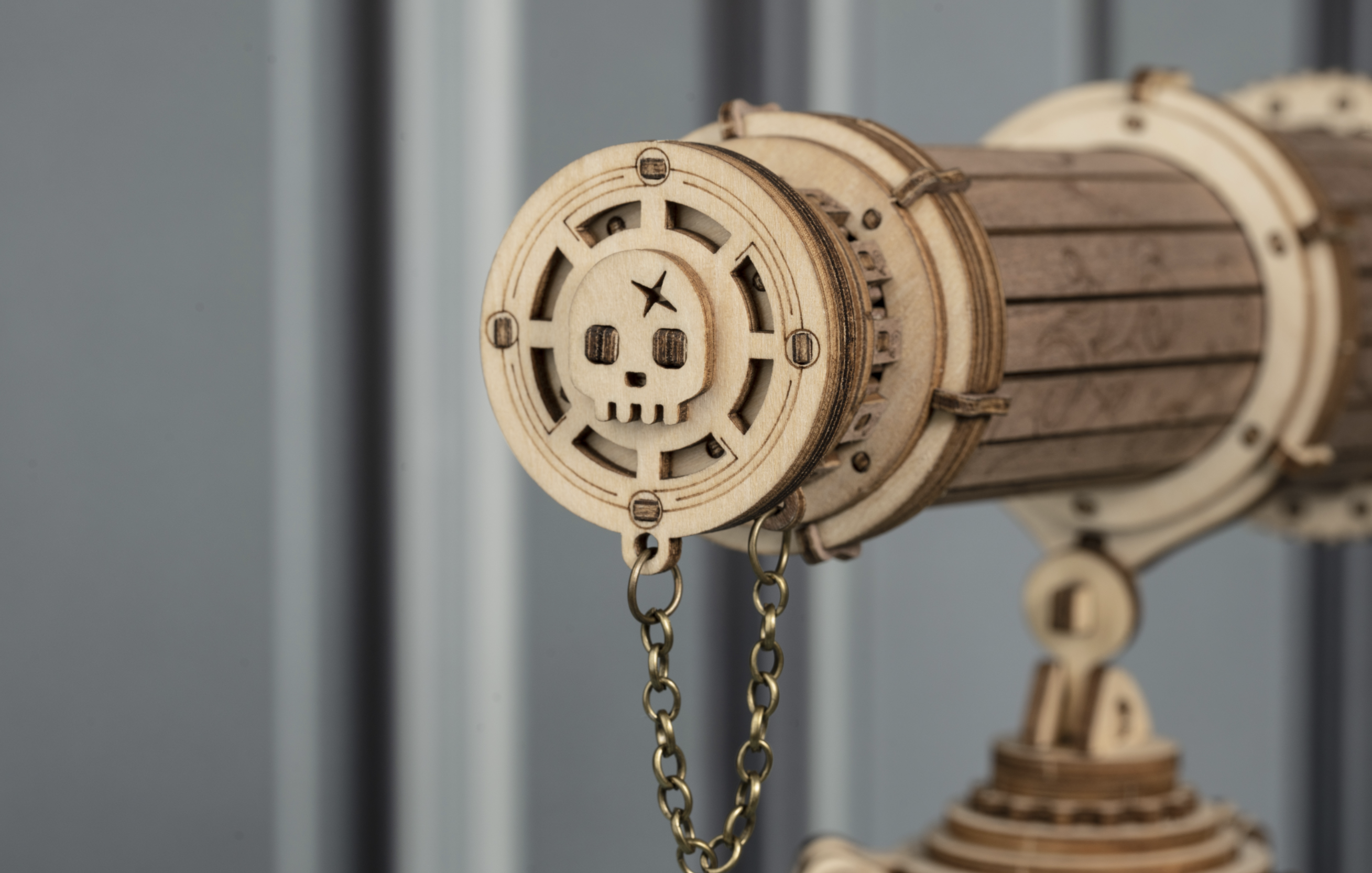 How Long Does This 3D Puzzle Usually Take?
Regarding construction times, this wooden puzzle may demand great patience. It could take 2.5 hours or more to complete depending on the number of people involved.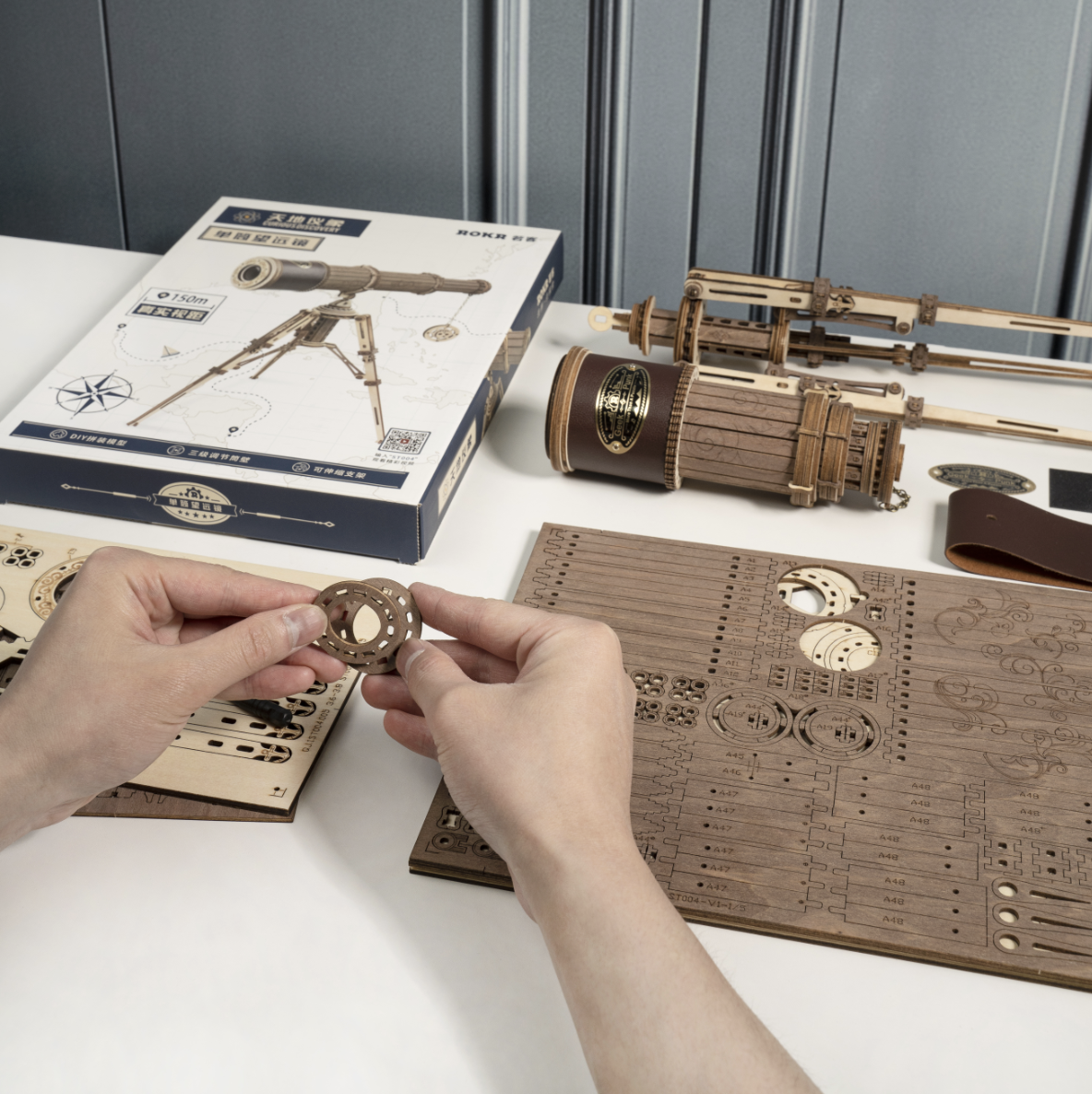 Is the ROKR Monocular Telescope 3D Wooden Telescope for All Ages?
As hinted at earlier, the assembly process requires moderate puzzle-solving skills and knowledge of how to use certain tools such as sandpaper and wax. All in all, this 3D wooden puzzle is not suitable for children below 16 years of age.
How Does TheROKR Monocular Telescope 3D Wooden Telescope Help with Hands-On Ability and Brain Prowess?
This educational toy compels builders to pay close attention to shapes and sizes and spatial relations as a whole. It likewise enables teenagers and young adults to get familiarized with STEM (Science, Technology, Engineering, and Math) principles so that they may apply them in more advanced studies and DIY assembly tasks.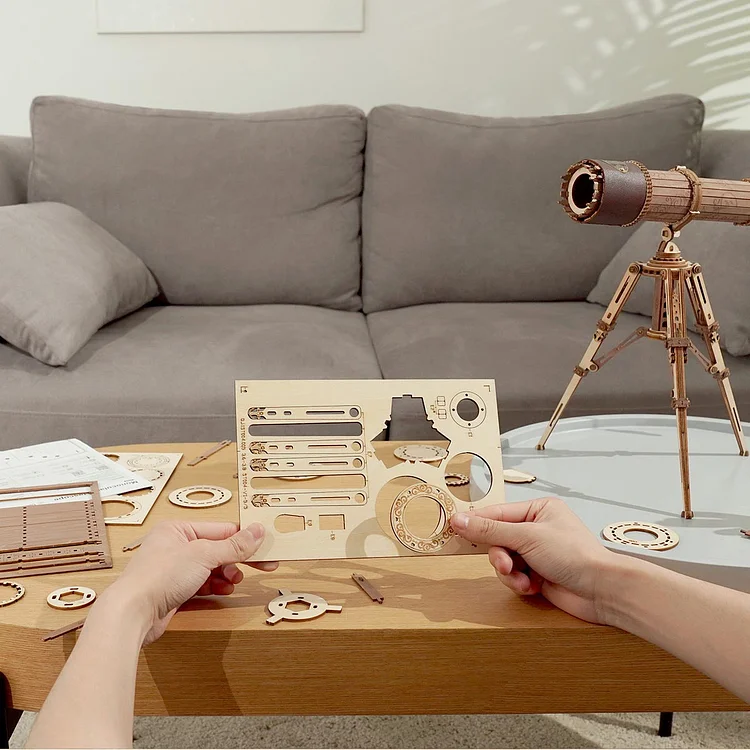 Moreover, since the final product is a fully functional telescope (albeit with its apparent limitations), participants can get a sense of accomplishment by which they can see the direct outcome of their hard work in a particularly tangible way (namely, by using it). For all these reasons and more, the ROKR Monocular Telescope 3D Wooden Puzzle ST004 is arguably among the best creative gifts for edifying family reunions!