Rolife Sunset Carnival: A Whimsical Journey into Your Own Amusement Park
Rolife Sunset Carnival: A Whimsical Journey into Your Own Amusement Park
Rolife Sunset Carnival: A Whimsical Journey into Your Own Amusement Park
Step right up and experience the enchantment of Rolife Sunset Carnival! This extraordinary DIY music box kit takes our beloved 3D wooden puzzles to new heights by incorporating a TV framework that brings an entire story scene to life. With a rotatable Ferris wheel, captivating circus motifs, and a mesmerizing sunset atmosphere, this kit is designed to fulfill your amusement park dreams. Let's dive deeper into the remarkable features that make the Sunset Carnival an unforgettable experience.
Let's first watch a short video together to learn more about Rolife Sunset Carnival Music Box.
Captivating Sunset Atmosphere
Immerse yourself in the magic of a radiant sunset within the comfort of your own room. The Sunset Carnival music box features top light and backlight settings that beautifully reflect the Ferris wheel's glow. With this stunning combination, you can bask in the warm hues of a captivating sunset, creating a truly extraordinary ambiance.
Musical Delights
The TV framework offers a delightful interactive experience. With a simple turn of the left button, you can control the enchanting lights that adorn the scene.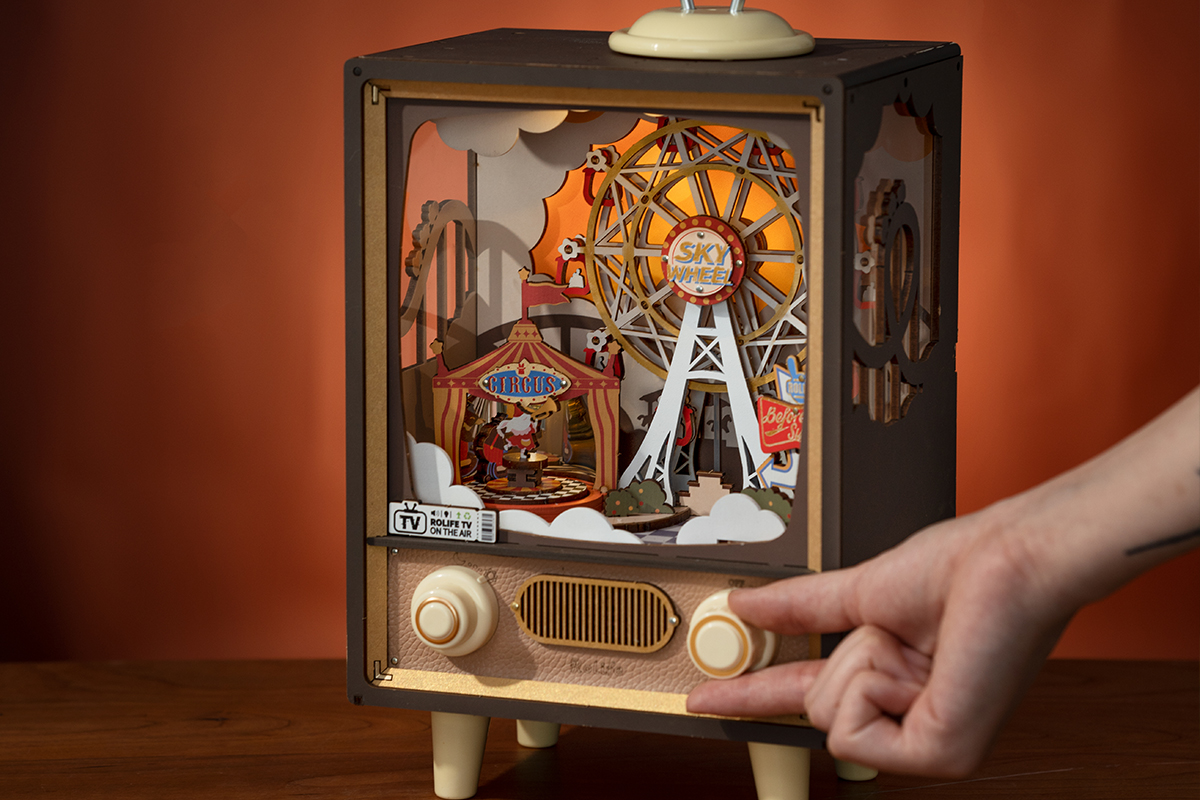 To add a symphony to your visual spectacle, turn the right button to play two timeless musical compositions: Johann Sebastian Bach's charming "Minuet in G" from Anna Magdalena and Beethoven's delightful "Minuet in G Major." Let the harmonious melodies whisk you away to a world of joy and wonder.
Realistic Amusement Park Scene
The Sunset Carnival brings the amusement park experience to life with its meticulously crafted details.
Built-in portrait silhouettes of visitors and roller coaster scenes transport you to a bustling fairground. You'll be captivated by the lifelike depiction of an amusement park, where every component is thoughtfully designed to recreate the authentic ambiance of this childhood paradise.
Whimsy and Nostalgia
One of the most endearing features of the Sunset Carnival is the charming circus scene nestled within the music box. This scene captures the essence of childhood innocence and imagination, providing a nostalgic trip down memory lane.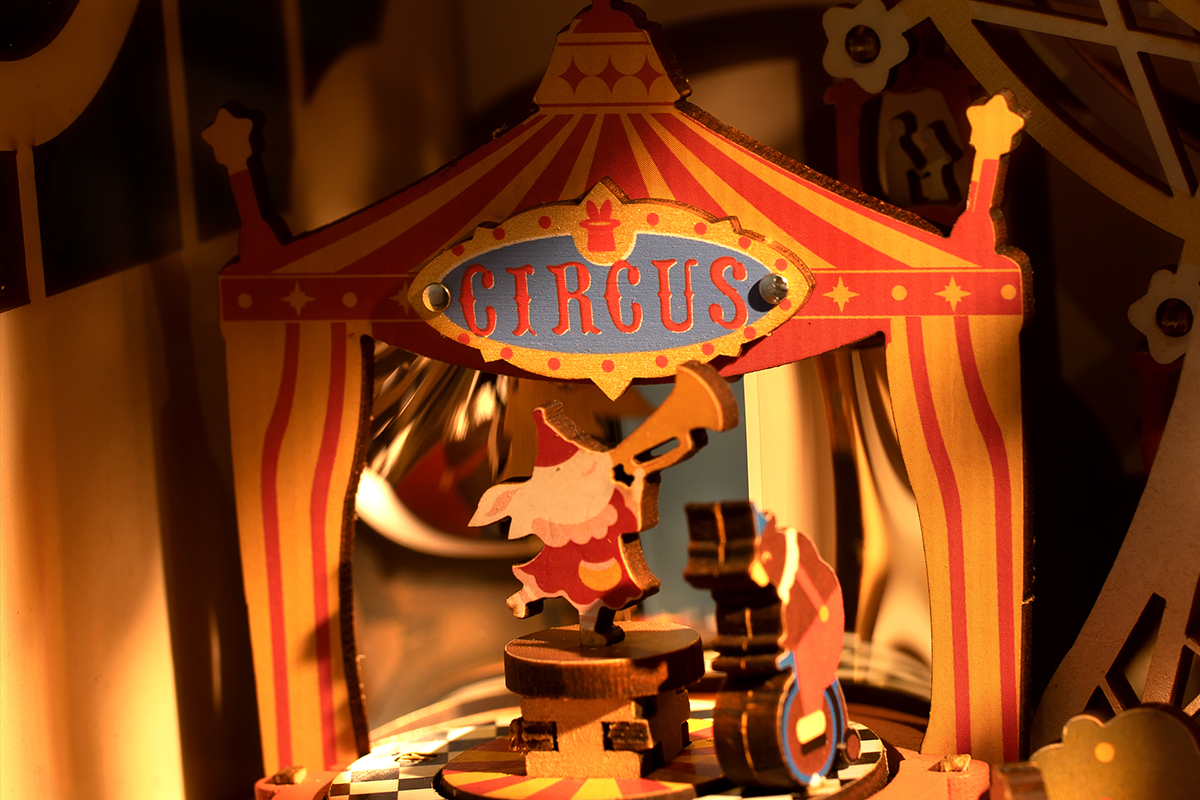 Keep an eye out for the delightful bear riding a unicycle, adding an extra touch of whimsy that will tug at your heartstrings.
More Details
Thanks to the high-precision laser cutting technology, this music box utilizes a perfectly fitting slot assembly system that allows you to bring this enchanting world to life without the need for any glue.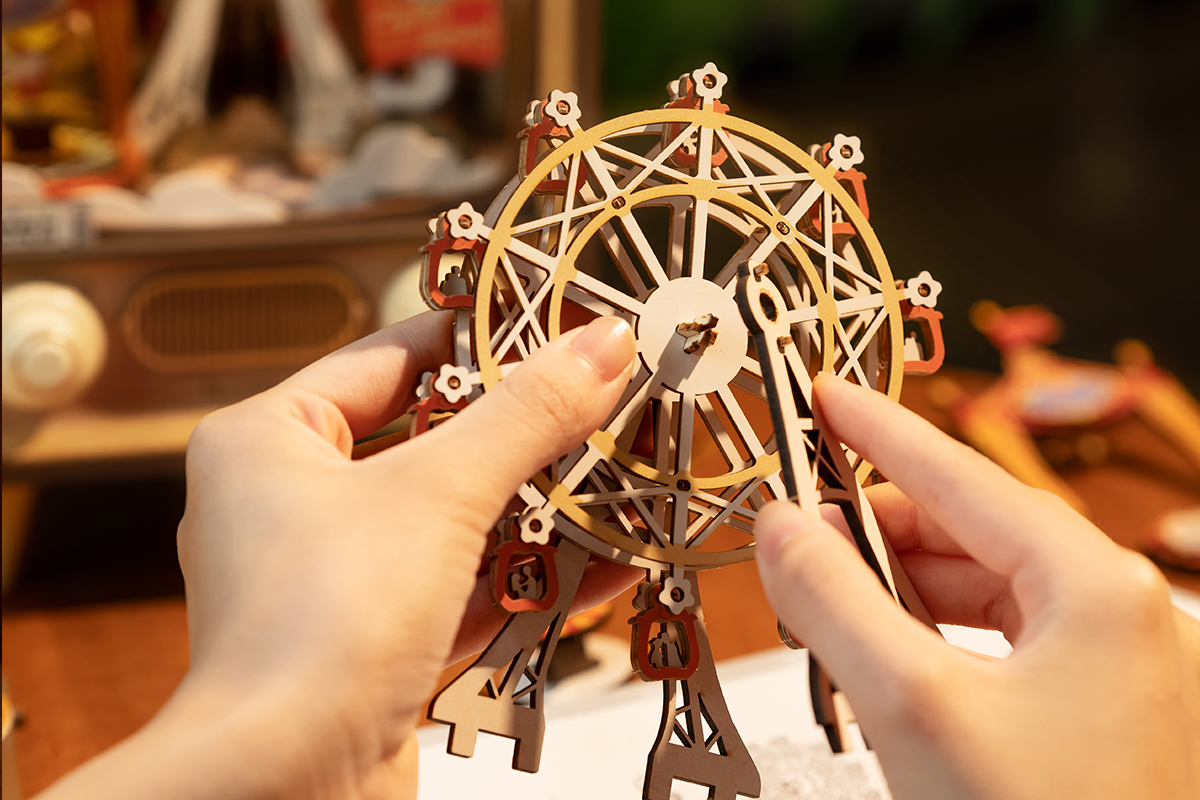 In addition, the back of the Sunset Carnival Music Box features an embedded Type-C interface, allowing you to control the lighting switch function easily. It's time to say goodbye to batteries! This eco-friendly feature saves energy and ensures convenience, allowing you to enjoy the magical ambiance without any unnecessary hassle fully.
What's in the box? It comes with pre-cut wooden pieces, an instruction manual in English, a warm light string, as well as auxiliary tools like a screwdriver and small parts, making the assembly process effortless.
Last Conclusion
Embark on a whimsical journey with Rolife Sunset Carnival, where a mesmerizing sunset atmosphere, captivating lights, delightful music, and realistic amusement park scenes await. Immerse yourself in the joy of assembly as you bring this enchanting world to life. With its eco-friendly design, premium quality, and attention to detail, the Sunset Carnival is the perfect choice for those seeking a unique and unforgettable experience. Let your imagination soar as you create cherished memories with this extraordinary DIY music box kit.