Special Gift Ideas for Mother's Day from Robotime
Special Gift Ideas for Mother's Day from Robotime
Special Gift Ideas for Mother's Day from Robotime
It is extremely common to celebrate Mother's Day in any country in the world. People usually hold a celebration in memory of their families or own mothers, as well as motherhood, maternal bonds, and the impact mothers, have on society. Despite the different dates of Mother's Day in different countries, it has the same emotional expression which means to respect mothers and motherhood. On this day, we sincerely wish mothers to stay young, healthy, and long-lived.
Traditional Ways to Celebrate Mother's Day
According to statistics, most people will buy flowers, cards, or handcrafts as gifts on this day. Besides, we also adopt various ways, such as phone calls, companions, and trips, to express our respect and gratitude.
These ways mentioned above are enough to express gratitude to mothers, but the same ways every year will inevitably lack new ideas. So if you want to take the spotlight this year, you may need to do some additional research.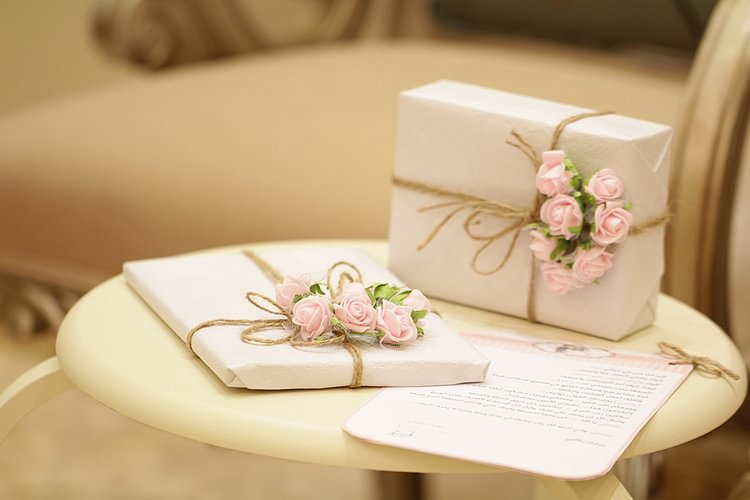 What's the Exquisite Plan?
Shopping for gifts like flowers, and cards to express your love is a good option. But why not choose other innovative gifts? That's why I recommend this article to you.
On this wonderful day, our company Robotime has prepared models suitable for gifts for everyone. The unique mechanical 3D wooden puzzle will be one of the great gifts for family and friends. Also, with these models, you will have more opportunities to be with your mother on this day, as it may require you to cooperate with your mother. Such a beautiful gift will warm the soul and heart of the family and bring unforgettable happy moments.
Special Gift Ideas for Mother's Day
Here, we're happy to share some fun and practical models with you!
Rokr Gramophone -- Memories of the 19th Century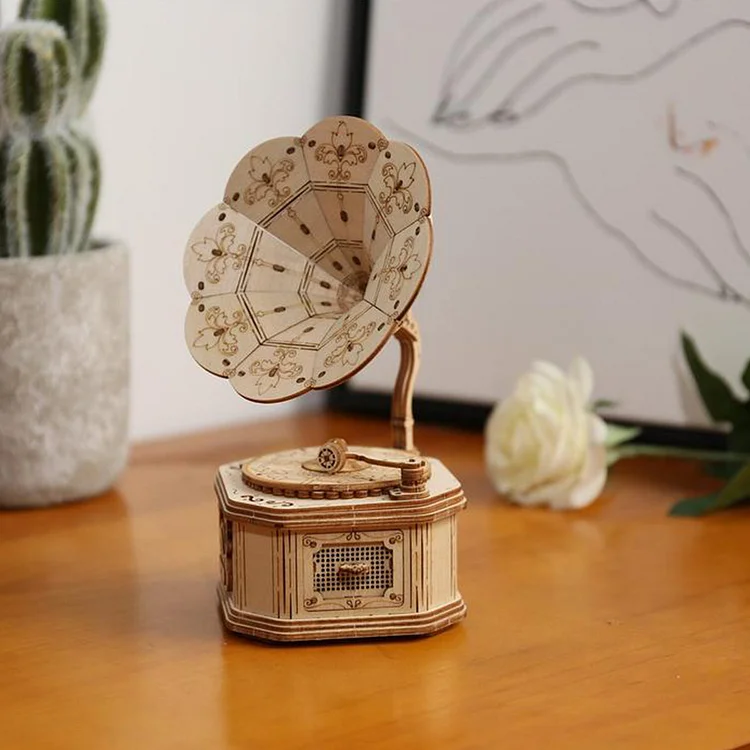 This is a classic electric gramophone 3D wooden puzzle, which is inspired by the original invented by Thomas Edison. With the Retro style design of a vintage record player, it is not only just a wooden model but also an actual gramophone that can play records.
This Gramophone can be played without a battery after wound up. It comes with a vinyl record containing 3 songs: The Merry Gent, Memory of A Dance, and The Giant Killers. And It also can support other 7-inch and 10-inch records. That means that it can play on your mother's favorite record.
This antique Gramophone wooden model with beautiful melodies will take you back to the 19th century. It's a great impressive gift!
More about this series: Musical Instrument & Gramophone
ROKR Owl Clock -- Every Moment Spent with Your Mother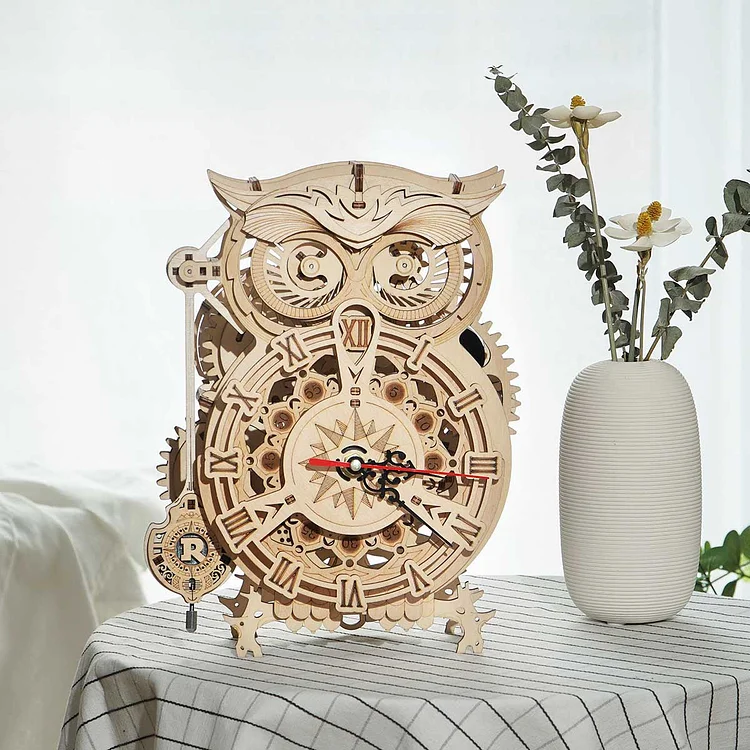 This is a DIY wooden clock with a beautiful combination of machinery and time. As long as you push the corresponding mechanical structure, the clock will tell you the exact time same as the other clock in real life.
Also, it can be used as a real clock for timekeeping. The unique style and elegant appearance are more suitable as a home decoration to place anywhere you want. It will be a delight to eyes and always be with your mother.
More about this item series: Clock & Calendar
Rolife Ferris Wheel -- Let your mother back to be a little girl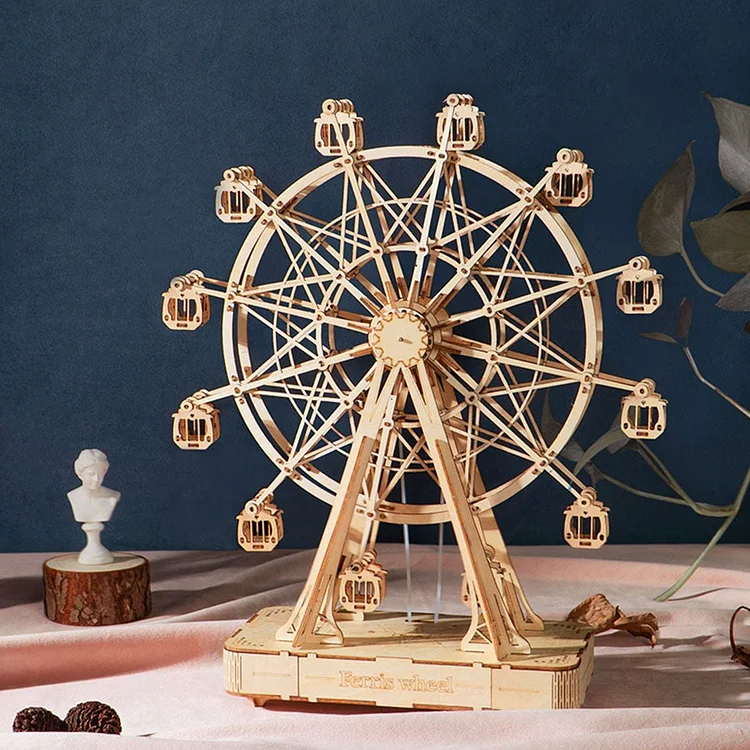 Almost every girl wants a Ferris wheel ride with her companion. Trust me! Your mother will fall in love with this DIY Ferris wheel music box.
When you rotate the music generator key, the Ferris wheel will spin in the air with a beautiful melody. This time, do not miss this chance to let your mother back to be a little girl!
More about this item series: DIY Music Box
Note: The raw materials used in the above products are all made of high-grade 100% natural plywood, non-toxic, and environmentally friendly.
Last Conclusion
It is very important to spend time with family and friends, especially on such a wonderful holiday – Mother's Day. Don't forget to surprise your mom. Express your feelings and be grateful. Giving Gifts is the easiest way to express your gratitude and respect.

Robotime is always willing to help you to choose a gift. And on this wonderful holiday, we give our customers a special 15% discount on any 2+ of most of our models( Click here learn more about Mother's Day sale.), which will create unique impressions and bring a lot of fun during the assembly process! Let's assemble unique mechanical models with mom!
Have a try! Adopting these ideas this year, Mother's Day will be unique from past years. We hope you all have a good time in this wonderful Mother's Day!