Tiny Life in The Glass: Rolife Mysterious World Miniature Dollhouse Series
Tiny Life in The Glass: Rolife Mysterious World Miniature Dollhouse Series
Tiny Life in The Glass: Rolife Mysterious World Miniature Dollhouse Series
There is nothing quite so satisfying as making something that you are proud to display in your room or house, and you should never underestimate the value that crafts can bring to your life. Craftwork is proven to lower stress levels, keep the mind sharp and improve hand-eye coordination. This is especially true if parents, grandparents, or even older siblings team up with a child and they bond over making beautiful craft pieces that they can display in their own room, or give as gifts.
Our Rolife Mysterious World series are entry-level miniature house projects that every family member would be proud to make, each kit makes a different part of a tiny and mysterious world and comes complete with an acrylic glass cover to showcase the finished project and keep it clean and safe. Completing these kits will give you a sense of achievement and pride. Whether you display them independently or make a mystical world, you're sure to love showing off these completed DIY miniature houses, that will create a magical world around your home.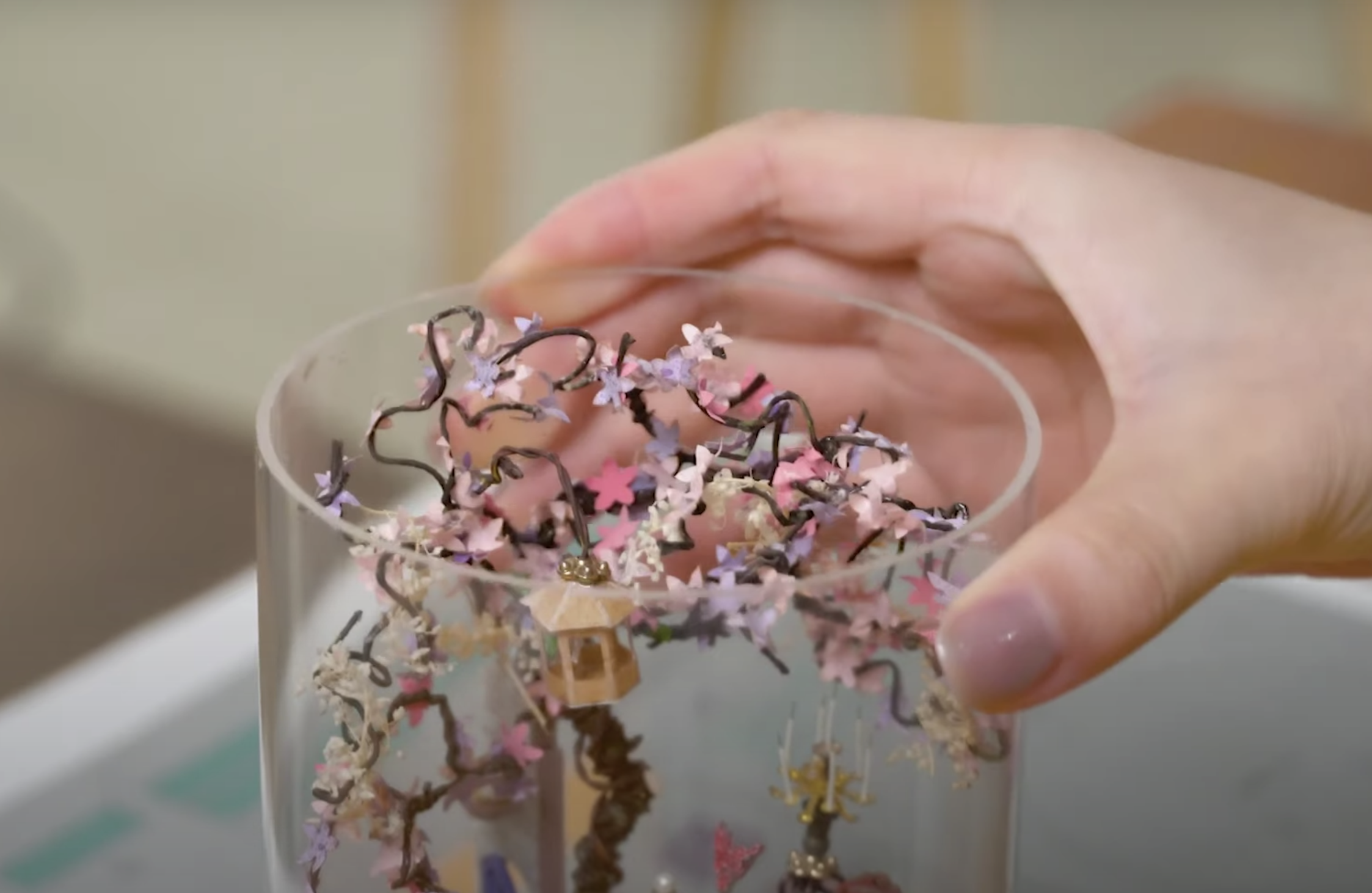 Rolife Domed Loft Miniature Dollhouse Kit DS001
Make the perfect world for a student or magical scholar with this incredible loft miniature dollhouse kit. Once assembled and nestled under the included acrylic dome you will discover a beautiful living space in gorgeous surroundings. Approaching the loft there is a small set of steps leading up to the entrance that sits on top of a full flower bed of colorful plants. At the first level, you will be greeted by a magical new friend who will be only too happy to open the door and let you in. Then climb the wooden ladder up to the bedroom and observatory, where you can spend the evening studying the night sky. This delightful DIY miniature house is chock full of details that bring the whole loft to life.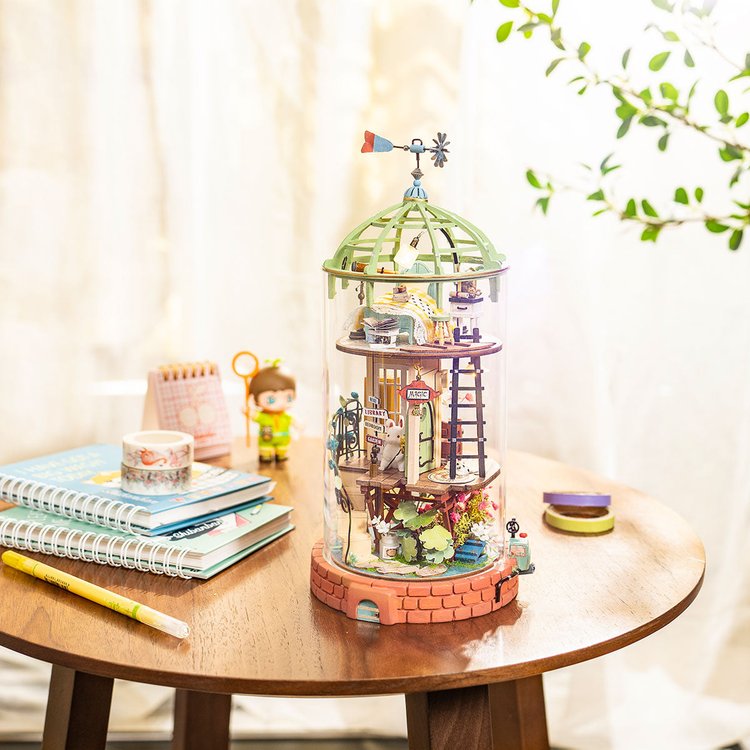 Rolife Bloomy House Miniature Dollhouse Kit DS002:
The Bloomy House is the perfect home for the dreamer, the girl that wants to be alone with her thoughts in a truly magical world, all visible through the acrylic dome. So many details capture the attention in this beautiful home, from the lovely garden and bench seat on the first level that leads to the perfect bedroom area that is full of quirky, and incredible decorations. The ideal place to lay and chill and let the imagination fly. However, why stop there? Stroll up to the rooftop level where your wise old owl friend will help you unwind and appreciate the wonders of the world. The amount of details in this kit is breathtaking and the world that is revealed will fire the imagination of every visitor who sees it.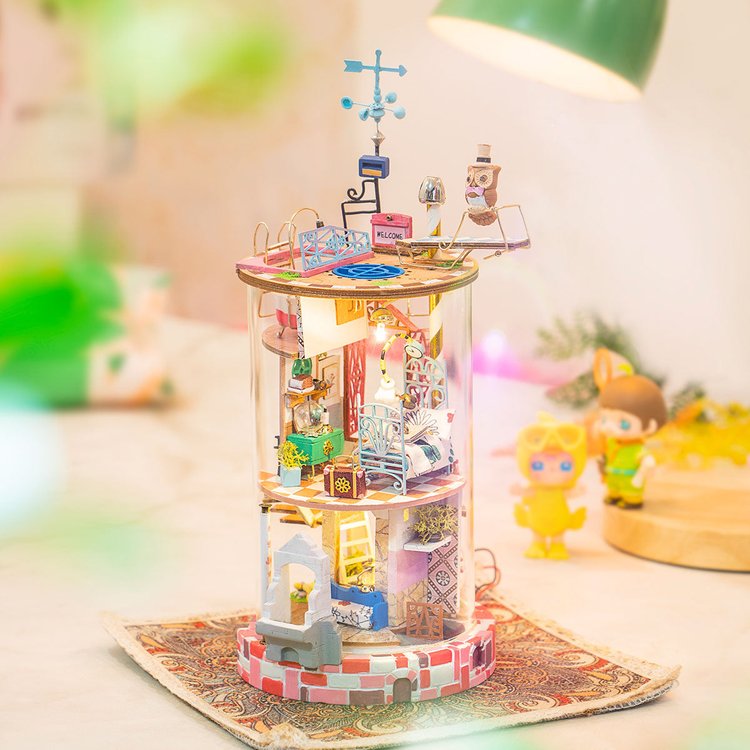 Rolife Secluded Neighbour Miniature Dollhouse Kit DS003
The mystical retreat is where the budding wizard can relax and study in unique surroundings. Multiple layers of living for a magical lifestyle with secret entrances and gardens and magical clutter everywhere. Leading up to the rooftop where your personal Raven can guide you to new levels. There are so many elements and objects in this tiny world that you will love placing around the dollhouse and once assembled and under the acrylic cover you will have an incredible display to enchant and fire the imagination.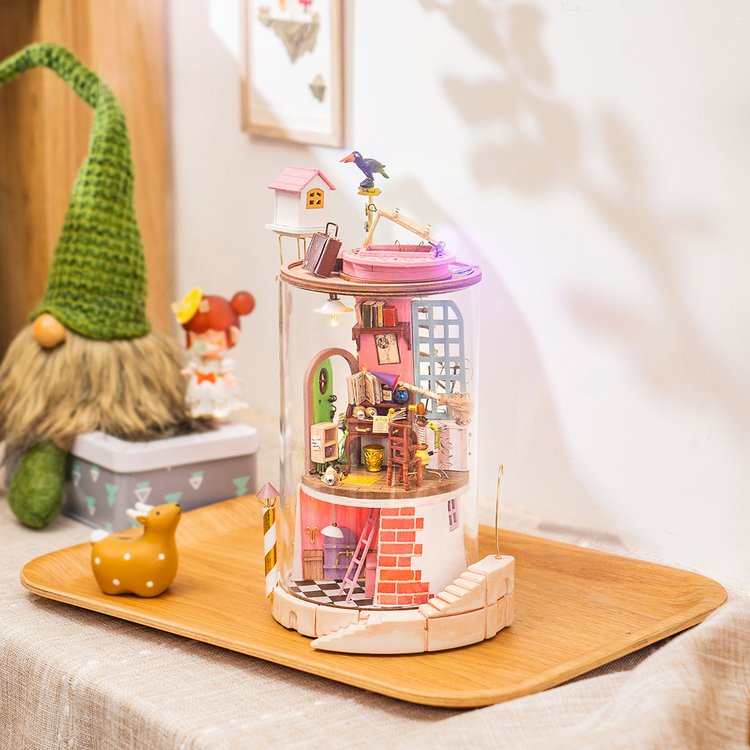 Rolife Magical Cafe Miniature Dollhouse Kit DS004
This charming 1:24 scale model shows a small cafe, set against a dark background of cherry blossom trees with hanging lanterns and on top a symbolic weather vane with a coffee cup at the top. The attention to detail is stunning and inside the acrylic glass case will be a complete scene that will enchant friends and family. The small cafe is at the base complete with a signboard, plants, coffee beans, and a steaming mug of coffee on the counter. A walk up the stairs leads to a rooftop table, sitting in the shade of the Sakura and complete with coffee mugs, decorations, and a pair of lovely chairs that look so inviting. Visitors to your home will spend a long time admiring the details and additional items that make this whole scene truly magical.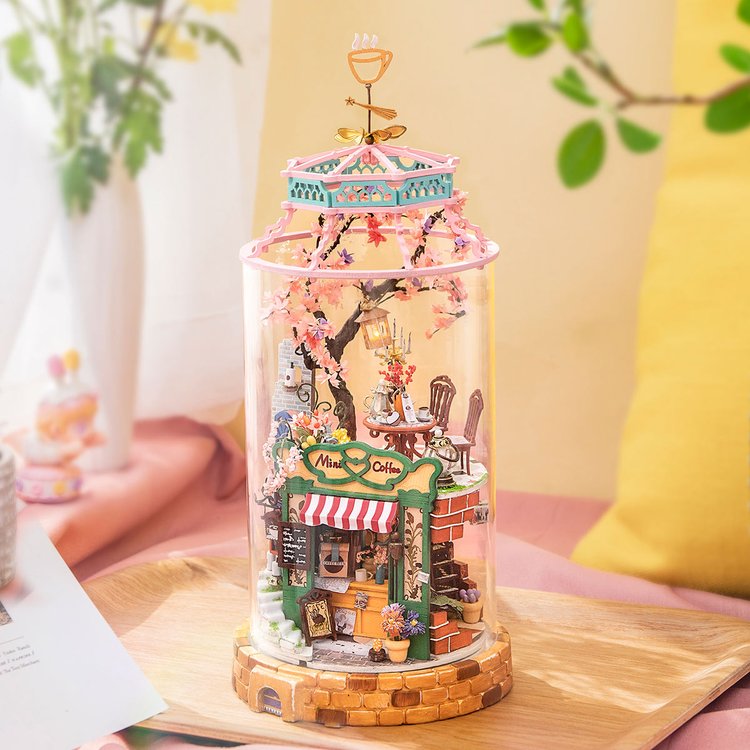 Each of these miniature house kits with acrylic covers creates a beautiful tiny world and life in the glass. These kits contain everything you need to build a stunning and magical world. They are made of the highest quality materials designed to be a little challenging but fun to assemble and leave you with a wonderful sense of achievement and pride.