ROKR Magic Cello Mechanical Music Box 3D Wooden Puzzle AMK63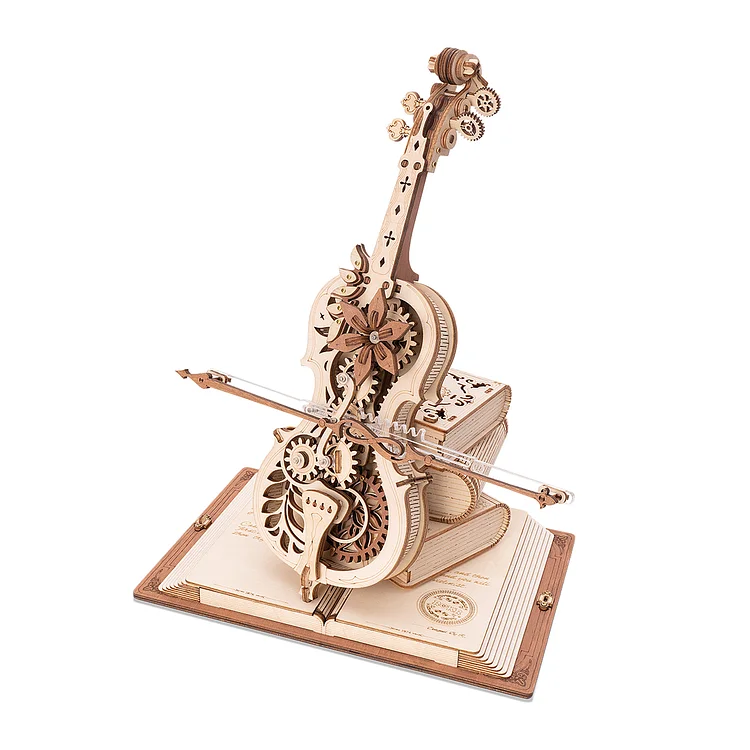 Product information
Assembled Size:
8.1*7.3*9.3"(20.5*18.5*23.5cm)
With a romantic retro style, this ROKR Magic Cello music box is mainly a combination of cello and magic book. The hollow structure of the body shows the internal gear set, six-petal flower embellished on it, and the panel is engraved with a classic European pattern, very retro aesthetic. The product is also interspersed with a large number of magic elements, such as magic books, little witches and cats, giving people a retro and mysterious visual experience. In addition, the base of the magic book shape, using the story of the "father of the cello" Pablo Casals, and the main self-playing cello echoes.
*Notes:Due to customs policy, the wax may not be included in the package. Wax: you could use ordinary candles, crayons, beeswax, etc.
Build Your Own Magic Cello
No Glue Technique

This cello kit uses mortise & tenon joint structure and precise laser cutting. Parts are easy to pop out and fit well together. So it requires no glue.

Mysterious Magic Ancient Book

The base of the book is a mix of the original wood and vintage brown, with a short story about the "father of the cello," Casals. The three magic books are stacked in sequence, and the cover is carved with an openwork European pattern, mysterious and retro.

Background Music

By twisting the clockwork, this Magic Cello Music Box will rotate automatically with the beautiful music 'Nocturne, Op.9, No.2 in E-flat'.
Product Details
Self-playing Mechanism:
The winding mechanism moves the bow in a straight line from left to right and back again.
Six-petal Flower Gear Body:
Creative body design, engraved with a large number of openwork pattern, elegant and romantic. The hollowed out body visually shows the internal multi-stage gear transmission, which makes you feel the wonderful collision of rigorous machinery and romantic shape.
Promise
Easy-to-Follow Assembly

Match numbered wooden pieces with visuals in our manual. Watch the video on our YouTube channel for guidance.

Boost Brain Skills

Builds logic and motor skills, fostering patience in kids

Gift and Decor idea

Perfect for special occasions or as a unique decor item.

Pride in Completion

Share and showcase your finished piece with friends and family.
FAQs
What if some parts are broken or lost?
What should I do if I encounter assembly issues?
Designer's Journey
Born at the end of the 18th century, the music box solidified abstract music into a tangible artwork, witnessing the history of human civilization for more than 300 years. ROKR thus designed the Mechanical Music Box Series, which puts the 'time' in small 'spaces.' The elegant and beautiful cello, with its traditional classical high-class feel, has always been loved by people, so ROKR has incorporated the cello into the "mechanical music box" and designed this Magic Cello music box 3D wooden puzzle.
Excellence in Material and Assurance
Eco-friendly, Durable, Corrosion-resistant Wood

Precision Laser Engraving Machine, Secure Fit Parts

Certified Quality, Comprehensive Testing