ROBUD Wooden Baby Push Walker Toy WRP02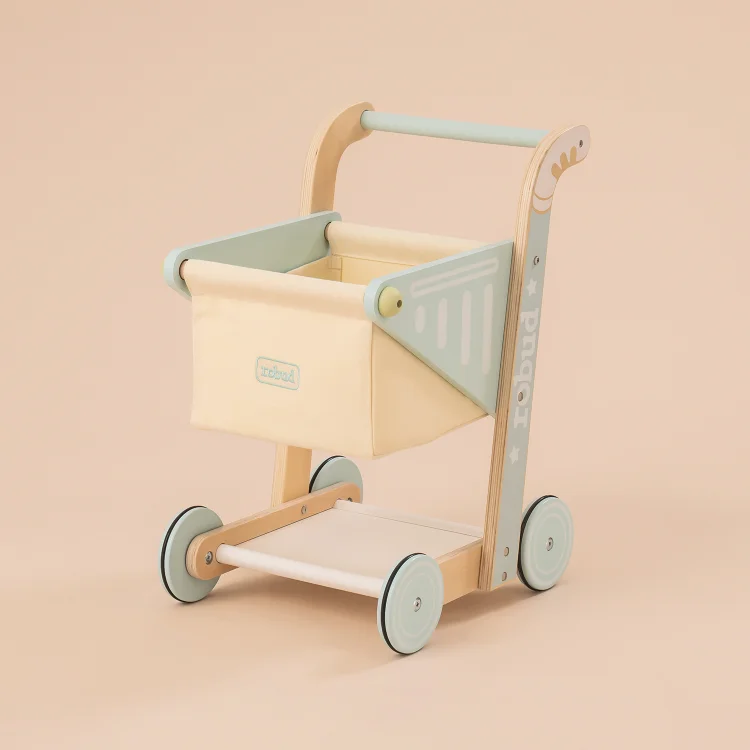 🛴Walker & Kids Shopping Cart 2-in-1🛒 Double layer can hold multiple toys and dolls. Baby will find it fun to push the grocery cart around and pretend their parents are shopping. Learn to walk and keep their balance by transporting their belongings from here to there, thus exercising their leg and arm muscles. Also, you can control the speed of your baby's walk by adding or subtracting baby toys. This is a suitable learning walker baby or activity walker baby, a must-have push wooden toy.

📜Safe & Certified Material🔍 Our product is made from 100% real wood with child-safe, non-toxic water-based paint. All the Materials & Paints are strict to the Toys Safety Standards ASTM/CE in USA and EN71 CE in Europa. Each item is well-made with rounded edges; the surface is carefully polished and smooth without burrs. It will greatly protect kid's hands and let them enjoy a happy growing up time.

🧠Thoughtful Design & Stable Structure📐 Embedded with a rubber ring wheels, not only will not cause floor scratches, wear and tear, but also easy to be manipulated by baby. In addition, with the rubber ring, the baby can easily control its walking speed. The second layer of wood panel structure also makes the shopping cart more sturdy compared to others. But for safety's sake, please keep your baby away from the steps!

🔨Easy to Assemble🔧 Parents do not need to worry about the assembly, it will not take up much of your time. We provide instructions, screwdrivers, and all items are properly packed in the box. You can follow the instructions to quickly assemble this baby walker. It's a Perfect Gift for toddler aged 10 months.

📩100% Satisfaction Guarantee💞 Your satisfaction is our top priority, Robotime designs each toy with the highest quality standards, aiming to accompany children through the golden moments of childhood. If you are not satisfied with any of our products, please contact us and we will give you a satisfactory answer within 24h! We promised if the product does not live up to your expectations, we guarantee you 30 days money back with no question asked.

⚠️Safety Notice👶 Carrying capacity of the shopping bag is 4.5lbs, Do not let baby sit inside!!