ROBUD Wooden Kids Play Kitchen Playset WG01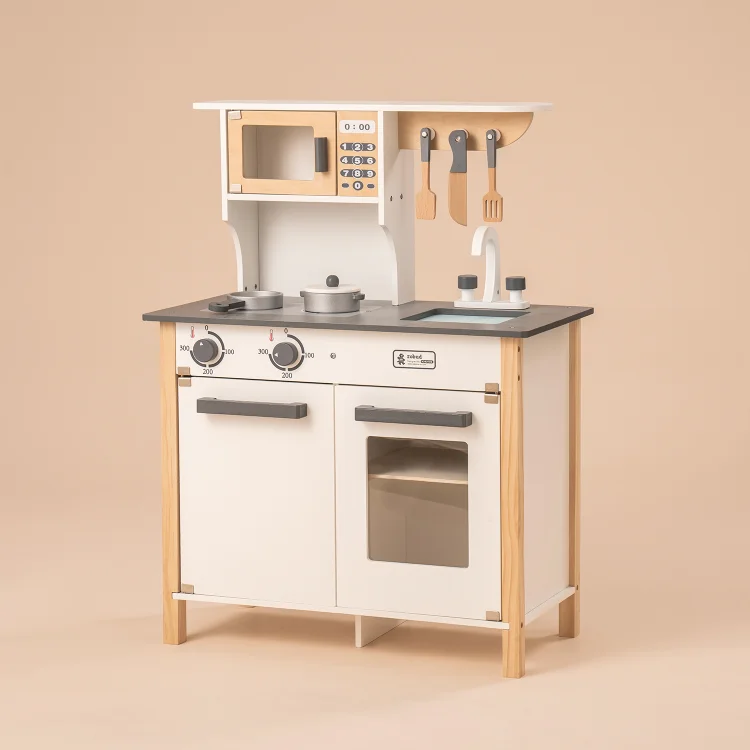 Material: Wood
Size: 21.9 x 11 x 31 inches
Style: Modern
Brand: ROBUD
🍳Highly Realistic Looking🥘 ROBOTIME realistic kids' play kitchen will provide your little one with a realistic cooking experience with its stove, sink, clock and knobs with sound. In addition, this kitchen toy set avoids the hazards of a real kitchen.

🍽Kitchen Accessories Included🥄 ROBOTIME wooden kitchen sets for kids equipped with a stove sink oven clock and play kitchen accessories such as toy pots, pans and knife.

🔍Certified Material and Stable Frame📐 To ensure the safety of children, the wooden materials are ASTM certified, so this children's food cooking toy set is absolutely safe to use. Compared to plastic children's kitchens, this kitchen toy set has a more stable structure and lasts longer.

🎃A Gift that Never Goes Wrong💝 ROBOTIME play kitchen is a great addition to any play area. It is perfect for birthdays, Christmas and festivals. This play kitchen set measures approximately 31x11x21.9". It may take you some time to assemble and stick the stickers, which is a great time for parent-child interaction.

💞100% Satisfaction Guarantee📩 Your satisfaction is our top priority, Robotime designs each toy with the highest quality standards, aiming to accompany children through the golden moments of childhood. If you are not satisfied with any of our products, please contact us and we will give you a satisfactory answer within 24h!