ROKR Rhinoceros Beetle Model DIY 3D Puzzle MI01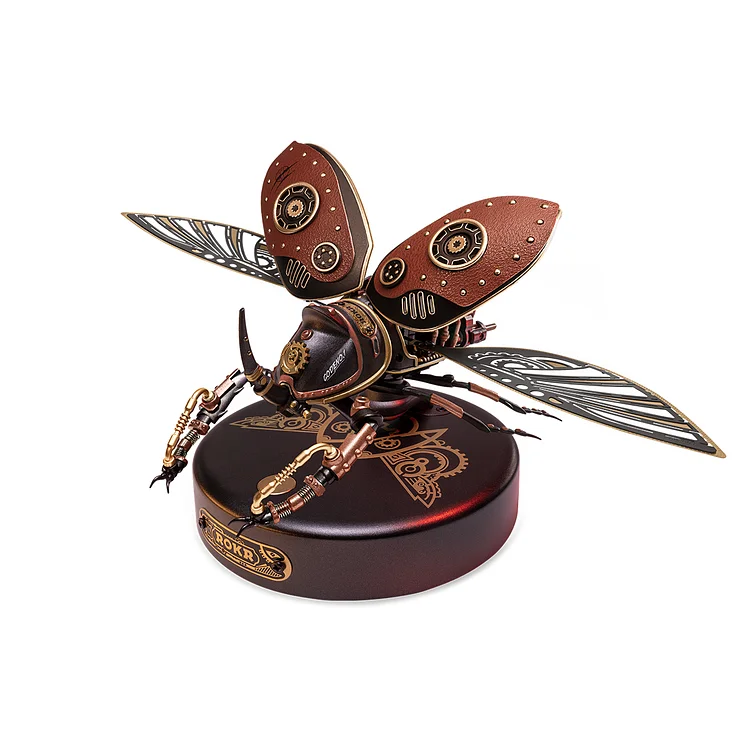 Product information
Assembled Size:
4.6*7.5*3.8"(11.6*19*9.6cm)
The Rhinoceros Beetle MI01 is the third product of Rokr's DIY Mechanic Organism 3D puzzle Series after the Storm Beetle MI03. Inspired by the real rhinoceros beetle in nature, our designers combined steampunk elements with it to create a highly mechanical aesthetic rhinoceros beetle model while retaining its details, such as the body shape, horn, legs and wings. The main body of the beetle is made of ABS polymer structure material with good impact resistance, the hard wings are covered with leather, and the limbs are made of soft PVC material to protect the model better.
As the overall control of the squad, the rhinoceros beetle plays a vital role in the entire team - its intelligent brain is able to coordinate tactics quickly and deliver mission instructions thanks to the core armored horn. In addition, its hydraulic mechanical forelimbs, orange peel leather armor, and membranous wing heat abstractor also help it to play better on the battlefield as well as protect its body from enemy attacks. What's more, this rhinoceros beetle model also has eight sets of brass piston connecting rods built in to show the engine cylinder running at high speed. Also, the LED engine indicator light illuminate the internal mechanical structure of the engine, enhancing the power perception and also making the whole model cooler.
*Notes: Due to customs policy, battery(AAA*3) may not be included in the package.
After connecting the custom base, the model can be activated by gently touching the activation point at the top of the base: the motor speed up to 1200 rpm, and the membranous wings can vibrate 618 times per minute, simulating the movement of real rhinoceros beetles.
V-type eight-cylinder engine
Hydraulic mechanical forelimbs
Metal etching nameplate