ROKR Starry Night Orrery Mechanical Music Box AMK51
ROKR Starry Night Orrery Mechanical Music Box AMK51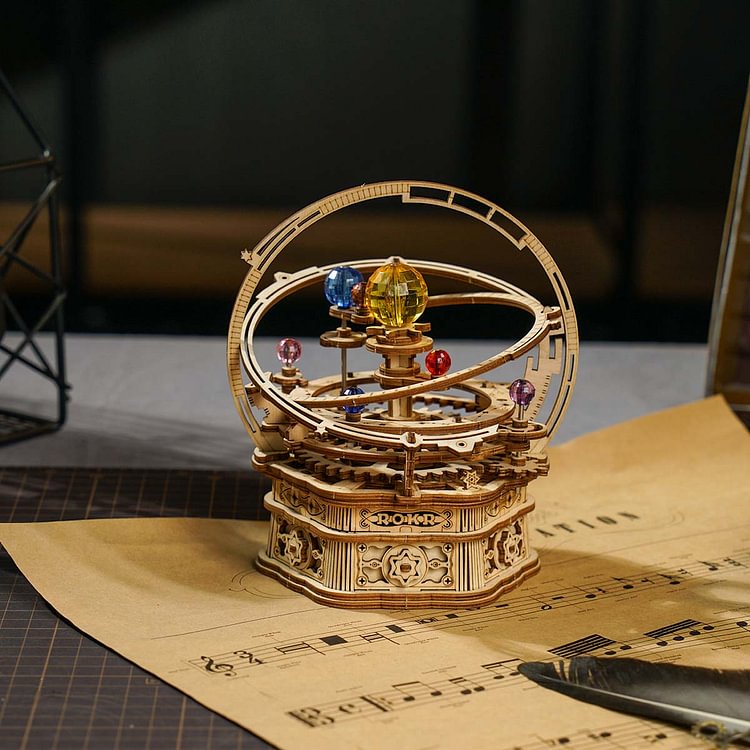 What is an Orrery? It is a mechanical model of the Solar System to illustrate the relative positions and motions of planets and moons. Invented in the 18th century, the orrery model is both an educational model and a stylish decor.
This Starry Night mechanical music box gets the inspiration from that but simplifies it into a mechanical musical box 3D wooden puzzle kit. You will see how planets orbit when music plays.
The jewel-like stars shining along the track symbolize protection and eternity. When the gear starts and the stars shine, we will start a star river love. The beads of the stars can be combined freely according to their own wishes.
Assembled Size: 135*135*155mm (5.31*5.31*6.1 in)
Packaging Size: 271*192*69 mm (10.66*7.55*6.71 in)
Pieces: 101 pcs
Weight: 530g
Moving Energy: Wind-up spring
Assembly Time: 2.5 Hours
*Note: Due to customs policy wax may not be included in packages.
ORRERY MECHANISM: This DIY music box shows how the solar system circles around each other while tune playing.
MERIDIAN CIRCLE: The floating circle will also move after winding up, representing the universe.
WIND UP MUSIC BOX: Driven by wind-up spring and gear trains, this mechanical music box 3D wooden puzzle will be a ton of fun to build and play with family.
RETRO-STYLE OUTLOOK: It will be a wonderful collection and decor for your home or office. Also, a pleasant toy to play with kids or friends.
UNIQUE GIFT: A beautiful hands-on gift for any DIY lovers or any occasion like Christmas, holidays, birthdays.