ROKR Treasure Box Mechanical Gears 3D Wooden Puzzle LK502
ROKR Treasure Box Mechanical Gears 3D Wooden Puzzle LK502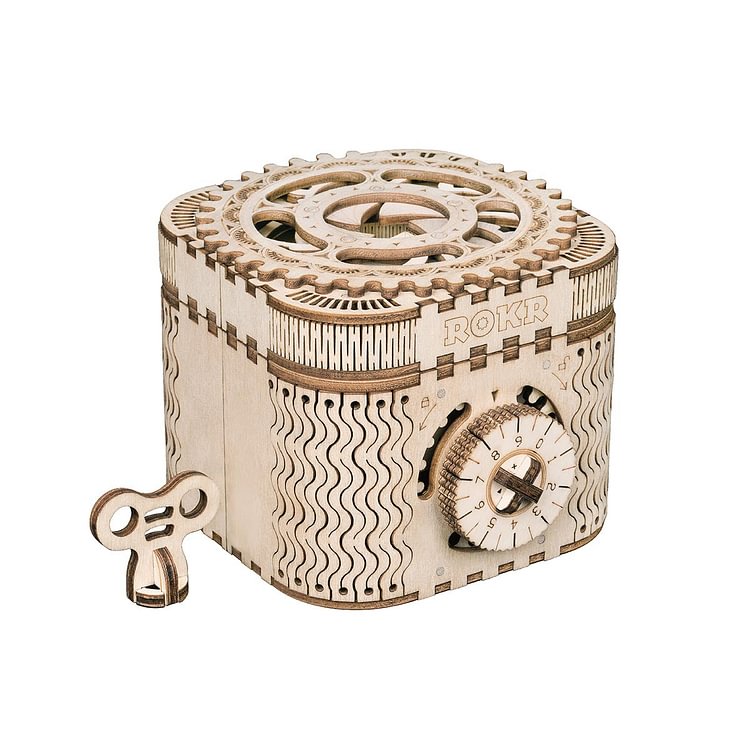 Robotime-ROKR wooden treasure box is a DIY storage container for small items or jewelry. This 3D wooden puzzle is fun-to-build for people of all ages. You can also set a three-digital password to keep all your items safe. If you are looking for a creative gift for your kids or friends, then here it is! This treasure box 3D puzzle is a perfect choice!
*Due to customs policy wax may not be included in packages.
CUSTOMIZED CODE: You can choose one combination from 810 sets of codes (listed in the manual).
DUAL STORAGE SPACE: Use the knob and code to open the box. You can put small items in it safely. And there is also a hidden space on the top lid where you can rotate the gears.
EXQUISITE DESIGN: Delicate gears and precise cutting with a beautiful pattern. This 3D wooden puzzle will be the perfect decor for your home or office.
PERFECT GIFT: Best gift for family or friends on birthday, Mother's Day, holiday, or Christmas.
Specification
Assembled Size:100*124*85 mm (3.93*4.88*3.34 in)
Packaging Size: 240*330*40 mm (9.44*12.99*1.57 in)
Wood Pieces: 123 pcs
Series: Mechanical gears
Weight:

8

00g
Assembly Time: Around 5 Hours
How To Set Your Password?
FRONT: This rotary knob is used to enter the password to open the box. The password is set at the time of assembly. After assembly, the password cannot be changed. A password is a three-digit number. There are 1,000 digits between 000-999. You can set 810 of them as the password, but 190 of them cannot be set, please refer to the manual for details.

BACK: There are two holes in the back that can insert the key, open the box and rotate the key so that the inner tray can open and rise.

TOP: Rotate the gear to open a small space at the top.

BOTTOM: At the bottom, you can record the password you set, and their laser engraved the way of dialing the password:
anticlockwise 2 circles to digit 1
clockwise 1 circle to digit 2
anticlockwise 0 circles to digit 3
Then the box will be open!
INSIDE:

There's a little tray inside to keep your little secret or surprise for somebody!