ROKR Vitascope Movie Projector 3D Wooden Puzzle LK601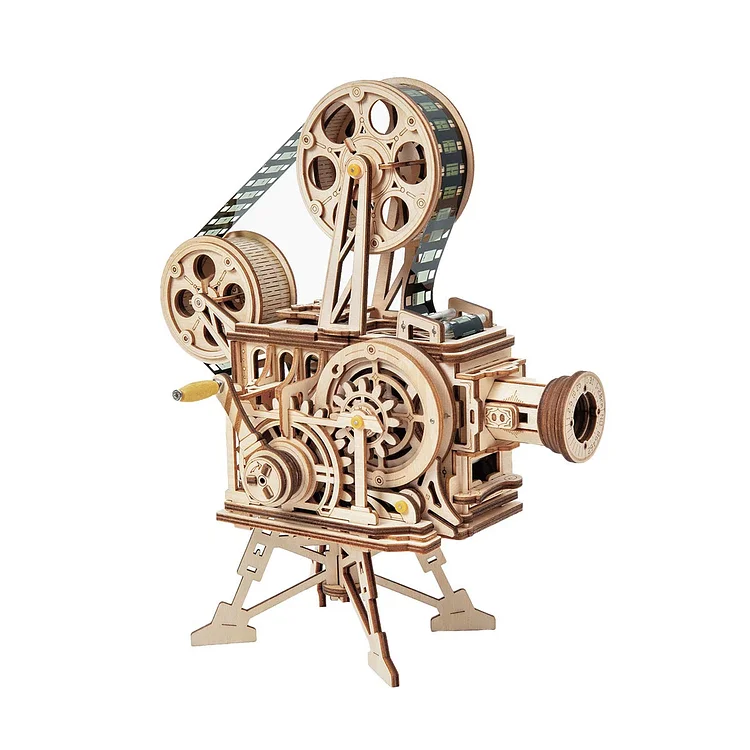 Robotime-ROKR DIY vintage movie projector Vitascope LK601 can play movies for real! Classic design with hand crank generator, this premium-design 3D wooden puzzle will satisfy movie lovers both in crafting and playing. Put the mechanism together piece by piece, and put on the black & white film. Enjoy a cinema together with friends and family!
Highlights
REAL PROJECTOR:

Bring your own movie projector into life with 183 wood pieces. Enjoy a black& white film of Chaplin's classic piece.

HAND GENERATOR:

no battery needed, totally green. Just crank the handle to run the motor inside and generate power for the screen light.

CHALLENGE YOUR BRAIN:

Hours of the immersive building to tease your mind. Step by step construct structures of an appealing model and be proud of your work.

VINTAGE HOME DECOR:

Antique style design and exquisite outlook make it an artistic decoration for your home& office.

UNIQUE GIFT:

Gift for all. Whenever it's a birthday, anniversary, or holiday, this ROKR 3D wooden puzzle is a perfect choice to express your love.
*Notes: Due to customs policy, the wax may not be included in the package. Wax: you could use ordinary candles, crayons, beeswax, etc.
The ROKR 3D wooden cinema projector is designed with convenience in mind, featuring an access door in the middle for easy troubleshooting and film replacement. Experience the charm of vintage cinema with this ingeniously designed projector.
Adjustable Focus and Projection Angle: Vitascope LK601 is designed with an adjustable lens, allowing you to adjust the size and clarity of the projected picture according to your needs.
The classic 58-frame clips of Chaplin's Modern Times films can be viewed realistically by turning the wooden handle on the right evenly.