Rolife Becka's Baking House DIY Miniature House Kit DG161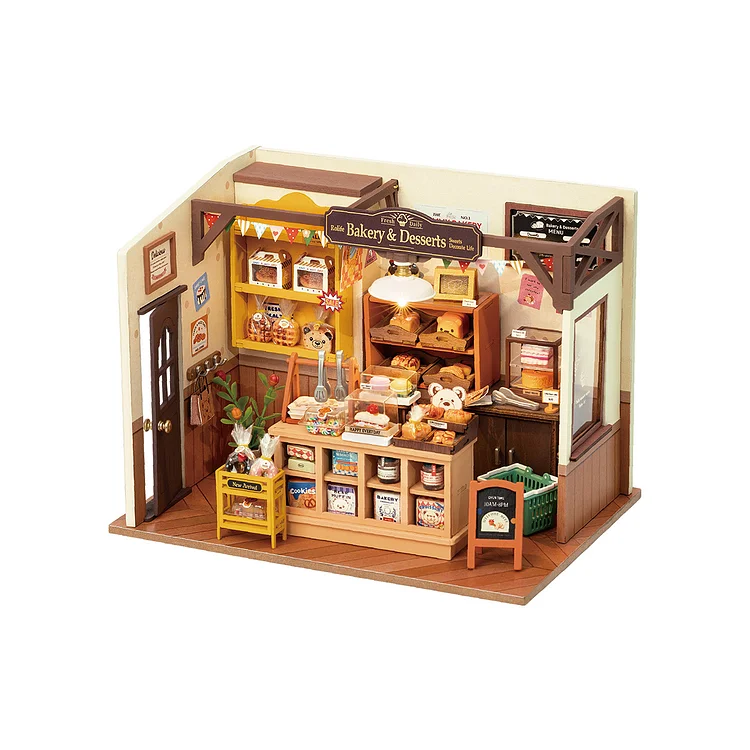 Product information
H:6.2"(15.7cm)
W:8"(21.5cm)
D:5.9"(14.9cm)
Assembled Size
Robotime-Rolife Falling Sakura DIY Book Nook TGB05 is a creative assembly bookshelf insert in form of a miniature house. We have offered you everything you need to build this mini cherry blossom wonderland - with all the wooden pieces and tools, you will gradually recover the entire 'Falling Sakura' scene, such as the buildings, mountain valley, moon, trees, and river etc. You will feel the spring romance during the fun and immersive assembling process. This book nook shelf insert will also be unique and exquisite decoration for your bookshelf and office desk after you finish. It will look even more beautiful when you put it in the dark with the warm lights on.
*Notes
The package includes important information, and please keep it well for future reference. Children must assemble under the guidance of adults in case of swallowing.
The product requires 2 pieces of AAA batteries. Due to customs policy, glue and battery may not be included in the package. Glue: you could use eco-glue, wood glue, or strong glue.
Immersive miniature scene
Rich playable miniature furniture and store furnishings with exquisite details, bringing you an immersive DIY experience.
Easy essembly design
With new upgraded insertion design, the whole assembly process is easy and smooth.Insertion design, reduces to 4-hour assembly.
Large top LED light
This miniature house kit comes with a enlarged top light, which makes the aesthetic effect and store atmosphere greatly enhanced. *The product requires 2 "AAA/LR03/AM4 1.5V" batteries. Batteries for self-preparation).
Wide range of goods
This bakery has a classic bread section as well as a dessert cake section filled with a wide variety of fresh toast, mousse, muffin cake cookies and more. All kinds of goods can be picked up at will, and the cabinet doors can be opened and closed, full of details.