Rolife Falling Sakura DIY Book Nook Shelf Insert TGB05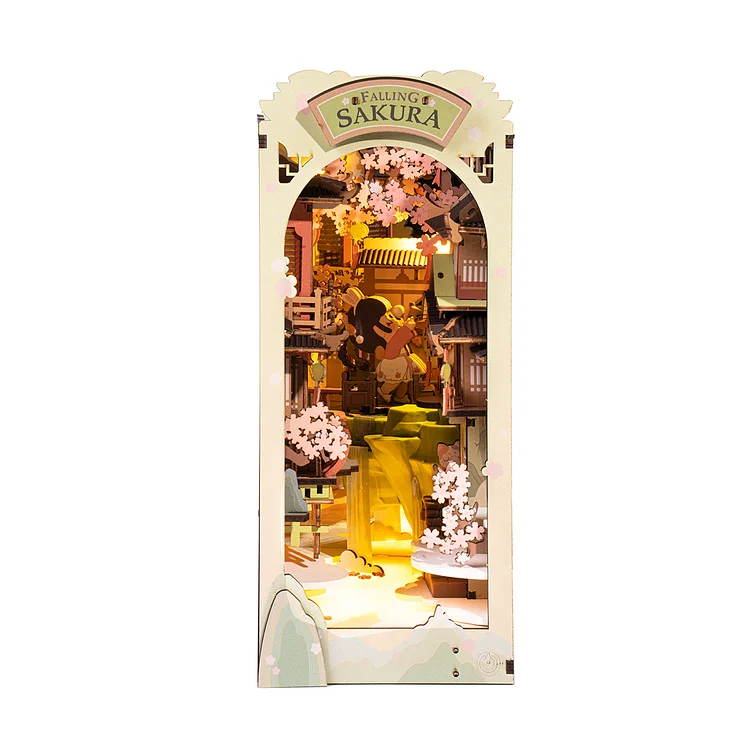 Product Specifications
H:9.8"(25cm)
W:4.3"(11cm)
D:7.5"(19cm)
Assembled Size
Robotime-Rolife Falling Sakura TGB05 is a creative self-assembly Book Nook kit in the form of a miniature house. We have offered you everything you need to build this mini cherry blossom wonderland - with all the wooden pieces and tools, and you will gradually recover the entire 'Falling Sakura' scene, such as the buildings, mountain valley, moon, trees, river, etc. You will feel the spring romance during the fun and immersive assembling process. After you finish, this Falling Sakura book nook kit will also be a unique and exquisite decoration for your bookshelf and office desk. It will look even more beautiful when you put it in the dark with the warm lights on.
Notes
Children must assemble under the guidance of adults in case of swallowing.
The product requires 2 pieces of AAA batteries.
Due to customs policy, glue, pigment, or battery may not be included in the package.
Built-in lights on the river surface, mapping out the picturesque night view of the river
The cherry blossom tree is accompanied by a beautiful lady, together forming a wonderful picture
Exquisite moon, simulating real moonlight, adding atmosphere to the night