Rolife Mystic Archives Series DIY Miniature House (3 Kits)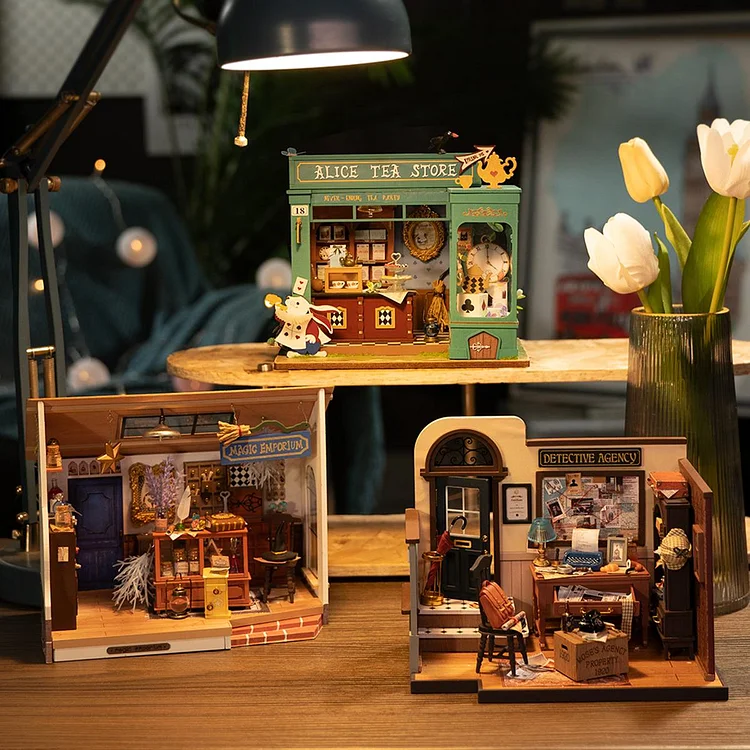 We all love fantasy. Whether it is a magical world, a fairy tale forest or a detective place, those spaces with whimsical ideas can arouse our infinite curiosity and playfulness. This package includes all 3 kits of the whole Mystic Archives Series: Kiki's Magic Emporium DG155 + Alice's Tea Store DG156 + Mose's Detective Agency DG157.
Scene with A Story: This DIY miniature house series is tightly focused on 'story', 'scenario' and 'sense of atmosphere' in the selection of the theme & style: Whether you focus on the overall look or any detail, you can instantly get into the story.
Ambient Light Set: Each product has 1. warm and bright LED lights; 2. hidden battery box (you need to prepare two 7 batteries yourself).
Easy Assembly (no coloring needed): All the miniature house kits in this series come with paints and don't need extra painting. Also, compared to the previous products, this series has increased the proportion of finished parts, making the assembly process simpler and more comfortable.
Match with Figure Dolls: This miniature house will also provide a great sense of story atmosphere to enhance the collection experience if you match it with 7-9 cm figure dolls of your choice (especially Rolife figure dolls).