Rolife Time Travel DIY Book Nook Shelf Insert TGB04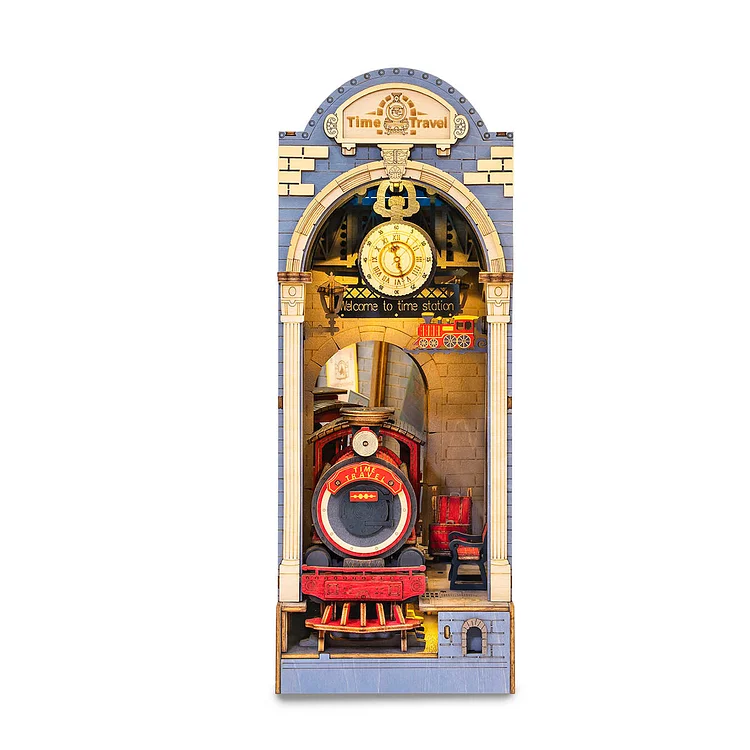 Robotime-Rolife Time travel Book Nook TGB04 3D wooden DIY miniature dollhouse kit is a train station that can take you to a different time and space. We have provided you with all the pieces and tools for you to create this cool miniature station scene. Have fun assembling all the parts together, and you'll get a unique book nook shelf insert and home decor! Hurry up, the train is about to leave!
Notes
This Time Travel book nook kit has been beautifully pre-colored, with no paint required. But some parts in the kit may need to be painted. If you have more creative paint ideas, we are happy to see excellent work from you.
The package includes important information, and please keep it well for future reference.
Children must assemble under the guidance of adults in case of swallowing.
The product requires 2 pieces of AAA batteries.
Note: Due to customs policy, glue and battery may not be included in the package.
The exterior of the station has a design resembling a pocket watch. And the European-style doorway creates an impressive and welcoming entrance to the station.
When the LED lights in the Rolife Time Travel are turned on, they create a warm and cozy ambiance within the book nook kit.adding to its charm and aesthetic appeal.
Dark red with cold black reproduce the weathered steam train, dark tunnel with mirror makes the viewer's vision extended
The roof is designed to evoke a sense of wonder and otherworldliness. The roof is made of translucent PET material, allowing natural light to filter through and illuminate the space below.
It makes a unique and creative gift that is perfect for anyone who appreciates charming and whimsical decor or who enjoys DIY projects. It is sure to bring joy and delight to the recipient.