8 Homemade Miniature Musical Instrument Models You'll Love
8 Homemade Miniature Musical Instrument Models You'll Love
8 Homemade Miniature Musical Instrument Models You'll Love
Embark on a fascinating journey where music and craftsmanship unite. You'll be amazed by the incredible DIY projects we have in store that will allow you to hold the majesty of full-sized instruments right in your hands.
These meticulously designed and extremely detailed miniatures offer a unique opportunity to appreciate the complexity and elegance of musical instruments while also nurturing your creativity. Its retro-style look makes it a delightful collectible and decoration for your home or office, providing a touch of nostalgia and a delightful toy to enjoy with kids and friends.
So, get ready to explore the exquisite and intricately crafted miniature musical instruments like never before!
1. Violin Capriccio Model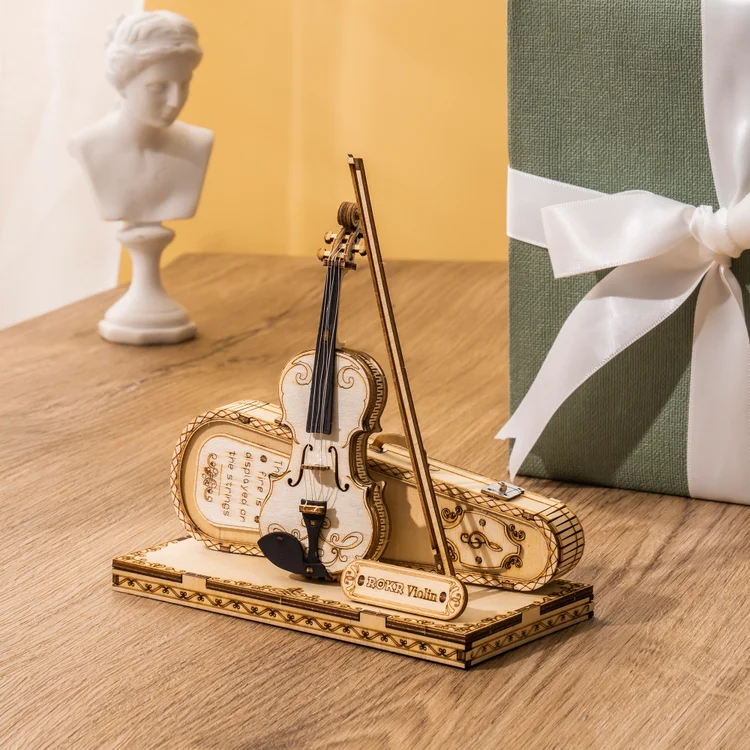 Crafted with meticulous attention to detail, every aspect of this 15 x 8 x 15 cm ROKR Violin Capriccio Model showcases exquisite design. Each component is made of high-standard materials using laser cutting technology, from the body to the pegbox, strings, and bow.
Assembling this easy-level 3D musical instruments puzzle kit is a beginner-friendly experience, with 62 pieces that can be completed in approximately 1.5 hours. It is a perfect DIY gift for boys, girls, friends, family, music lovers, and DIY enthusiasts on birthdays and holidays, encapsulating the joy of creativity and craftsmanship.
2. Electric Guitar Model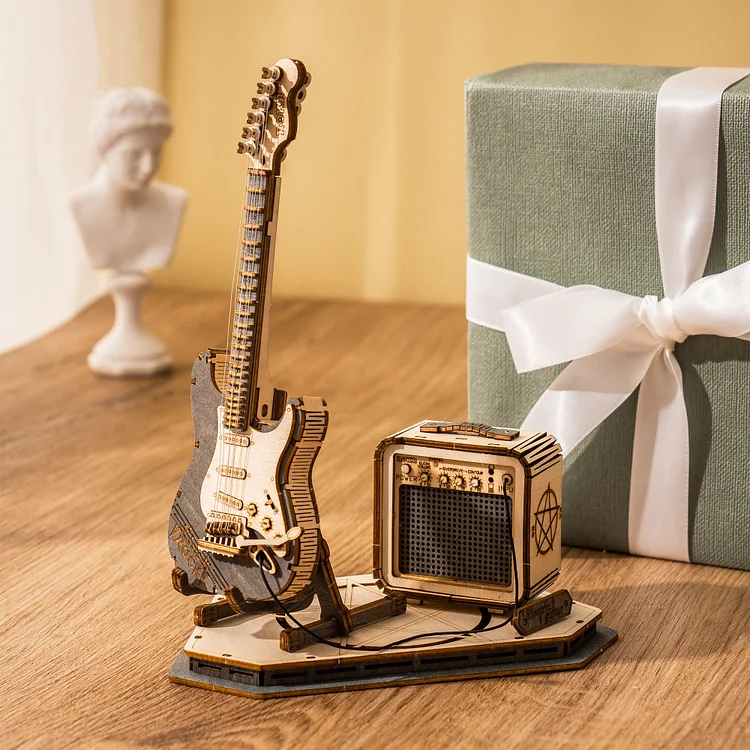 Rokr's well-designed wooden electric guitar musical instrument puzzle allows you to build your very own musical masterpiece. With meticulous attention to detail and perfect proportions, this 17 x 11 x 22 cm ROKR Electric Guitar Model is an exquisite gift for any music lover eager to unleash their inner rockstar.
Every aspect of this electric guitar model is exquisitely crafted, from the body and headstock to the strings, pickups, and amplifier. Each component is created with high-standard materials using laser cutting technology and radiates quality and authenticity. Assembling this easy-level 3D musical instruments puzzle kit is a breeze, with 140 wooden pieces that can be put together in approximately 1.5 hours.
3. Magic Piano Mechanical Model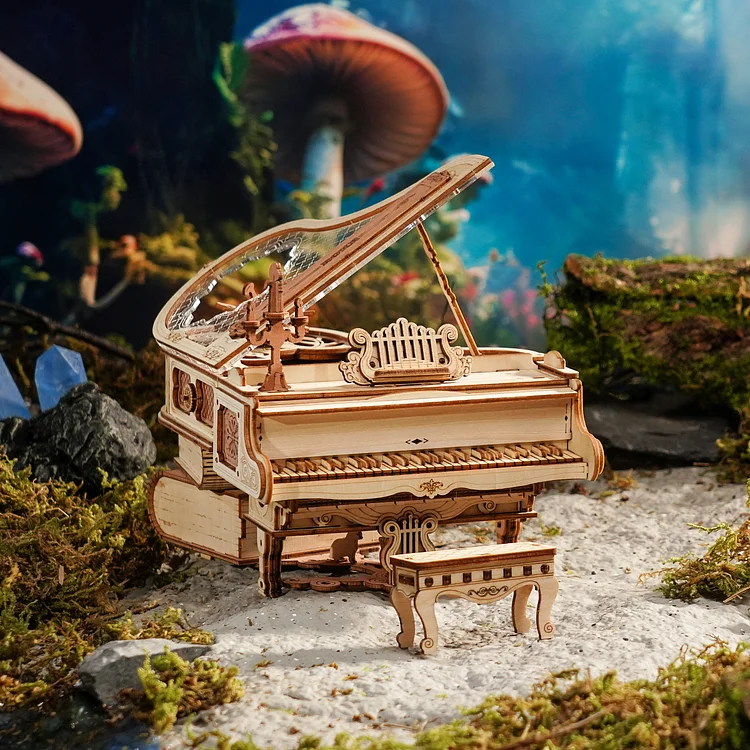 The 17 x 14 x 12.5 cm ROKR Magic Piano Model is a captivating addition to the Mechanical Music Box series. It has 233 pieces that can be assembled in approximately 4.5 hours, so if you have some time to spare, this is perfect for you. Inspired by a renowned concert grand piano, it combines classical elegance with a touch of mystery. The vintage aesthetic and decorative elements transport you to a bygone era, with enchanting antique books supporting the piano instead of traditional legs.
The transparent acrylic lid adorned with intricate patterns adds a sparkling touch. Exquisite Victorian ornate patterns and reliefs adorn the exterior, while a gear set featuring vintage brown flowers brings the mechanism to life. As you wind the knob, the flowers rotate slowly, revealing a magnificent mechanism. Inside, the precision mechanics operate flawlessly, causing specific keys to rise and fall autonomously, adding sophistication to the music box.
Once assembled, a twist of the winding key sets the gears in motion, accompanying the enchanting melody of "Canon Variations." The meticulously aligned gears create a mesmerizing dance, complemented by retro patterns, reliefs, and charming details.
4. Magic Cello Mechanical Model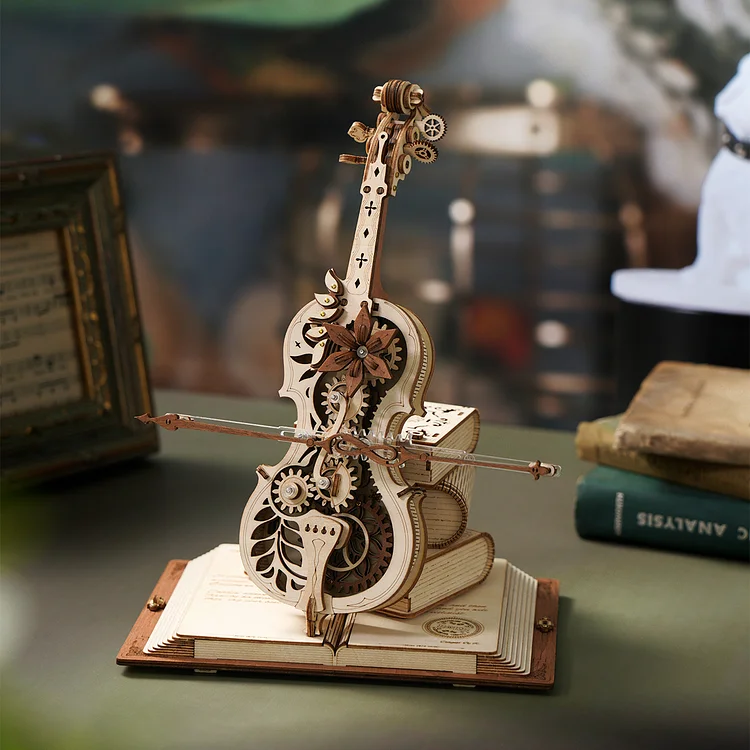 Marvel at the marriage of music and mechanics with ROKR Magic Cello music box 3D wooden puzzle. This unique creation combines the timeless elegance of the cello with the captivating allure of a mechanical music box, transporting you into a realm of magical mystery.
The music box, a tangible artwork encapsulating abstract melodies, has graced human civilization for over 300 years. Robotime pays homage to this rich history by incorporating the concept of time within the confines of small spaces through its Mechanical Music Box Series. The cello takes center stage with its traditional classical grandeur in this mesmerizing puzzle.
With a romantic retro style, the Magic Cello music box puzzle seamlessly blends the cello and the magic book. The hollow structure of the cello's body reveals a complex internal gear set adorned with delicate six-petal flowers. The panel showcases engraved classic European patterns, exuding a vintage aesthetic.
Magic elements, such as enchanting books, little witches, and cats, are interwoven throughout, creating a visually captivating and mysterious experience. The base, shaped like an open book, weaves the tale of the "father of the cello," Pablo Casals, in harmony with the self-playing cello.
The winding mechanism gracefully moves the bow in a linear motion, from left to right and back again. The creative body design features intricate openwork patterns that exude elegance and romance. The hollowed-out body allows a glimpse into the multi-stage gear transmission, showcasing the exquisite fusion of meticulous machinery and enchanting form.
The base, crafted with a mix of original wood and vintage brown tones, presents a short story about Casals, adding depth to the narrative. Three magical books are stacked in succession, their covers adorned with intricate European patterns, evoking a sense of mystery and nostalgia.
Here's a video provided by Robotime showing the Magic Cello in action.
5. DIY Crank Classic Gramophone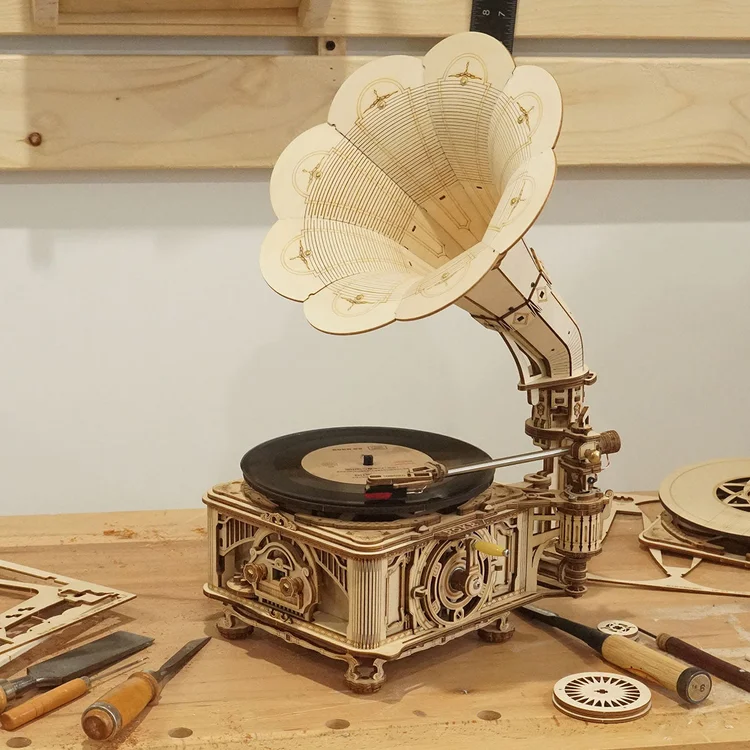 This ROKR Hand-Rotating Gramophone 3D musical instrument puzzle is a timeless creation that pays homage to classic machinery and invites you to relive the golden era of music. Inspired by the original gramophone invented by Thomas Edison, this retro-styled wooden model captures the essence of vintage record players, combining artistry with functionality. It has 424 pieces that can be assembled in 10 hours or more.
Unlike traditional puzzles, this musical instruments puzzle is not just for display—it's a fully functional gramophone that can play records. No batteries are required; simply wind it up, and it comes to life. The package includes a vinyl record containing three delightful melodies: "The Merry Gent," "Memory Of A Dance," and "The Giant Killers." Additionally, it can support other 7-inch and 10-inch records, allowing you to expand your musical collection.
Control the volume manually with the precision knob, fine-tuning your listening experience. For added convenience, the gramophone features a micro USB port, enabling you to connect it to an external power supply and reduce the intensity of the hand crank. This ensures a seamless and effortless playback.
The antique gramophone wooden model enchants the eyes and captivates the ears with its beautiful melodies. It is an impressive 3D wooden puzzle and a remarkable gift suitable for individuals of all ages. The design showcases an elastic line construction reminiscent of the classic horn shape. Equipped with a three-phase brushless motor, it delivers a stable audio signal.
6. Drum Kit Model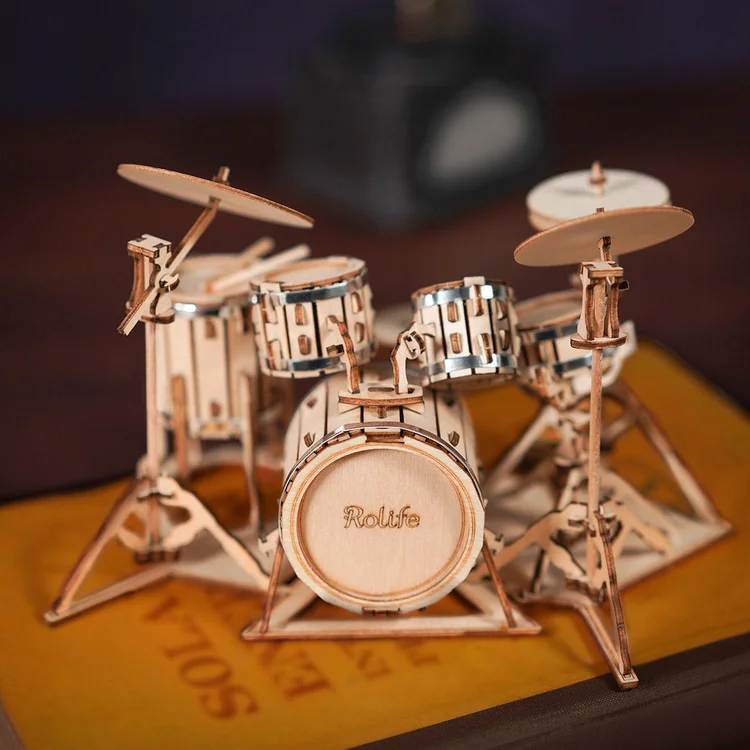 Immerse yourself in the rhythmic world of drumming with the Rolife Drum Kit, a 13.5 x 11 x 19 cm 3D wooden puzzle that allows you to build your very own drum kit from 246b wooden pieces. Designed with simplicity in mind, this drum kit model is easy to build, making it an ideal choice for both adults and kids.
Challenge yourself by taking on the assembly of this cool drum kit puzzle. Let your imagination soar as you piece together the intricate parts, bringing the drum kit to life. Once completed, this masterpiece can be proudly displayed as a stunning piece of home decor. So, unleash your inner drummer, embrace the joy of creation, and make the Rolife Drum Kit your next exciting project.
7. Saxophone Model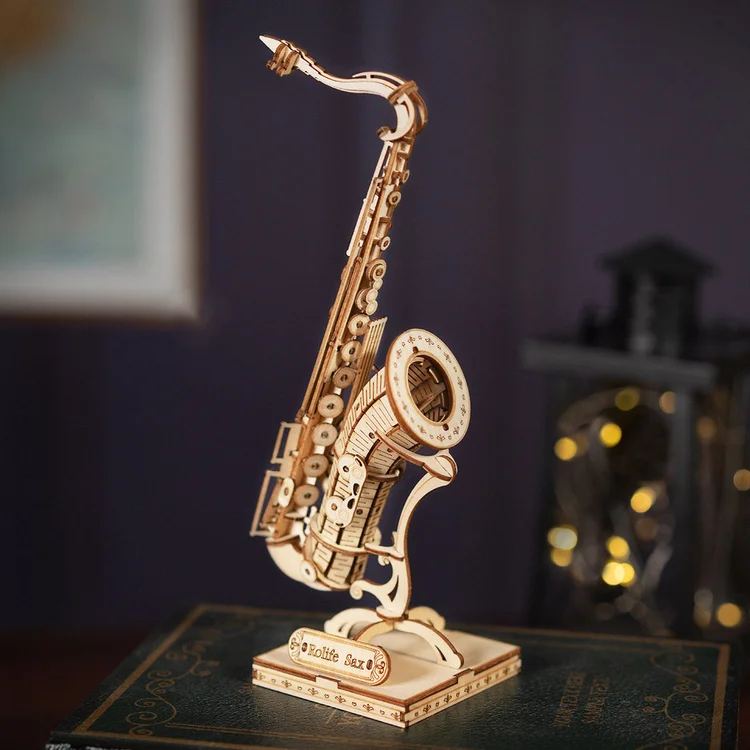 The self-assembly Rolife Saxophone Kit is a beautifully designed 3D musical instruments puzzle with 136 pieces and approximately 1.5 hours of assembly time. Crafted with precision and attention to detail, this saxophone puzzle is a must-have for any saxophone lover and puzzle collector.
Immerse yourself in the joy of assembling each piece, watching as the saxophone takes shape under your skilled hands. It's not just a puzzle; it's a delightful combination of art, craftsmanship, and entertainment. Suitable for both adults and kids, it offers a perfect opportunity for creative expression and shared moments of fun.
Once completed, this masterpiece will not only showcase your love for music but also add a touch of elegance and sophistication to your home decor or collection. So, grab your tools, ignite your passion for music, and let the Rolife Saxophone be your next creative endeavor.
8. Rolife Accordion Model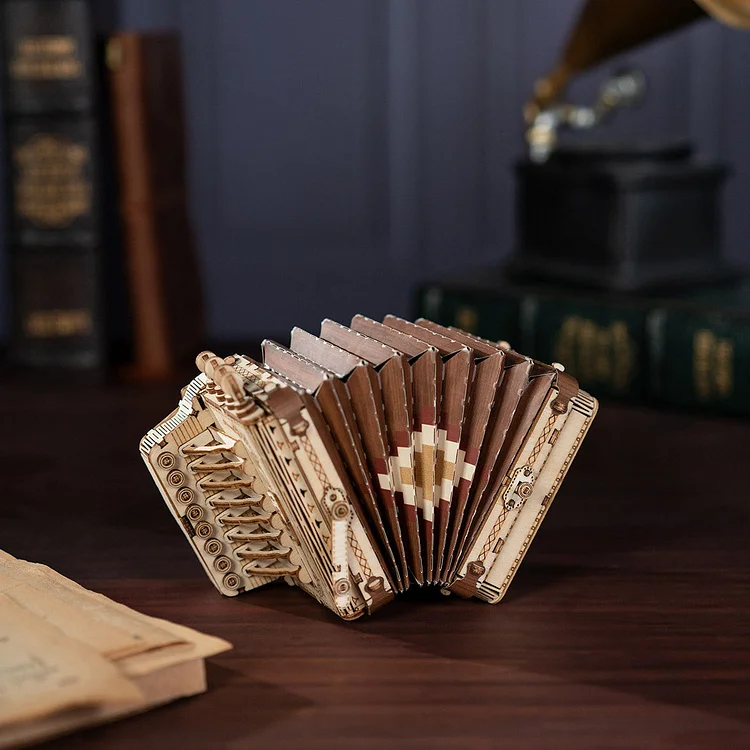 If you have a deep appreciation for the soulful melodies of the accordion and a desire to create a unique piece of art, then look no further! Get ready to embark on a delightful journey of creativity and self-assembly with the Rolife Accordion Model, an extraordinary wooden model kit with 156 wooden pieces that can be assembled in 2 hours. Let the enchanting sounds of this instrument fill your heart as you enjoy the fun of building your very own mini accordion.
It combines the thrill of a 3D wooden puzzle with the joy of a captivating toy, providing a rewarding experience for all ages. Not only is it a source of amusement, but it also serves as an exceptional educational toy, stimulating imagination, promoting dexterity, and encouraging problem-solving skills.
Find the perfect spot to showcase your creation and let its charm radiate throughout your living space. It's sure to become a conversation piece and a delightful addition to your home decor. So, this Rolife Accordion is waiting to be crafted by your own hands, allowing you to experience the magic and wonder of this extraordinary instrument.
Conclusion
The world of homemade miniature musical instrument models is a harmonious blend of creativity, passion, and ingenuity. As we conclude this article, we hope you have been inspired by the sheer beauty and artistry of these scaled-down wonders. From the delicate strings of a tiny guitar to the intricate keys of a miniature accordion, these mesmerizing creations offer more than mere visual appeal. They provide a tangible connection to the rich heritage of music, allowing us to appreciate the craftsmanship and attention to detail that goes into the making of full-sized instruments.
By immersing yourself in these DIY projects, you not only unleash your own creativity but also gain a deeper understanding and appreciation for the instruments that have shaped the symphonies of our world!