Creating Mystery: How to Hide an Engagement Ring?
Creating Mystery: How to Hide an Engagement Ring?
Creating Mystery: How to Hide an Engagement Ring?
One of the most memorable moments you'll have as a couple is the proposal. The most popular way to go about it is to hide an engagement ring and pop the magical question once she finds it. If you're looking for a creative and romantic way to do this, you're in luck because we've brainstormed the 10 best ways to hide an engagement ring to give your beloved the element of a sweet surprise.
Unusual and Romantic Ways to Hide an Engagement Ring
Here are our top three favorite ways to hide an engagement ring.
Hide the Engagement Ring in a Fortune Cookie
If you're thinking about hiding your proposal ring in food, we say just give it a hard pass. Though this might sound like a good idea, there have been reports about women accidentally swallowing the ring. Now, that's one experience that your fiancee-to-be certainly won't forget, but for all the wrong reasons.
The fortune cookie is an exception, of course, since people typically open it before eating it. The symbolism works too because, instead of a written fortune, the engagement ring foretells your future love story as husband and wife.
Overall, if you've decided to hide a proposal ring in food, the unique and safe fortune cookie is the way to go.
Hide the Engagement Ring in a Bouquet of Flowers
Women love flowers so it makes sense that hiding an engagement ring in a bouquet is one of the classic ways to propose. You can put your own spin on it by using your beloved's favorite flowers. Flowers and their different colors also come with meanings that you can utilize to set up a personalized proposal. Here are some flower symbolisms to help you get started:
Baby's Breath: Everlasting love
Pink Camellia: Longing
Red Carnation: Deep love
White Carnation: Pure and sweet love
Daffodil: Love with no equal, You're the only one
Daisy: Loyal love
Dandelion: Faithfulness, happiness
Edelweiss: Devotion
Forget-me-not: True love
Heliotrope: Eternal love
Ivy: Wedded love, fidelity
White Jasmine: Sweet Love
Lily-of-the-valley: You've made my life complete
Myrtle: Love in a marriage
Orange Blossom: Eternal love, marriage
Peony: Happy life, happy marriage
Primrose: I can't live without you
Red Rose: I love you
Pink Rose: Happiness, Please believe me
White Rose: A New Beginning
Red Salvia: Forever mine
Red Tulip: Passion, Declaration of Love
You can mix up these flowers in your bouquet to create a wonderful meaning that you want to relay to your fiancee-to-be.
When you give the bouquet to your lover, ask her to take a closer look at it. Once she finds the box, kneel down and tell her your heartfelt message along with the magical question. We're 100% sure she'll be crying tears of joy.
Hide the Engagement Ring in the ROKR Treasure Box
Another clever way to hide an engagement ring is to put it in a box that doesn't look like a ring box. We recommend the ROKR Treasure Box, not only because it looks gorgeous, you can also create it with your own hands to make the moment more touching. It even has a 3-digit password to spice things up.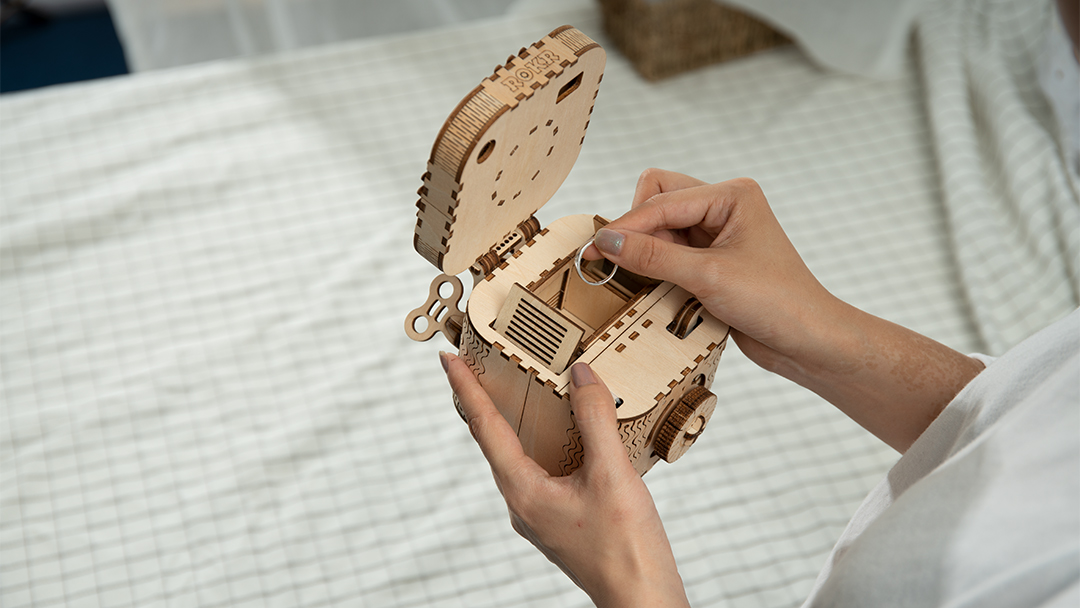 For example, you can use 143 which is a well-known code for "I love you". Another option is to use a memorable date. If you met on February 21, the number 221 will make a great password. Any three-digit number that holds a special meaning to your love story is a great choice.
Later on, it can be a fantastic keepsake so you can remember this special moment.
Other Best Ways to Hide an Engagement Ring
Here are more cool ways to surprise your special lady with a hidden proposal ring.
1. Get Your Fur Baby to Help with the Surprise
If you and your partner have a pet, you can get him to help you surprise your girlfriend. For example, you can attach the ring to your dog's collar or loop it in a ribbon tied around your cat's neck. You can either wait for the moment your girlfriend sees it while you're having a movie night or call your pet to make a grand entrance in the middle of a dinner date at home.
2. Make It a Surprise within a Surprise with a Locket
Find a locket that's big enough to hold a ring. When your partner opens it, she'll be overjoyed that there's another gift waiting inside.
3. Hang It in the Christmas Tree
This is a fantastic idea if you're planning to propose during the Christmas season. You can have an ornament custom-made with a "Will you marry me?". Then, you can tie the ring securely with the ornament using some ribbon and hang it on a spot on your Christmas tree where your fiancee-to-be will easily see it.
4. Put It in Her Christmas Stocking
You can give this idea a try if it's part of your family tradition to hang Christmas stockings. Otherwise, you can just tell your beloved that you want to do this tradition this year. When it's near Christmas, you can simply put the ring box inside and add other small gifts on top. She'll be so shocked when she finds that the last gift she pulled is an engagement ring!
5. Use a Hollow Book
If your partner is a bookworm, then this is a fitting idea. Buy a hollow book and put the ring inside. There are some shops that even offer customizations so you can add a wooden insert with a lovely message. Just hand her the book as a present and tell her to read the message inside so she'll immediately see the hidden engagement ring.
6. Hide The Ring in a Video Game Case
For women who are avid gamers, you can try this method. Pretend to surprise her with a new game. When she opens it, instead of a CD, she'll be delighted to find a proposal ring.
7. Turn It Into an Egg-cellent Surprise
If you're proposing around Easter, buy a set of hollow wooden eggs, decorate them, and put some goodies inside. Hide the engagement ring in one of the eggs. She'll be overjoyed when she opens it and finds the love of her life proposing.
There are plenty of ways to hide an engagement ring for a romantic proposal. You can make it fit the season or base it on her interests. A proposal can also be made extra special if you use items that you've crafted yourself like the ROKR Treasure Box or if you add some symbolisms to it like with the flower bouquet. Whichever method you choose, we're sure she'll appreciate your effort in turning your proposal into one of the happiest days of your lives.