ROKR Corsac M60 Justice Guard Gun LQ401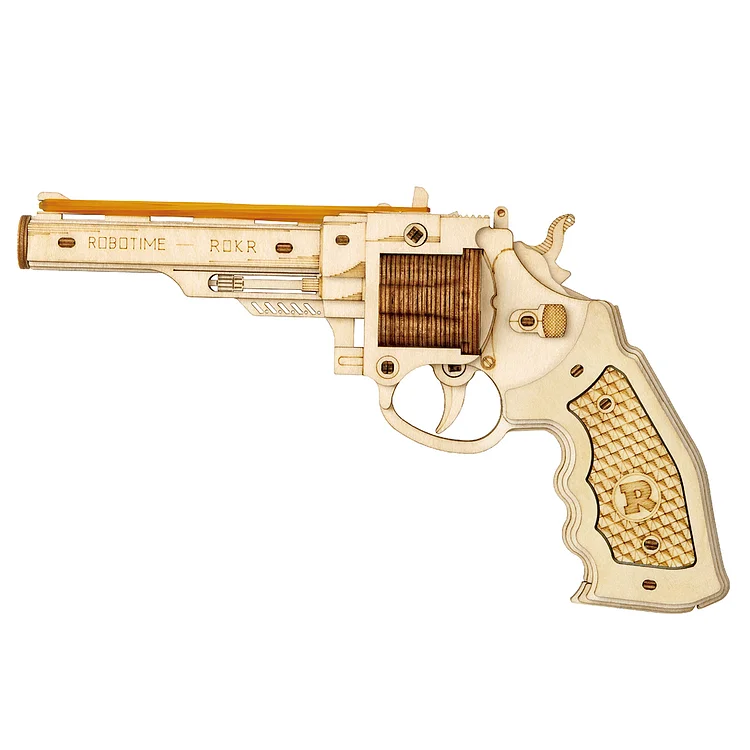 Product information
Assembled Size:
8.7*1.5*4.9"(22*3.8*12.5cm)
It is not a plain wooden toy where functionality is limited to imaginary shooting by means of yelling "Bang-bang!"
*Notes:Due to customs policy, the wax may not be included in the package. Wax: you could use ordinary candles, crayons, beeswax, etc.
Biuld Your Own Wood Pistol
Mortise&Tenon Technique

Enjoy a precise and gap-free assembly process

Rapid Fire

Classic retro revolver construction with single-shot hammer supporting point and rapid fire

Mechanical Restoration

The excellent portability and performance have quickly garnered it a large fan base.
For the safety of children, we use rubber bands as bullets,which are small and harmless, but remember not to aim at the face or eyes.
We also send 5 villains as targets to simulate real game training and enhance fun
Promise
Easy-to-Follow Assembly

Match numbered wooden pieces with visuals in our manual. Watch the video on our YouTube channel for guidance.

Boost Brain Skills

Builds logic and motor skills, fostering patience in kids.

Gift and Decor ldea

Perfect for special occasions or as a unique decor item.

Pride in Completion

Share and showcase your finished piece with friends and family.
Product Details
Iconic revolver turntable construction

Bottom magazines provide output protection

Trigger-pulling precision point-and-shoot
FAQs
What if some parts are broken or lost?
What should I do if I encounter assembly issues?
Designer's Journey
This is a perfectly designed DIY terminator kit that requires your hands-on work to complete. The mechanical wooden puzzle toy uses precise laser-cut plywood, few burr and environmentally friendly.
Excellence in Material and Assurance
Eco-friendly, Durable, Corrosion-resistant Wood

Precision Laser Engraving Machine, Secure Fit Parts

Certified Quality, Comprehensive Testing