ROKR Thompson Submachine Gun Toy 3D Wooden Puzzle LQB01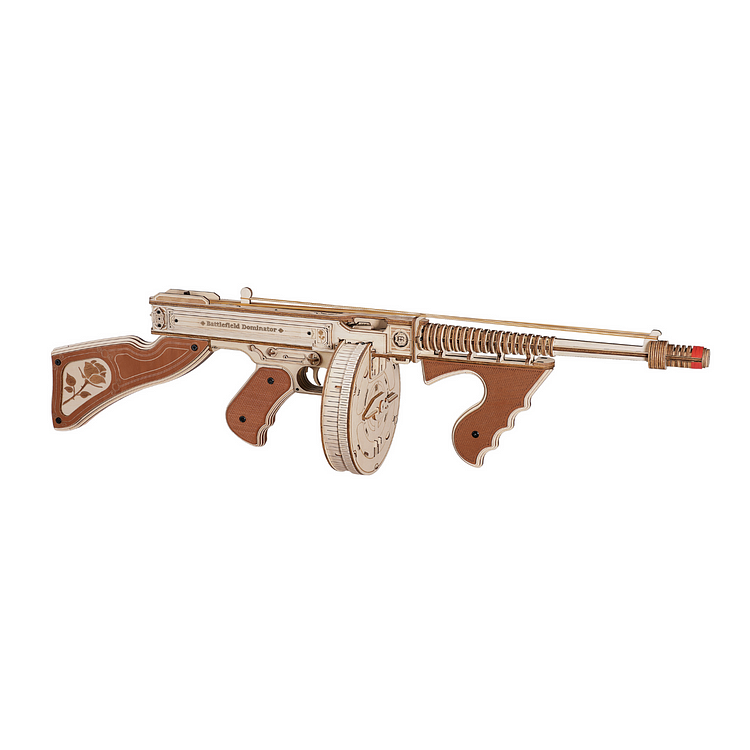 Product information
Assembled Size:
27.4*5.4*7"(69.7*13.8*17.8cm)
The LQB01 wooden gun toy can continuously fire 10 rubber bands. Detachable drum magazine is equipped with 10 wooden shells for distinctive throwing effect. It fires at high speed 5 per second, with shooting range of up to 8 meters. You can assemble this 3D puzzles and play it with family or friends.
*Notes:Due to customs policy, the wax may not be included in the package. Wax: you could use ordinary candles, crayons, beeswax, etc.
Biuld Your Own Thompson Submachine
Mortise and Tenon Joint Wooden Structural Assembly

Enjoy a precise and gap-free assembly process

Back To The 1920s

Retro Mechanical Elements

Exquisite Annular Radiator Barrel Replicate classic Appearance

The annular radiator barrel is made up of 19 pieces of round wooden parts to replicate maximum.
Flexible Rubber Bands
Ensure the shooting safety
Promise
Easy-to-Follow Assembly

Match numbered wooden pieces with visuals in our manual. Watch the video on our YouTube channel for guidance.

Boost Brain Skills

Builds logic and motor skills, fostering patience in kids

Gift and Decor ldea

Perfect for special occasions or as a unique decor item.

Pride in Completion

Share and showcase your finished piece with friends and family.
Product Details
Realistic Shell Eection Mechanism

When shooting, the bolt drives the ejector rod to make"shell casings" eject constantly

Automatically loading bullets

Filled with flexible rubber bands, the bolt handle moves forward and backward to simulate the recoil

Effortless Pressing For Loading

10 wooden bullets are included in the drum magazine and the shell ejection starts after pulling upthe firing mode lever
FAQs
What if some parts are broken or lost?
What should I do if I encounter assembly issues?
What is the shooting range?
Designer's Journey
The 3D puzzle is a 0.8:1 replica of submachine gun. It retains realistic details of annular radiator barrel and shooting function. Carved design on the gun body is very exquisite, and the rose print on the gunstock stands for love and peace.
Excellence in Material and Assurance
Eco-friendly, Durable, Corrosion-resistant Wood

Precision Laser Engraving Machine, Secure Fit Parts

Certified Quality, Comprehensive Testing